This was essentially MacGraw's film debut, as she had previously played a bit part in 1968's A Lovely Way to Die. The story's title alludes to a phonograph record played by the brother of MacGraw's character, nostalgically recalling his athletic career at Ohio State.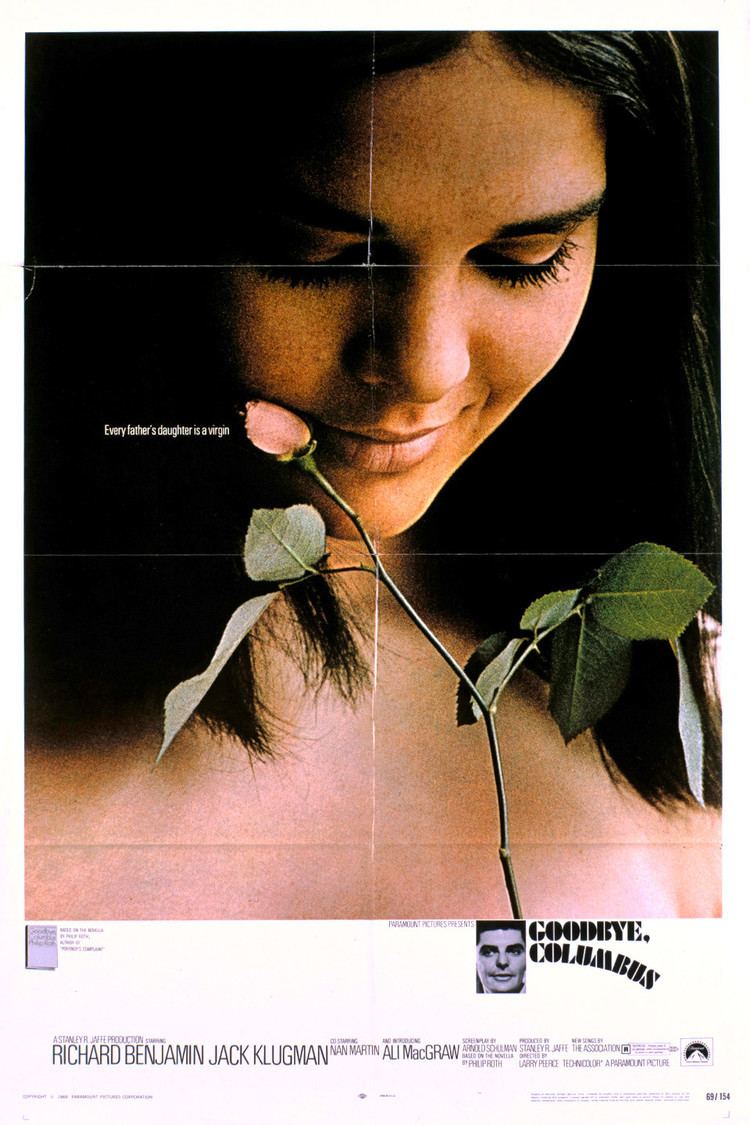 Neil Klugman (Richard Benjamin) is an intelligent, working class army veteran and graduate of Rutgers University who works as a library clerk. He falls for Brenda Patimkin (Ali MacGraw), a wealthy student at Radcliffe College who is home for the summer. They face obstacles from Brenda's family (particularly her mother), due to differences in class and assimilation into the American mainstream. Other conflicts include propriety and issues related to premarital sex and the possibility of pregnancy, and Mrs. Patimkin's envy of her daughter's youth. Near the end, she has Neil come up to spend a weekend in Massachusetts. Brenda then tells Neil her mother found her diaphragm, and her parents know about their affair. Neil and Brenda argue, and she ends the affair as abruptly as she allowed it to commence.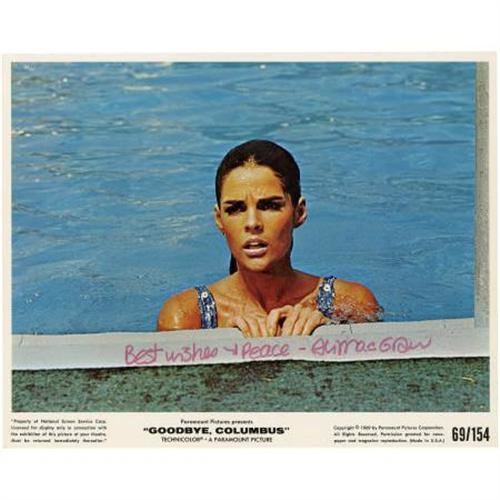 Richard Benjamin as Neil Klugman
Ali MacGraw as Brenda Patimkin
Jack Klugman as Ben Patimkin
Nan Martin as Mrs. Ben Patimkin
Michael Meyers as Ron Patimkin
Lori Shelle as Julie Patimkin
Monroe Arnold as Uncle Leo
Kay Cummings as Doris Klugman
Sylvie Strause as Aunt Gladys
Ilona Simon as Gloria Feldman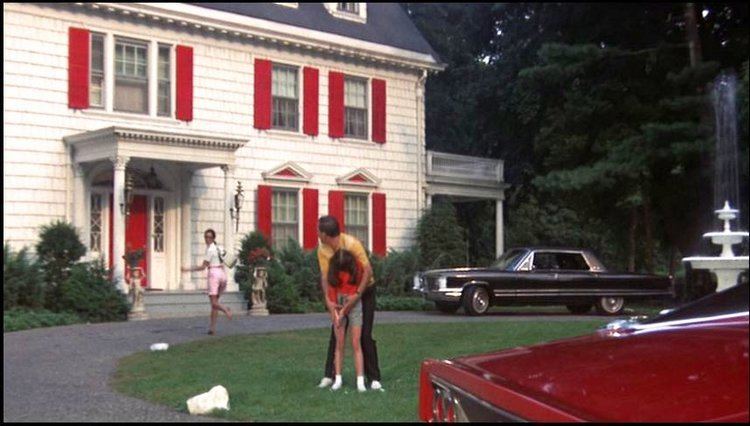 The film earned an estimated $10.5 million in rentals at the North American box office, making it one of the most popular movies of the year.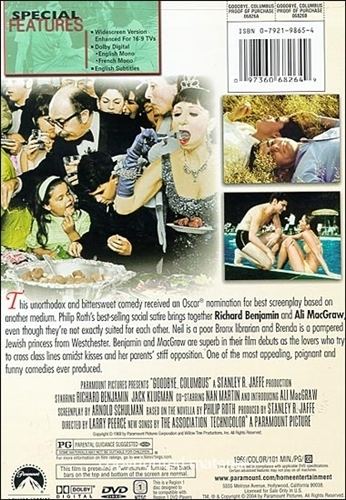 When the film was released the staff at Variety magazine lauded the film, writing, "This adaptation of Philip Roth's National Book Award-winning novella is sometimes a joy in striking a boisterous mood, and otherwise handling action. Castwise the feature excels. Richard Benjamin as the boy, a librarian after serving in the army, and Ali MacGraw, making her screen bow as the daughter of wealthy and socially-conscious parents, offer fresh portrayals seasoned with rich humor. Their romance develops swiftly after their meeting at a country-club pool."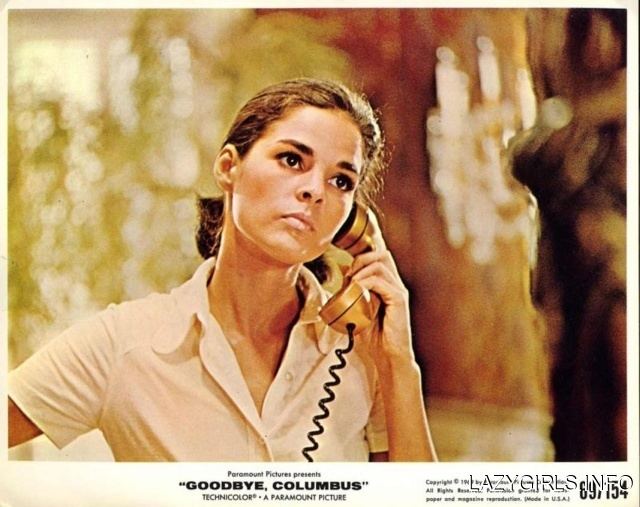 The New York Times film critic, Vincent Canby, liked the film but was annoyed that it strayed from Roth's work, "Thus, at its center, Goodbye, Columbus is sharp and honest. However, the further they are removed from the main situation, the more the subsidiary characters, lightly sketched in the novella, become overstuffed, blintz-shaped caricatures. Jack Klugman and Nan Martin, as Brenda's parents, are very nice, but Michael Meyers, as her huge, empty-headed brother ('so exceedingly polite,' Mr. Roth observed in the novella, 'that it seemed to be some affliction of those over six foot three') borders on a cartoon figure. Also, I somehow resent the really vulgar manners that Mr. Peerce allows his middle-class Jews—especially at an elaborate wedding reception—not because of any particular bias, but because it is gross moviemaking. These reservations, however, become academic. Goodbye, Columbus is so rich with understanding in more important ways that it is a thing of real and unusual pleasure."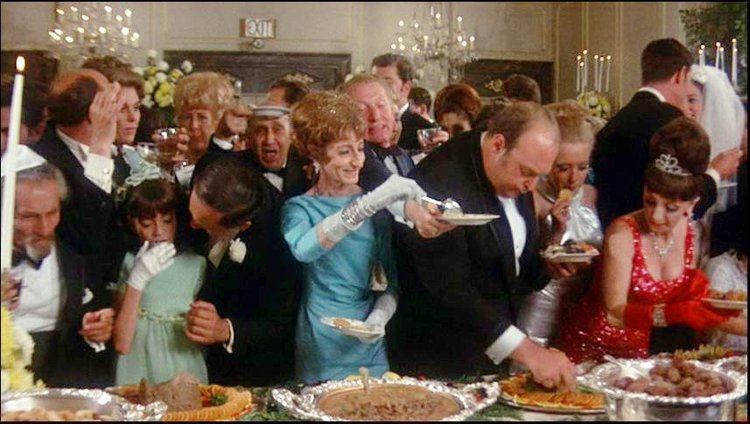 Film critic Dennis Schwartz praised the film as well, writing, "Philip Roth's prize-winning novella, a scathing satire of a nouveau riche Jewish family, has been brilliantly adapted for the screen by Arnold Schulman (received an Academy nomination) and directed by Larry Peerce (son of the great operatic tenor Jan Peerce). Somehow it slipped under the radar and as far as I'm concerned is both funnier and more perceptive than even The Graduate, an earlier drama about young adults."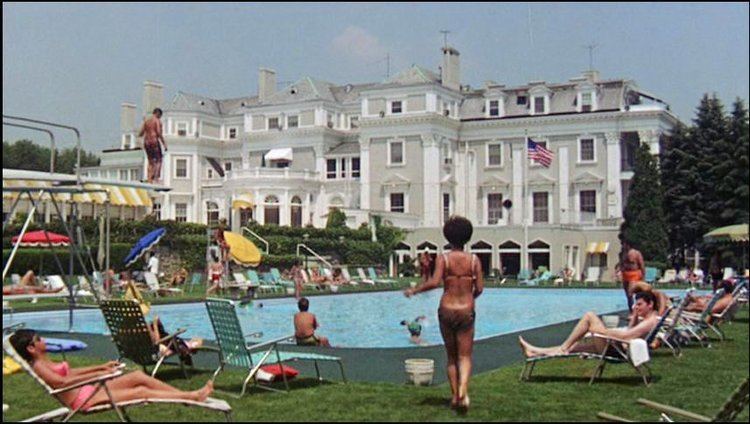 Wins
1970: Writers Guild of America Award: Best Comedy Adapted from Another Medium, Arnold Schulman.
1970: Laurel Awards: Golden Laurel, Comedy, Female New Face, Ali MacGraw.
1970: Golden Globe Award: Most Promising Newcomer - Female, Ali MacGraw.
Nominations
Academy Awards: Best Adapted Screenplay (Arnold Schulman)
Golden Globe Awards: Best Comedy Picture (Stanley R. Jaffe)
Golden Globe Awards: Best Original Song (Charles Fox, Jim Yester)
BAFTA: Best Supporting Actor (Jack Klugman)
BAFTA: Most Promising Newcomer (Ali MacGraw)
BAFTA: Best Adapted Screenplay (Arnold Schulman)
Directors Guild of America: Best Director (Larry Peerce)
A vinyl LP record of the film's score was released in 1969 by Warner Bros. Records and a compact disc was released in 2006 by Collector's Choice Music.
Three songs in the soundtrack were written and performed by members of The Association: "Goodbye, Columbus" (Jim Yester), "It's Gotta Be Real" (Larry Ramos), and "So Kind To Me" (Terry Kirkman).
1. Goodbye, Columbus [Vocal Version]
2. How Will I Know You?
3. Dartmouth? Dartmouth!
4. Goodbye, Columbus [Instrumental]
5. Ron's Reverie: Across the Field/Carmen Ohio
6. It's Gotta Be Real
7. A Moment to Share
8. Love Has a Way
9. A Time for Love
10. So Kind to Me (Brenda's Theme)
11. Goodbye, Columbus