Godtfred Kirk Christiansen (July 8, 1920 – July 13, 1995) was the managing director of The Lego Group from 1957 to 1979. He was the third son of company founder Ole Kirk Christiansen.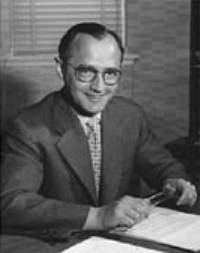 In 1950, he became Junior Vice President of the company on his 30th birthday. He was appointed Managing Director in 1957, and became the head of the company after his father died in the following year. By 1960, Godtfred had bought out his three brothers to become sole proprietor of the company.

He was married to Edith Kirk Christiansen, with whom he had 3 children, Gunhild Kirk Johansen, Kjeld Kirk Kristiansen and Hanne Christiansen. Box Art designs from the 1950s show all three of their children playing with Lego bricks.
In October 1969 Hanne and Kjeld were driving home from a movie in the neighboring town of Give. Their car skidded off the road and hit a tree. Hanne was killed and Kjeld was seriously injured. The tragedy shook Godtfred so much that he seriously considered selling the company. His son, Kjeld Kirk Kristiansen, became president and CEO of the Lego Group in 1979.