Giovanni Battista Bronzini (4 September 1925 in Matera – 17 March 2002 in Bari) was an Italian anthropologist and historian of Italian folk traditions.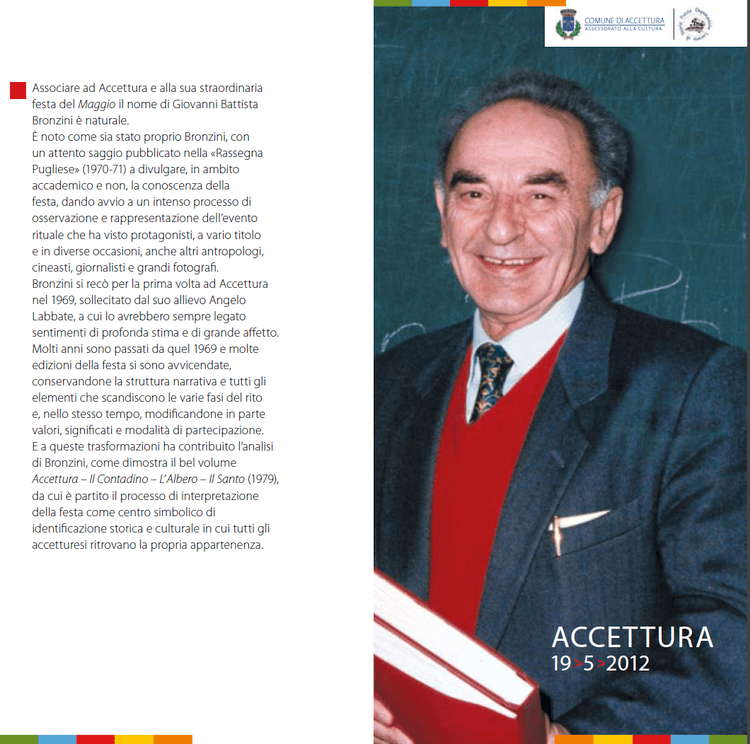 He was a student of the University of Rome, then Professor Emeritus of Cultural Anthropology at the University of Bari and director from 1974 to his death in anthropological studies.
A literary scholar, Bronzini explained magical and superstitious peasant culture of the thirties and forties and the traditions of rural Italy.
Tradizioni popolari in Lucania (Matera, Montemurro, 1953)
Accettura: il contadino, l'albero, il santo (Galatina, Congedo, 1977)
Mito e realtà della civiltà contadina lucana (Matera, Montemurro, 1977- Vincitore Premio "Basilicata")
Cultura popolare. Dialettica e contestualità (Bari, Dedalo, 1980), Cultura contadina e idea meridionalistica (Bari, Dedalo, 1982)
Homo laborans. Cultura del territorio e musei demologici (Galatina, Congedo, 1985)
I canti popolari di N. Tommaseo (Lecce, Milella, 1985)
L'Universo contadino e l'immaginario poetico di Rocco Scotellaro (Bari, Dedalo, 1987)
Intellettuali e poesia popolare nella Sicilia dell'Ottocento (Palermo, Sellerio, 1991)
La letteratura popolare italiana dell'Otto-Novecento: profilo storico-geografico (Novara – Firenze, De Agostini – Le Monnier, 1994)
Storia del culto della Madonna dell'Arco attraverso le fonti scritte e figurative dei secoli XVII-XVIII (Firenze, Olschki, 1998)