Born

13 July 1922 (age 94), Vienna, Austria

Died

8 June 2017 (aged 94), Washington, Pennsylvania, United States
Fred Fiedler - Oral History - ILA Leadership Legacy Program
Fred Edward Fiedler (July 13, 1922 - June 8, 2017) was one of the leading researchers in industrial and organizational psychology of the 20th century. He helped shape psychology and was a leading psychologist.
He was born in Vienna, Austria to Victor and Helga Schallinger Fiedler. His parents owned a textile and tailoring supply store prior to 1938. Fiedler immigrated to the United States shortly after the Anschluss in 1938 and became a US citizen in 1943. He served in the US Army from 1942 to 1945. He studied psychology in the University of Chicago where he obtained his undergraduate degree and later a Ph.D. in clinical psychology in 1949. In 1951, he moved to the University of Illinois and became a member of the psychology faculty. He became the director of the Group Effectiveness Laboratory at the University of Illinois from 1959 to 1969.
He was business and management psychologist at the University of Washington and held positions in the Department of Psychology and the School of Business. He directed organizational research at the university from 1969 until his retirement in 1992.
He helped this field move from the research on traits and personal characteristics of leaders, to leadership styles and behaviours. In 1967 he introduced the contingency modeling of leadership, with the now-famous Fiedler contingency model.
Fiedler's work with the contingency model of leadership provided an answer to the failings of the trait and behavioral theories and added to the understanding of the dynamics of leadership.
He died in June 2017 in Washington state at the age of 95 and was survived by his wife, Judith (whom he met as a student in the 1940s) and three daughters (Decky Fiedler, Tory Fiedler and Carol Fiedler-Kawaguchi). A funeral was held for him at Mercer Island, Washington.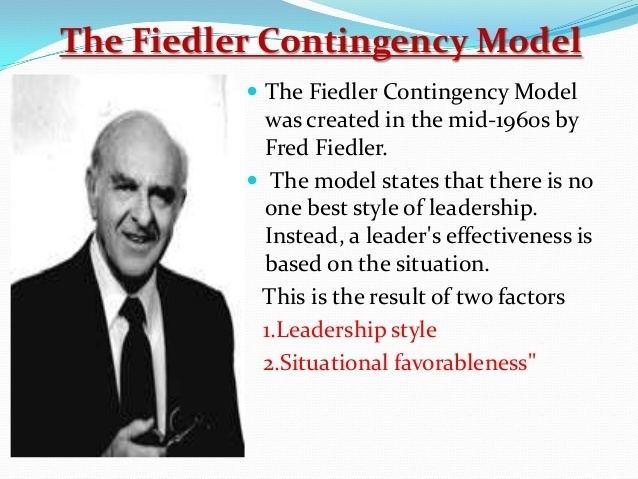 References
Fred Fiedler Wikipedia
(Text) CC BY-SA