Forrest Howard McDonald (born April 22, 1950), is an American blues rock musician who has written hundreds of songs and played on many records.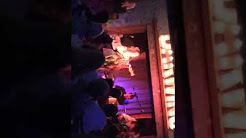 Forrest Howard McDonald was born in Austin, Texas. He started playing the guitar at age 14, in his early 20s he studies at the Dick Grove Conservatory of music in Studio City, CA and at the Howard Roberts GIT. He is the son of Constitutional scholar Forrest McDonald and has lived and performed all over America.
This versatile singer, songwriter, guitarist met and was influenced by Muddy Waters in 1964.
Originally from Austin, Texas, Forrest McDonald's career began over 46 years ago, and has spawned dozens of recordings and international acclaim. His 11th CD "Certified Blue" is released by World Talent Records.
He is a three time Just Plain Folk blues award winner, and was voted "Best Southern Blues Band" 1999-2001 by Real Blues Magazine.
'Finger Lickin' Blues' was voted the best southern blues release by RBM in 2001.
Forrest McDonald's band plants seeds of old Chicago and Texas traditions in fields of slow blues, jump, torch, boogie, jazz and good time swing.
Forrest has appeared or headlined many popular outdoor festivals such as The Atlanta Blues Festival, The Gasparilla Festival, Spring Fest, The River Place Arts Festival, Bay Fest, The Vallejo Jazz & Blues Fest, Sun Fest, The Carolina Blues & Seafood Festival, Bluesapalooza, The Montreaux Atlanta Festival, The Jacksonville Beach Annual Festival, The Melbourne Art Festival, The Hi-Fi Buys Amphitheater, the King Biscuit Blues Festival and many others.
The Certified Blue CD features his wife and Vocalist Kaylon McDonald. Kaylon started singing & playing the guitar when she was 10 years old. She won the Atlanta Female Entertainer of the year award in 1991.