7.8

/

10

Alchetron

9.4

Rate This




Music director

Adam Small




Producer

Cheryl Sirulnick




Release date

February 15, 2006 (2006-02-15)

Directors

James Huang, Kristen Schylinski, Cheryl Sirulnick

Cast

Jimbo Slice, Matthew Liber, Marisa Cristinzio, Chelsea G., Petey Mulherin, Dianne Harbaugh, Braelyn Villella

Similar

Flight 175: As the World Watched, Out of the Shadow (2004 film), Meeting David Wilson
MTV - Return To Fat Camp - 2007
Fat Camp: An MTV Docs Movie Presentation is a documentary television film about five teens at a fat camp founded by Tony Sparber called Camp Pocono Trails (CPT), in the Poconos, Pennsylvania.
Contents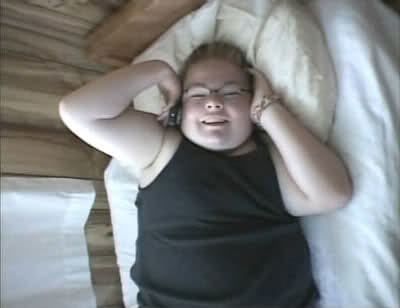 Summary
At the start of the documentary, the five main campers are introduced one by one, along with their starting weight and goal weight for the summer.
Much of the documentary's runtime was dedicated to following Petey and Marisa as they tried to navigate a possible romantic connection. Tensions rose when it was revealed that Matthew had also dated Marisa the year before. However, Marisa eventually made it clear that she wanted nothing to do with Petey, which led to Petey calling her a "bitch" for rejecting him.
Braelyn, a counselor at Camp Pocono Trails, struggled with her duties well enough to avoid getting demoted to just another camper. After she was caught sneaking out with a friend to buy cigarettes and junk food, Braelyn was fired and swore never to return to camp again.
Dianne, a camper whose mother worked at the camp, was bullied by most of the girls due to her reluctance to shower. Dianne often reacted to the torment by crying, which unfortunately led to even more ridicule.
Throughout the documentary, the camp counselors degraded the campers with remarks about their weight in an attempt to motivate them to work harder to lose it. Counselors also treated food like contraband, which promoted an unhealthy relationship with food.
By the end of the documentary, many campers had left the unhealthy situation at the camp, but the few that stayed did exhibit a visible amount of weight loss.
Sequel
Some counselors and campers from the first Fat Camp also appeared in the sequel, Return to Fat Camp, released in 2007. Notably, both Petey Mulherin and Marisa Cristinzio returned as camp counselors.
Where Are They Now?
None of the five main campers of Fat Camp pursued a career in entertainment, though some of them have provided updates about their lives on various social media platforms. Here's where each of the campers are today, as of January 2023:
Petey Mulherin
After his appearances in Fat Camp and Return to Fat Camp, Petey Mulherin began studying finance at William Paterson University in 2011. He then studied marketing at St. Bonaventure University, eventually leading to a career in sales and marketing.
In 2021, he became a Business Development Executive at CM Group and was promoted to Account Executive in August 2022. He appears to enjoy a quiet life away from the public eye and has a very limited social media presence.
Marisa Cristinzio
After seeing herself on Fat Camp, Marisa was horrified by her weight and how "everything jiggled". She developed an eating disorder between the filming of Fat Camp and Return to Fat Camp – this helped her lose weight for the second film but was taxing on her physical and mental health.
Marisa has said that her takeaway from the Fat Camp experience was a positive one: stand up for yourself and love your body. She has since become a Beachbody coach and even started her own coaching business, Vegan Bodies by Marisa.
In 2017, Marisa married Jeff Stein in Claymont, Delaware. The couple has at least one child.
Dianne Harbaugh
After appearing in Fat Camp, Dianne decided to take up English Literature & Education at the University of Southern Mississippi. She then went on to work as a Sales Associate at a Toys "R" Us branch in Minneapolis before moving to Broomfield, Colorado to pursue a career in education.
Braelyn Villella
After her appearance on Fat Camp, Braelyn pursued nursing at the Community College of Beaver County in Monaca, Pennsylvania. After a stint as a waitress in Pittsburgh, she worked as a psychiatric nurse at a local clinic.
As of January 2023, Braelyn is married to boxer Kiante Irving, with whom she has two children.
Matthew Liber
Not much is known about Matthew after his appearance in Fat Camp, as he did not appear in Return to Fat Camp and maintains a minimal social media presence. As of January 2023, his last known employment was at a plumbing company in Valley Stream, New York, before which he worked at a metal products manufacturer.
References
Fat Camp: An MTV Docs Movie Presentation Wikipedia
(Text) CC BY-SA
Fat Camp: An MTV Docs Movie Presentation IMDb