Erik Daniel Pappas (born April 25, 1966 in Chicago, Illinois) is a former professional baseball player who played for the Chicago Cubs and St. Louis Cardinals.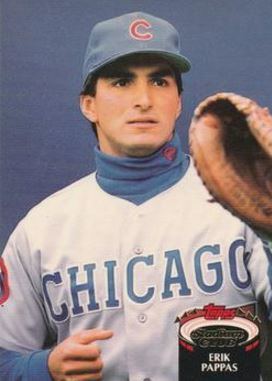 Pappas, a former St. Louis Cardinals catcher, begins his second season as a coach in the Cardinals system, he will serve as the Springfield Cardinals Hitting Coach for the 2014 season. Pappas spent the 2012 campaign as the Hitting Coach for the Peoria Chiefs (Low-A). Prior to joining the Cardinals ranks, Pappas spent 2006–12 at the Cangelosi Baseball Academy in Orland Park, Illinois, while also serving as a scout for the Texas Rangers from 2005 to 2009.
He appeared in 8 games for the Cubs during the 1991 season and appeared in a total of 97 games for the Cardinals during 1993 and 1994 seasons. During the 1993 season, he had one home run and 28 RBIs.
A 6 ft 0 in (1.83 m) catcher, Pappas played in a total of 104 games with a .242 batting average in his Major League Baseball career. Pappas, who is of Greek ancestry, was selected to play for the Greek national baseball team in the 2004 Summer Olympics in Athens, Greece.
Pappas currently resides in the Beverly neighborhood in Chicago, Illinois.