Emma Albertazzi (1 May 1814 – 25 September 1847) was an English stage contralto.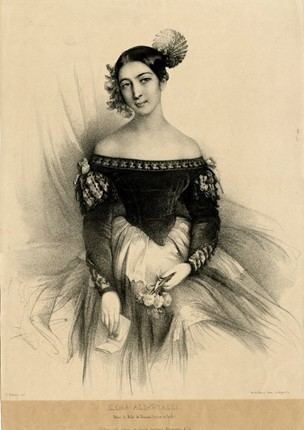 Born Emma Howson, she was the daughter of Francis Howson, an English music professor. She was a pupil of Michael Costa with whom she began studying at the age of 14 in London. She debuted in 1829 at Argyle Rooms, London. She was engaged at Her Majesty's Theatre in 1830, and then in Piacenza, Italy in 1831, where she married the Italian lawyer Albertazzi. While in Italy she was a pupil of famed soprano Giuditta Pasta. She sang in La Scala (1831), Madrid (1833), and Paris at the Théâtre des Italiens (1830, 1835, 1837), her most brilliant period. She reappeared in London in 1837-1839 where she notably performed in the world premiere of Michael William Balfe's Falstaff on 19 July 1838. She then went back to Italy where she performed during the 1840s, although she appeared at the Princess's Theatre in London in October 1846 for the world premiere performances of Edward Loder's opera The Wilis, or The Night Dancers in the role of Giselle opposite Sara Flower in the role of Bertha. The Wilis ran for 21 performances, with Albertazzi's final performance on 7 January 1847. She had, however, already given a farewell concert in London in 1846.
According to Baker's Biographical Dictionary of Musicians, she had a fine voice, but no passion or animation in singing or acting. Henry Fothergill Chorley (1808–1872) expressed the same view in his musical memoirs. However, his near contemporary, dramatic author, Edward Fitzball took a different view:
As Ninetta in La Gazza Ladra - a more beautiful representative ... never presented itself to the tearful eye, or tender heart , ...Her voice was unsurpassable ... . Her singing of Di Piacer is not to be described. … poor lovely Albertazzi, … died young after a brief career, like a bird that sings sweetly beneath our lattice, then takes flight to more sunny regions. … An Englishwoman by birth … voice and execution have seldom been surpassed by a foreigner.
According to Fitzball, Albertazzi 'died young in a deep decline', the term 'deep decline' possibly period code for tuberculous meningitis.
Albertazzi was the sister of singers Francis [Frank] and John Howson who made important contributions to operatic history in Australia 1840s- 1860s; and aunt to Frank Howson's daughter Emma Howson, soprano and vocal teacher, who, with the Howson troupe, toured in the U.S. in the 1870s with some success, settling there permanently.