Emmette "Em" Bryant (born November 4, 1937) is a retired American professional basketball player and Vice President/Chicago Chapter at NBA Alumni.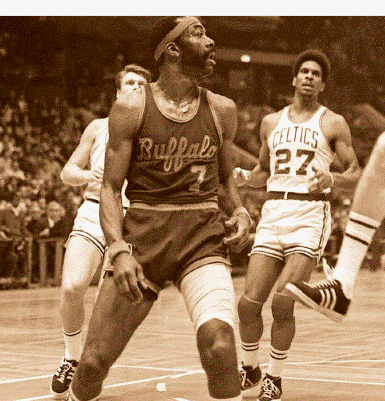 Born in Chicago, Illinois.
Emmette married Bonnie (née Simmons) on February 14, 1983.
A 6'1" Guard No. 7 from DePaul University, Bryant played eight seasons (1964–1972) in the National Basketball Association as a member of the New York Knicks, Boston Celt ics and Buffalo Braves. He scored 3,722 points in his career and was a key component of the 1969 Celtics NBA Championship team which defeated Jerry West and the Lakers. He his a member of the DePaul University Sports Hall of Fame and the Chicagoland Sports Hall of Fame. Em is active in retired basketball players activities and was a key member of the Executive Board of the National Retired Players Association. He also coached two years with Bill Russell as assistant coach for the Seattle SuperSonic which are now the Oklahoma Thunder during 1973 and 1974. ChicagoLand Sports Hall of Fame 2010, DePaul Hall of Fame, and Rucker Professional Basketball Hall of Fame.
Legendary DePaul head basketball coach Ray Meyer discovered Bryant while he was starring at Crane Junior College on the near west side of Chicago. After a glorious career as a Blue Demon, he went on to have an eight-year career in the NBA, starring alongside greats such as Bill Russell, Walt Frazier, John Havlicek and more.
Bryant was drafted in the 1964 NBA Draft by the New York Knicks, where he spent years turning around the franchise into a perennial contender. After his time in New York, he joined the Boston Celtics, and instantly became a part of the most dominant dynasty in professional sports history. He contributed 20 points in the Celtics' victory over the Lakers in game seven of the 1969 NBA Finals, widely regarded as one of the greatest games in basketball history. The win gave the Celtics their eleventh championship in thirteen years. Bryant spent the latter part of his career with the Buffalo Braves, who selected him in the 1970 expansion draft.
In 1970, Bryant moved on to the Buffalo Braves, and retired from the league in 1972. Immediately after his playing days, Bryant became an assistant coach; one year at Columbia University in New York and two years with the Seattle Supersonics. All along the way, Bryant would say, "I'm just a teacher that happened to play pro ball." Bryant then went to work for the State of Washington for the next 30 years, starting out with the Department of Social and Health Services, in charge of recreation throughout the state for that department's correctional institutions. He later became the Recreation Director at Mission Creek Youth Camp.
Today, the DePaul University Hall of Famer is living back in Chicago. He still plays basketball weekly and even won a championship last year in a league of extraordinary gents, age 70 and older."
High School: DePaul Academy; College: DePaul University; NBA Draft 1964; Draft New York Knicks, 7th round (1st pick, 53rd overall)'; Pro Career 1964–1972; NBA champion 1969; 1964–1968 New York Knicks; 1968–1970 Boston Celtics; 1970–1972 Buffalo Braves.

A 6'1" guard from DePaul University, Bryant played eight seasons (1964–1972) in the National Basketball Association as a member of the New York Knicks, Boston Celtics and Buffalo Braves. He scored 3,722 points in his career and won a championship with the 1969 Celtics.
Emmette Bryant went on to be a security guard at a high school in Tacoma, Washington. He was known to the students as "Mr. Bryant". Amongst his many duties, Mr. Bryant would ensure that all students got off the bus in the morning and on the bus in the afternoon. He made sure that people were safe on campus and responded to many first aid emergencies over the years. His service to the community can be seen when he helped keep everyone organized after the earthquake in early 2000s.
Mr. Bryant would also help the kids deal with the everyday problems that faced an inner-city youth in a multi-racial community. His grace and style of treating all students with dignity and respect was the reason he was so respected by all the students.
Mr. Bryant would also act as a counselor of sorts to the students and would be a fair sounding board who kept you honest with yourself. This writer would like to thank him for that. It couldn't have been easy dealing with all that during that time in our history.