Title

2nd Clan Chief




Predecessor

John Mor Tanister





Name

Domhnall Ballach




Died

1476






Successor

John Mor MacDonald, 3rd of Dunnyveg




People also search for

Alexander of Islay, Earl of Ross
Domhnall Ballach, also known as Donald Balloch MacDonald (d. c. 1476) was a son of Iain Mòr Tànaiste MacDhòmhnaill and Margaret Bisset, daughter of MacEoin Bisset, Lord of The Glens. He was the second chief of Clan MacDonald of Dunnyveg.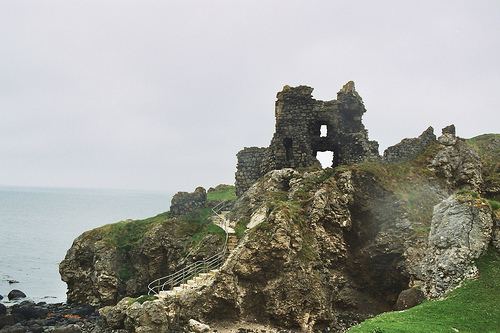 He succeeded to the chieftainship of the clan after his father was murdered by James Campbell after a scheduled meeting at Ard-du, Islay in 1427. Donald took revenge and James Campbell was executed, protesting however, that it was done under the King James I of Scotland's order.
Known as a military leader he was chosen to lead Clan Donald and defeated the forces of King James I at the battle of Inverlochy in 1431. Subsequently, after a number of defeats against Royal forces Donald was forced to flee to Ireland. A pickled head was presented by his friend, the Irish Chief Hugh Buy O'Neill, who presented it to the King James I, as that of the rebel Lord of Dunnyveg. After the death of King James I, Donald returned to Dunnyveg in 1437.
He died on an islet upon Loch Gruinart, Islay in c. 1476.
Family
By his first wife Johanna, daughter of Conn O'Neill of Edenduffcarrick, they had;
John Mor MacDonald, m. Sabina O'Neill, daughter of Felim 'Bacach' O'Neill
Margaret, b. c. 1414 married Ruari MacDonald, 3rd of Clan Ranald.
By his second wife Joan, daughter of O'Donnell, Lord of Tyrconnel, they had;
Agnes, who married Thomas Bannatyne of Knraes.
References
Domhnall Ballach Wikipedia
(Text) CC BY-SA