Occupation

Actor




TV shows

Stark




Years active

1974–present






Born

1941 (age 75–76)

Dublin, Ireland




Movies

Lethal Weapon 2, Deep Rising, End of Days, Daredevil, Hope and Glory




Similar

Joss Ackland, Steve Kahan, Traci Wolfe, Una Damon, Patsy Kensit
Derrick O'Connor (born 1941) is an Irish character actor, best known for his performance as Pieter Vorstedt in Lethal Weapon 2. He is also known for his roles in Terry Gilliam films, and was a member of the Royal Shakespeare Company. Gilliam, who has directed O'Connor on three films, has noted in his audio commentaries that Derrick seems to have a habit of taking away most of his dialogue in favor of physical character humor. Notable examples include Time Bandits, in which his characters' dialogue was resorted to simple grunts while the Maid Marian character "translated" for him and in Brazil, in which Derrick scrapped all of his character's dialogue and simply repeated the dialogue of Bob Hoskins' character.
Select filmography
The Blue Hour (2007) .... Humphrey
Unrest (2006) .... Dr. Walter Blackwell
Pirates of the Caribbean: Dead Man's Chest (2006) .... Very Old Man
Daredevil (2003) .... Father Everret
End of Days (1999) .... Thomas Aquinas
Deep Rising (1998) .... Captain Atherton
How to Make an American Quilt (1995) .... Dean Reed
Felidae (1994) .... Mendel (English dub)
Stark (1993) .... Zimmerman
Dealers (1989) .... Robby Barrell
Lethal Weapon 2 (1989) .... Pieter 'Adolph' Vorstedt
Hope and Glory (1987) .... Mac
Brazil (1985) .... Dowser
Pope John Paul II (1984) ..... Swiacki
The Missionary (1982) .... Gym Trainer
Time Bandits (1981) .... Robber Leader
Hawk the Slayer (1980) .... Ralf
Bloody Kids (1980) .... Detective Ritchie
Sweeney 2 (1978) .... Llewelyn
Jabberwocky (1977) .... Flying Hogfish Peasant
Butley (1974) .... Irishman in pub
The Final Programme (1973) .... Frank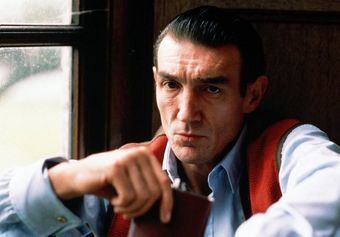 References
Derrick O'Connor Wikipedia
(Text) CC BY-SA