Born

13 November 1944 (age 76)
Paul mason of bbc newsnight on david abrahams
David Martin Abrahams (born 13 November 1944), is a property developer and political activist.
Contents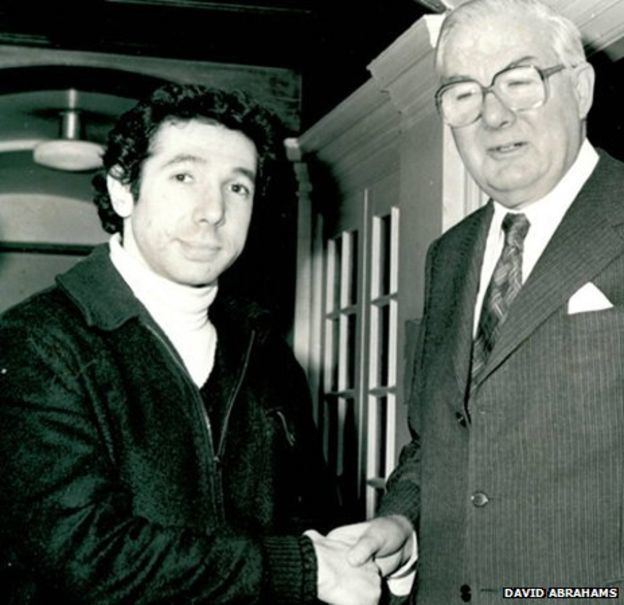 Early life
Abrahams was born in Whitley Bay, Northumberland and brought up in Newcastle upon Tyne as the only child in a strongly political family. His father Bennie Abrahams (1906-1990) was a Labour councillor for the Monkchester ward of Newcastle City Council, and served as the city's Lord Mayor for one year in 1981-2.
Political career
Abrahams was a councillor for the Labour Party on Tyne and Wear County Council from 1979 to 1983. He was selected as the Labour candidate for Richmond, Yorkshire in the 1992 General Election but was deselected after a "bitter row". In 1997 he was unsuccessful in his attempt at selection for the seat of Wansbeck near Newcastle.
Abrahams faced high-profile media accusations in 2007 that he had secretly made £630,000 in donations to the Labour Party, by channelling the donations through four different individuals in what was thought to have been a breach of the electoral law on transparent disclosure. The Donorgate scandal put pressure on then Prime Minister Gordon Brown who set up an internal enquiry, although no report has ever been published. Abrahams was subsequently cleared of any wrongdoing by the police, according to a statement issued by his solicitor Louis Charalambous, a partner with the London law firm Simons Muirhead and Burton, in April 2008.
The BBC spotlighted Abrahams in their 'Political Lives' series in February 2014, detailing his life's work. In the BBC interview footage he stated that "I've been active politically all my life, still am and still taking an active interest in Labour - these things don't go away. But it's not the be all and end all, being in the Commons - people have still got the qualities, got the skills, still got the talent and use them in different directions."
In April 2016, following high-profile remarks made by a Labour MP Naz Shah and the former Mayor of London, Ken Livingstone, Abrahams said that he would no longer financially support the Labour party, claiming it was becoming increasingly anti-semitic.
Other Interests
Abrahams is a Vice President of the Royal United Services Institute, and a Freeman of the City of London.
He has served as Vice-Chairman of the Jewish Labour Movement and on the Executive of the Trade Union Friends of Israel.
In 2010 it was reported that "he supports more than 70 charitable and voluntary organisations, including male cancer research charity 'Every Man Alive'".
Abrahams' Twitter page is @davidabrahams 8, where he describes himself as "working for peace in the Middle East and prosperity in the North East (UK)".
Business
In 2010, Abrahams was reported to be finalising a £1 billion business park at Durham Green, County Durham.
References
David Abrahams (businessman) Wikipedia
(Text) CC BY-SA