Batting average

.212




Home runs

61





Runs batted in

179




Name

Dave Nicholson






David Lawrence Nicholson (born August 29, 1939 in St. Louis, Missouri) is a former outfielder for the Baltimore Orioles (1960 and 1962), Chicago White Sox (1963–65), Houston Astros (1966) and Atlanta Braves (1967), known for his towering, although infrequent, home runs. In 1964, he hit a home run 573 feet onto-and-over the left-field roof of Chicago's Comiskey Park. While playing in Chicago and because of his towering Home runs, he was known by the nickname "Big Nick".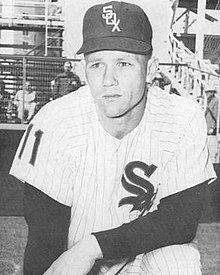 Nicholson had an unusual batting style, holding the bat almost over his head as he'd look out at the pitcher from underneath his arms. During his 7-year career, he struck out 573 times in 1,419 at-bats, the worst strikeout rate in Major League history. In 1963, Nicholson struck out an American League-leading 175 times; this would remain a single-season franchise record until Adam Dunn struck out 177 times in 2011.
On May 5, 1962, Nicholson was the last batter of a no-hitter pitched by Bo Belinsky of the Los Angeles Angels against the Baltimore Orioles, popping out to third base. The Orioles had signed Nicholson and loved his potential, having seen him hit .298 for their Aberdeen, South Dakota farm club in 1959 with 35 home runs.
But the strikeouts accumulated, so in January 1963, Nicholson was traded to the White Sox along with Hoyt Wilhelm, Ron Hansen, Pete Ward for longtime All-Star shortstop Luis Aparicio and Outfielder Al Smith. He enjoyed his best season in the majors, producing 103 hits with a career-high 22 home runs. But his league-leading 175 strikeouts kept his position with the team in jeopardy.
One of the most memorable nights of the 1964 season occurred on May 6, during a doubleheader at Comiskey Park during which Nicholson demonstrated an amazing feat of strength. In Game 1, batting against Kansas City Athletics starter Moe Drabowsky in the fifth inning, Nicholson walloped a leadoff home run that either bounced atop the left-field roof or entirely cleared it. The ball was found across the street. Howie Roberts, the team's traveling secretary, told the Associated Press: "If it had landed on the roof, it would have a visible bruise on it. It cleared the roof."
The home run was officially measured at 573 feet and was discussed in years to come as one of baseball's longest of all time. Nicholson homered three times in that doubleheader, another off Drabowsky in the following inning, and a shot off Aurelio Monteagudo in the first inning of Game 2.
Typically of his up-and-down fortunes, Nicholson would end up hitting just 13 home runs that entire 1964 season.
For his career, he played in 538 games and had 1,419 at bats, 184 Runs, 301 Hits, 32 doubles, 12 triples, 61 Home Runs, 179 RBI, 6 Stolen Bases, 219 Walks, 0.212 Batting Average, 0.318 on-base percentage, 0.381 slugging percentage, 540 Total Bases, four Sacrifice Hits, 12 Sacrifice Flies, and seven Intentional Walks.
References
Dave Nicholson Wikipedia
(Text) CC BY-SA