Active until

1985




Genre

Rock




Active from

1977







Albums

The Best Of Coast To Coast, Arctic, Lessons Learned




Record labels

Charly Records, Collecting Records OMP




Similar

Alan Mills, Brendan Bowyer, Crystal Swing, Rocky Sharpe, Showaddywaddy
Coast To Coast-Do The Hucklebuck 1981
Coast to Coast was a British band from Wellingborough Northamptonshire, that was signed to Polydor Records. They are best known for their 1981 Top 5 hit in the UK with "(Do)The Hucklebuck"Flip Side ( Telephone Baby ).
Contents
Career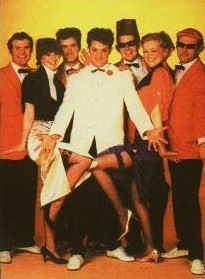 Formed in 1977 by Bud Smith (bass) and Bob Debank (guitar), who then auditioned Alan Mills for the lead vocalist and adding Graham ( Woofey) on Drums. this was the original formation of the Band. . They were joined by Sonnie Torlot (Saxophone) at a later date. and Earl Barton (drums) replaced Woofy.
By 1980 tensions surfaced and Mills and the band parted company. Sandy (Sandy Fontaine), who later changed his name back to his Birth name Alex Giannini (actor and writer died 02 October 2015, who married Harry Secombe's daughter Jennifer) replaced Mills as the lead singer in 1980. Although the British Hit Singles & Albums book cited Sandy Fontaine as the singer for "(Do) The Hucklebuck", it was actually Alan Mills' vocal that appeared on the single. Fontaine's vocal was added to the album version. The song reached number 5 in the UK Singles Chart in 1981, it was a cover version of a song recorded by Roy Milton and Chubby Checker amongst others.
The follow-up release, another cover version this time of Brenda Lee's hit, "Let's Jump the Broomstick" sung by Sandy Fontaine, peaked at number 28 in the same chart in June 1981.
The group disbanded in 1982. A few reforms with new members have been tried with little success, not matching the impact of the original band.
Bud Smith and Sonnie Torlot have the performing rights to the band name "Coast to Coast."
Although the single "(Do) The Hucklebuck" has been made available on a number of various artist compilation CDs, to date, the follow-up hit single "Let's Jump The Broomstick" and the parent album "Coastin'" have yet to be made available on CD.
Lead singer Alan Mills died on 21 July 2016.
Band members
Alan Mills (vocals) 1977-1980
Sandy Fontaine (vocals) 1980-1982
Sonnie Torlot (sax, vocals).1978-1982
Jamie Ling (guitar, vocals).1979-1982
Bud Smith (bass, vocals).1977-late 1979 then rejoining in 1980 to late 1982
Earl Barton (drums)1980-1982
Bob Debank (guitarist, vocals) 1977-1979 (Founder member along with Bud Smith) departed from the band before signing a record contract with Polydor.
Albums
1981 Coastin' Polydor UK (Metronome Germany Records).

EP.
Rock This Joint/The South's Gonna Rise Again. Dixieland Rock./The Great Pretender. YORKIE.
SINGLES
(Do) The Hucklebuck./Telephone Baby. POLYDOR.
Jump The Broomstick./Roller Coaster Rock. POLYDOR.
Baby Why Let Go./Your Mama's Back. POLYDOR.
Coastin./Born To Rock'n'Roll, POLYDOR.
Rollercoaster Rock./you Mama's Back./and Born to Rock n roll. Writers. Dapin and Snute. ( Bud Smith and Sandy Fontaine.)
Songs
The Hucklebuck1980
AmigliaLessons Learned · 2016
Veils - Visions - FadingLessons Learned · 2016

References
Coast to Coast (band) Wikipedia
(Text) CC BY-SA