Birth name

Svetlana Velickovic




Name

Svetlana Velickovic




Genres

pop-folk


Years active

1987–present




Role

Singer




Siblings

Lidija Velickovic




Also known as

Ceca




Occupation(s)

Singer




Website

Ceca-Official.com




Height

1.73 m






Born

14 June 1973 (age 49) Zitorada, SFR Yugoslavia (

1973-06-14

)


Albums

Poziv, Ludo srce, Gore od ljubavi, Emotivna luda, London MIX



Similar

Džej Ramadanovski, Lepa Brena, Haris Džinović




Profiles




Facebook

Google+
Svetlana Raznatovic (Serbian Cyrillic: Svetlana Razhnatoviћ, [svetlana raʒnaːtovit͡ɕ]; nee Velickovic/Velichkoviћ, [velit͡ʃkovit͡ɕ]), known by her stage name Ceca (TSetsa, [t͡seːt͡sa]; born 14 June 1973) is a Serbian pop folk singer, and one of the most popular singers in Serbia and the Balkans. She started her career as a folk singer in 1988. Being one of the highest paid artists in the Serbian music industry, she performs pop-folk.
Contents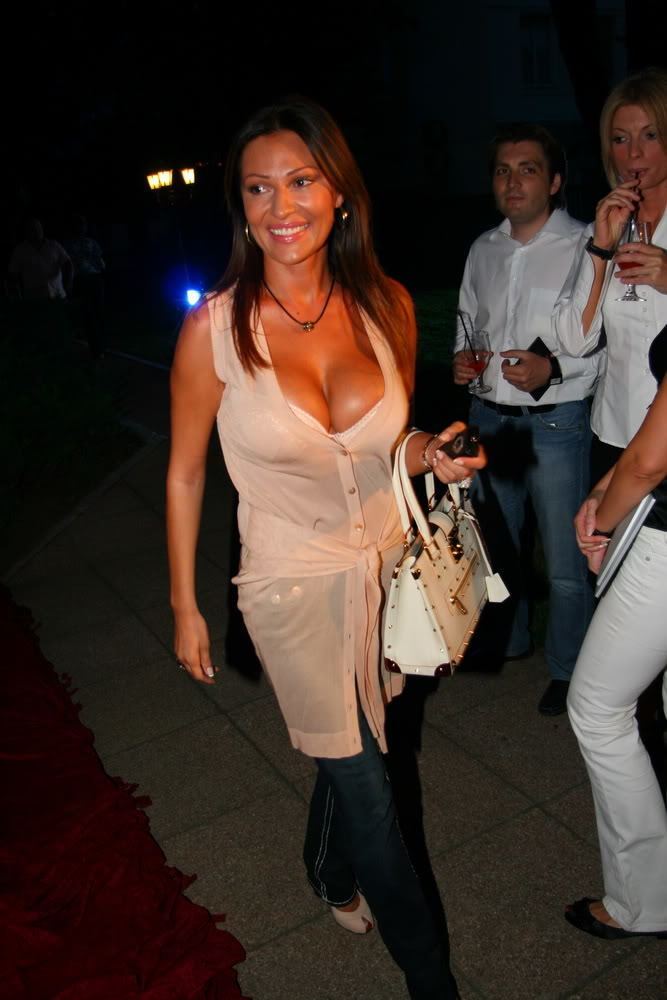 Early life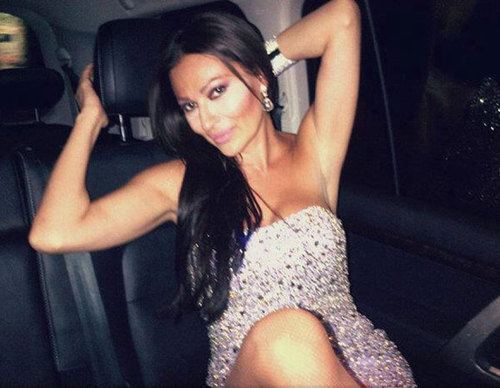 Ceca was born Svetlana Velickovic in the village of Zitorada, then part of Yugoslavia. She lived with her parents, father Slobodan and mother Mira, until 1991, when she eloped to Switzerland with her boyfriend at the age of 18. She has a sister named Lidija.
Career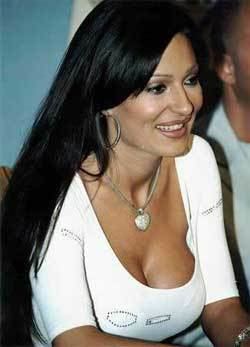 Ceca had her first public appearance at the age of nine, in her hometown, and at the age of thirteen she sang in a hotel on the Montenegrin coast, while vacationing with her parents. Here, the acclaimed singer and accordion player Mirko Kodic noticed her, and helped her in recording her first studio album Cvetak zanovetak (The Little Nagging Flower, 1988). At the age of fifteen, she performed at the Ilidza Music Festival in Sarajevo, at which her song "Cvetak zanovetak" won the competition, and became a hit. Ceca was mentored by Dobrivoje Ivankovic, a composer and producer of folk music, who launched many careers in the 1970s and 1980s.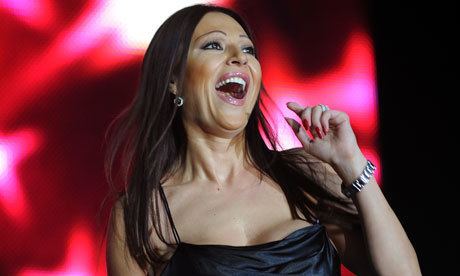 Her first two albums, Cvetak zanovetak (1988) and Ludo srce (Crazy Heart, 1989) were made in the traditional Serbian folk music style with some songs, such as "Volim te" (I Love You), having a more modern production. Pustite me da ga vidim (Allow Me to See Him), she quickly became a very popular teenage star and idol for many people in Serbia. Her third album, was a major hit in the former Yugoslavia. Ceca became the best-selling artist of the Belgrade TV's record label PGP-RTB and third best-selling female folk artist in Yugoslavia, behind Lepa Brena and Dragana Mirkovic. She continued in the same direction with her next album, Babaroga (1991) which included a music video for the song "Hej vrsnjaci" (Hey Peers) composed of footage from her eighteenth birthday gala event.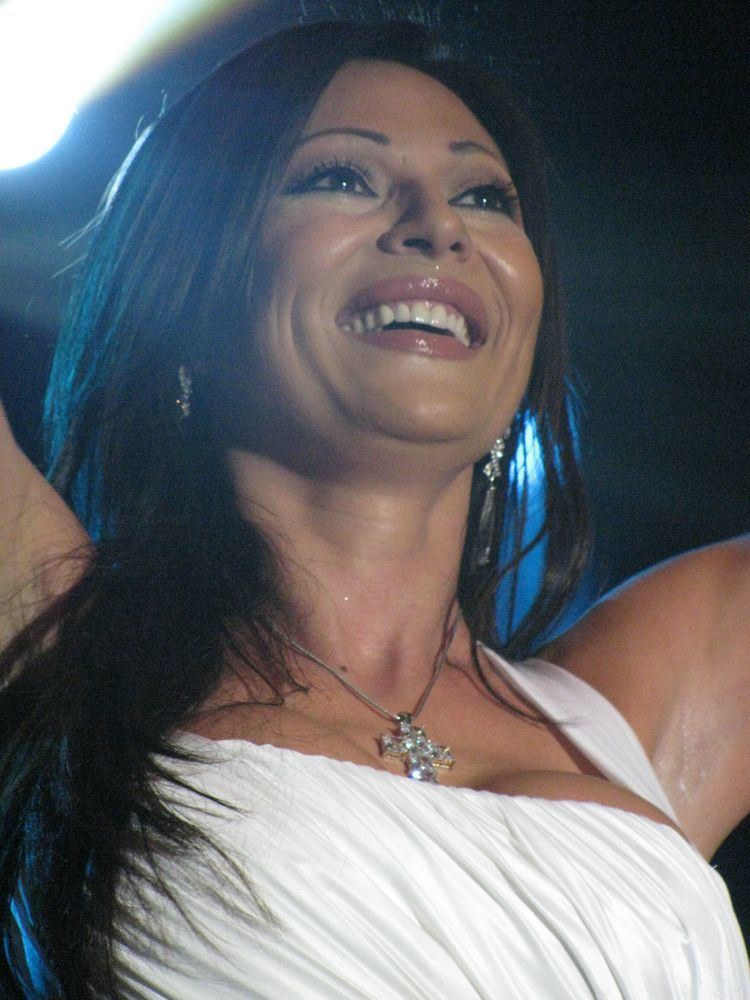 At the age of 17, Ceca was cast in the role of Kostana, a gypsy singer and dancer, in Stojan Stojcic's directorial effort of Necista krv (Impure Blood), a movie based on the works of Serbian playwright and novelist Borisav Stankovic. Even though she had acted alongside actors such as Rade Serbedzija, Ljuba Tadic, she felt that her role was unimportant and therefore asked for her scenes to be removed because of "low quality." The troubled production took years to complete and received poor critical reception upon its release in 1996.
She continued to work with Marina Tucakovic, Edin Dervishalidovic and later with their young protege Aleksandar Milic Mili, with whom she continues to work today. Her next three albums, Sta je to u tvojim venama (What Is In Your Veins?, 1993), Ja jos spavam u tvojoj majici (I Still Sleep In Your Shirt, 1994) and Fatalna ljubav (Fatal Love, 1995), broadened her popularity and included hit songs such as "Nije monotonija" (It Is Not Monotony) and two covers of hit Hanka Paldum songs: "Trazio si sve" (You Wanted Everything) and "Volela sam volela" (I Loved, I Loved.) With a more modern production of music, music videos, and an evolving style, her popularity grew, as demonstrated by her 1996 album Emotivna luda (Emotionally Crazy) and 1997's Maskarada (Masquerade). The song "Nevaljala" (Naughty) from Maskarada became the number one hit in Serbia for seventeen consecutive weeks. Her recording schedule became erratic because of the birth of her two children, Veljko in 1996 and Anastasija in 1998, and having to deal with family tragedy.
She released her tenth studio album, Ceca 2000 (1999), which featured multiple hit songs: "Crveno" and two covers "Crni sneg" and "Svice dan". Her eleventh album Decenija (Decade, 2001) had two hit songs, "Tacno je" (It's Correct) and the title track. Ceca's twelfth album was Gore od ljubavi (Worse Than Love), released in 2004, and her thirteenth studio album Idealno losa (Ideally Bad, 2006) contained the hit songs "Manta, manta" (Dizzy, Dizzy) and "Koza pamti" (Skin Remembers). She released her fourteenth studio album Ljubav zivi (Love Lives) in June 2011.
In June 2013, she held a concert at Usce in Belgrade in front of 170,000 people for her 40th birthday singing 47 songs for 4 hours, breaking her personal record.
Football
She inherited the football club FK Obilic from her deceased husband and became its president. She often appeared at matches in fur coats and imposed strict monetary punishments on players who performed poorly as Obilic, former champion of Yugoslavia, sank in the rankings. It has continued to fall, currently relegated to a local amateur league. When Miljan Miljanic stepped down as president of the Football Association of Yugoslavia in September 2001, Ceca was promoted as his successor. One notable supporter was Velibor Vasovic. The former Ajax captain noted that she was one of the few investing money in Serbian football. Former Crvena Zvezda player Dragan Stojkovic Piksi was elected instead.
In March 2011, Ceca was charged with embezzlement and accused of illegal possession of eleven weapons. She had sold fifteen players of FK Obilic to several international football clubs, including Fenerbahce. State prosecutors accused Ceca of taking for personal use an illegal share in the sale of fifteen players. Ceca denied having been involved in any illegal activity, saying her late husband was responsible for FK Obilic and the eleven illegal weapons found in her home, the property of a man who had died a decade before.
Politics
Ceca was appointed the honorary president of the Party of Serbian Unity (SSJ) formed by her late husband, Zeljko Raznatovic (Arkan). She has not been politically active and claims to have only accepted the position in honor of her deceased husband. After clashing with the president of the party, Borislav Pelevic, on many issues, Ceca withdrew herself from politics completely.
On the night of 17 March 2004, Ceca and Kristijan Golubovic (close associate of Arkan) gathered demonstrators in front of the government building in Belgrade to speak about the situation in Kosovo and the burning of more than 300 Serbian Orthodox churches in Kosovo.
Charity
Ceca is the president of the "Third Child" humanitarian fund. Her organizations prime goal is to increase the birthrate in Serbia and to help families who already have three or more children. She has held several humanitarian concerts raising money for food, clothing, and sundries to benefit the Serbs in Kosovo, after the 2004 unrest in Kosovo in March 2004.
Legacy
Due to her enormous popularity, she has been dubbed "Serb Mother" (or "Mother of Serbia").
Personal life
Svetlana lived at home until her move to Switzerland in 1991, aged 18. She dated Dejan "Saban" Marjanovic, a minor Belgrade gangster, who was murdered. She was then in a relationship with former FK Borac footballer and restaurateur Haro Samardzic.
While performing for the Serb Volunteer Guard (SDG), a paramilitary force also known as Arkan's Tigers, in Erdut on 11 October 1993 during the Croatian War, she met her husband, Zeljko "Arkan" Raznatovic, a paramilitary and criminal. When the Party of Serbian Unity (SSJ) was formed, she was asked by Arkan to perform. He was married at the time, and the divorce that ended that marriage was finalized two months before their wedding. Arkan proposed to Ceca on 7 January 1995 and they married one month later on 19 February. Their wedding was broadcast on television, made headlines in newspapers, and was portrayed by Serbian media as a "Serbian fairytale." They had two children, a son Veljko in 1996 and daughter Anastasija in 1998. Ceca's parents, Mira and Slobodan, were against the marriage of their daughter to a paramilitary member."
Arkan was shot on 15 January 2000 in a Belgrade hotel by four gunmen. Despite having been shot in the head, he remained alive for a brief period of time but died in Ceca's arms in the backseat of the car that was taking them to the emergency room. After fifteen months of mourning, she made her first public appearance in April 2001 in a television interview. "A part of me died that day... I will always love him, and only him, I'm sure of that...," she said in the interview.
Reformist Serbian Prime Minister Zoran Dindic was assassinated on 12 March 2003, prompting Serbian authorities to launch Operation Sablja. Ceca's luxury Belgrade home was raided as part of the crackdown on the network of criminals and nationalists behind the assassination. The raid led to a thorough investigation. She was arrested on 17 March 2003 and charged with illegal possession of multiple firearms. Ceca was one of dozens of people detained in the crackdown and she spent three months in prison. She also claimed the firearms were brought to the house by her late husband.
In 2011, Raznatovic pleaded guilty to embezzling millions of euros from the transfers of players from the football club FK Obilic, which she inherited from her late husband, and again illegal possession of eleven weapons. Ceca had sold fifteen players of FK Obilic to several international football clubs (such as Fenerbahce.) Serbian state prosecutors accused her of taking for personal use an illegal share in the sale of fifteen players. Ceca denied having been involved in any kind of illegal activities, saying that her late husband was responsible for FK Obilic and that the eleven illegally possessed weapons found in her home also belonged to him. Under a plea bargain, Raznatovic was ordered to spend eight months under house arrest, avoiding the maximum sentence that the charges against her carry, 12 years in prison. Ceca was sentenced to one-year house arrest (May 2011 - February 2012) and fined EUR 1.5 million.
According to court records, she has paid 1 million EUR of the fine; the remaining third is guaranteed by a mortgage on her Belgrade home. Ceca continues to face other court cases, such as for violent criminal behavior, repaying a loan from Komercijalna bank, and repaying a debt to Vojislav Durkovic, a former member of the paramilitary unit once controlled by Arkan.
Studio albums
Cvetak zanovetak (The Nagging Flower, 1988.)
Ludo srce (Crazy Heart, 1989.)
Pustite me da ga vidim (Let Me See Him, 1990.)
Babaroga (Boogie Man) (1991.)
Sta je to u tvojim venama (What Is That In Your Veins?, 1993.)
Ja jos spavam u tvojoj majici (I Still Sleep In Your Shirt, 1994.)
Fatalna ljubav (Fatal Love, 1995.)
Emotivna luda (Emotionally Crazy, 1996.)
Maskarada (Masquerade, 1997.)
Ceca 2000 (1999.)
Decenija (Decade, 2001.)
Gore od ljubavi (Worse Than Love, 2004.)
Idealno losa (Ideally Bad, 2006.)
Ljubav zivi (Love Lives, 2011.)
Poziv (Invitation, 2013.)
Live albums
To Miki, To (1990)
Babaroga (1991)
Kukavica + Tasmajdan (1993)
Hala Pionir (1995)
Marakana (2002)
Live Usce (2006)
Live Usce 2 (2013)
Remix albums
London MIX (2005)
C - Club (2012)
Filmography
Sve O Ceci... (All of Ceca...) (1993)
Svadba Decenije (Wedding Of The Decade) (1995)
Impure blood... (1996)
Usce Live DVD (2006)
Making Of "Gore Od Ljubavi" (2004)
Ceca specijal (Ceca Special) (2012)
Songs
Dokaz
Kukavica
Pile
Volim Te
Ime i prezime
Idi dok si mlad
Brat i sestra
Oprostajna vecera
Fatalna Ljubav
Maskarada
Dobro sam prosla
Kad Bi Bio Ranjen
Trula Visnja
Nevaljala
Manta - manta
Ja cu prva
Lepi Grome Moj
Gore Od Ljubavi
Monotonija
Lepotan
Vazduh koji disem
Cvetak Zanovetak
Nagovori
Popij Me Kao Lek
Necu da budem ko masina
Turbulentno
Brat
Neodoljiv - Neomoljiv
Ko na grani jabuka
Necu Dugo
Pustite me da ga vidim
Ako te ona odbije

References
Ceca (singer) Wikipedia
(Text) CC BY-SA