Release date

April 18, 2015 (2015-04-18)
Detective conan sunflowers of inferno official trailer in cinemas 30 july 2015
Detective Conan: Sunflowers of Inferno (, Meitantei Konan: Goka no Himawari) is a 2015 Japanese anime film directed by Kobun Shizuno and is the nineteenth installment of the film series based on the Detective Conan anime and manga series. It was released on April 18, 2015.
Contents
Plot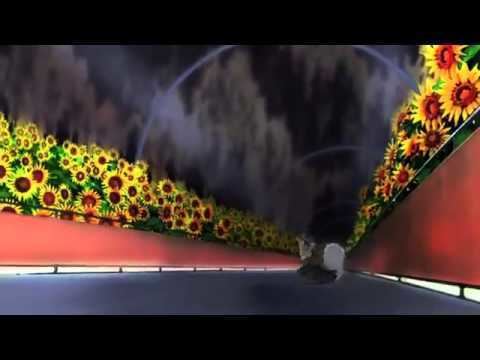 At an exclusive auction house in New York, a painting recently found in Arles was up for bids. It had been examined by various experts and declared to be one of Van Goghs Sunflowers, similar to a masterpiece thought to be destroyed during a U.S. air raid in Japan during World War II.
Jirokichi Suzuki fought off all contenders with a $300 million bid. He announced his plan to gather all seven of the known Van Goghs Sunflowers paintings around the world for a grand exhibition. The venue will be a purpose-built gallery in Japan known as Lake Rock, which boasts iron-clad security and protection of the art pieces against fire, damaging humidity and sunlight etc., The live announcement was broadcast worldwide, watched by Conan and Ran.
Jirokichi also announced engagement of seven specialists, which he called the Seven Samurai, to oversee the exhibition and protect the Sunflowers:
Keiko Anderson, painting exhibition planning professional
Natsumi Miyadai, painting history professional
Koji Azuma, painting restoration and preservation professional
Kumiko Kishi, painting exhibition professional
Taizo Ishimine, painting transportation professional
Charlie, New York Police Department professional engaged to safeguard the painting out of New York
Mori Kogoro, Tokyo private detective engaged to protect the painting in Japan
Kaito Kiddo made his presence known after the announcement, setting off chaos. Despite the best attempt by Charlie, he managed to flee. Kudo Shinichi suddenly appeared as Kaito was seen flying off, volunteering his services to Jirokichi.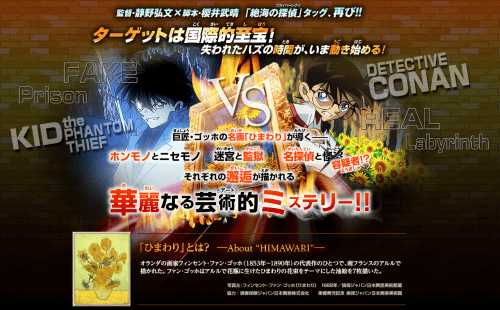 Conan was particularly intrigued by the sudden interest shown by the Phantom Kid in masterpiece paintings - his interests hitherto had been confined to precious gemstones.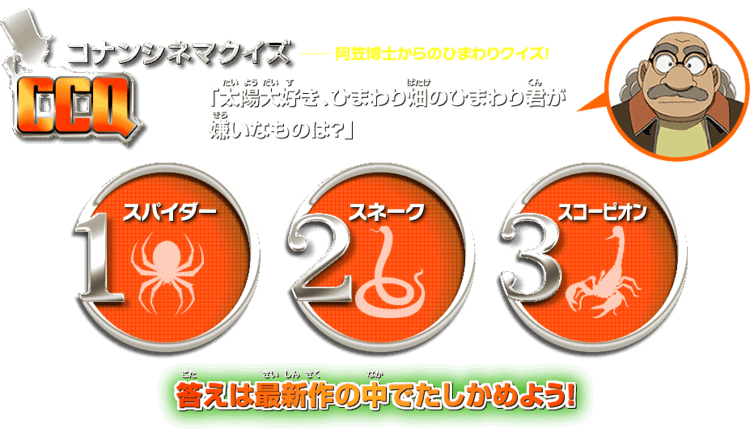 The painting was then moved by an airplane with the seven samurai, Jirokichi, and Kudo Shinichi riding on it. However, it was revealed that Kudo Shinichi was Kaito Kiddo in disguise. Kiddo stole the painting while a bomb was set off at the airplane. Luckily, there were no casualties. Kiddo put the painting on roof of a building which Conan retrieved.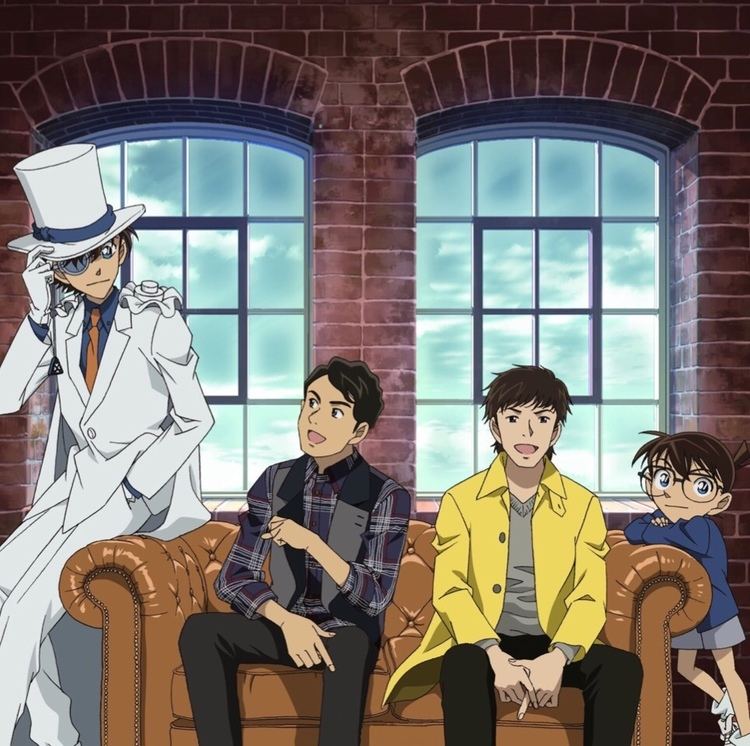 Conan was mystified by Kiddos actions, and suspects a fake Kiddo. Meanwhile, a Kiddo card arrives, which says that he will be stealing Goghs second painting. Conan happens to be at the art museum where the second painting is, and as he goes off when he hears news about Kiddo, he puts Haibara in charge of the other kids. Haibara resumes the talk to the woman who comes to the art gallery every day to see Goghs painting. As the sevn samurai are securing the painting, another Kiddo card appears, which hints that the painting was already stolen ahead of time and was replaced with a replica. Tricked by it, Jirokichi orders the painting to be reexamined, which gives Kiddo a chance to really steal it. After he stole it, Kiddo demends a lot of money for the second painting, and Jirokichi accepts. This again puzzles Conan, because Kiddo didnt appear to want money. Anyways, the money, in cash, is placed at an isolated room with only the art museums director in it. Conan finds that the pressure in the room increased from that the waterin the bottle seemed to have increased even though the director drank from it.
Cast
Wakana Yamazaki as Ran Mori
Rikiya Koyama as Kogoro Mori
Kappei Yamaguchi as Kaitou Kid/Shinichi Kudo
Megumi Hayashibara as Ai Haibara
Naoko Matsui as Sonoko Suzuki
Yukiko Iwai as Ayumi Yoshida
Ikue Ohtani as Mitsuhiko Tsuburaya
Wataru Takagi as Genta Kojima/Wataru Takagi
Kenichi Ogata as Hiroshi Agasa
Unshou Ishizuka as Ginzo Nakamori
Chafurin as Inspector Megure
Akio Suyama as Konosuke Jii (Youth)
Kosei Tomita as Jirokichi Suzuki
Taiten Kusunoki as Zengo Goto
Nana Eikura as Natsumi Miyadai
Hiroshi Isobe as Koji Azuma
Yoshiko Sakakibara as Keiko Anderson
Yukana as Kumiko Kishi
Katsuhisa Hoki as Taizo Ishimine
Shunsuke Sakuya as Charlie
Toshiko Sawada as Umeno
Yuko Minaguchi as Umeno (Young)
Toru Okawa as Kiyosuke Azuma
Hidekatsu Shibata as Hideo Haraguchi
Kang Ji-young as Cast
Box office
References
Case Closed: Sunflowers of Inferno Wikipedia
(Text) CC BY-SA