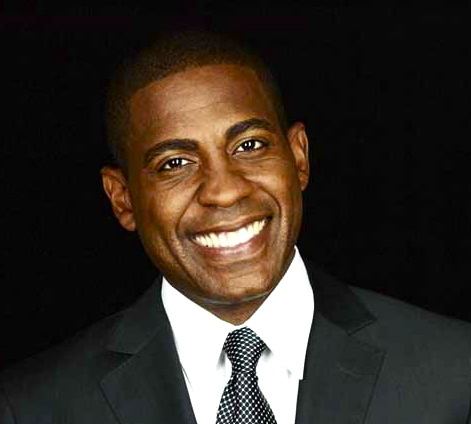 Watson was raised in Miami, Florida, with three siblings. His parents are both school teachers. As a working-class family, they often struggled financially throughout his youth, regularly needing help from food stamps. Being labeled a problem child early in life, Carlos was asked to leave kindergarten in 1974, but entered first grade the next year. He attended Ransom Everglades School in Miami, then Harvard University. During high school and college Watson wrote over 50 articles for the Miami Herald and the Detroit Free Press, and worked for Miami Mayor Xavier Suarez and Sen. Bob Graham.
Watson graduated with honors with a degree in government from Harvard University in 1991. He then worked as Chief of Staff and Campaign Manager for Florida Representative Daryl Jones and managed Bill Clinton's 1992 Election Day effort in Miami-Dade County. He then attended Stanford Law School, where he was editor of the Stanford Law Review and president of the Stanford Law School Student Government.
After graduating from Stanford Law School in 1995, Watson began work at strategic consulting firm McKinsey & Company. After two years at McKinsey, Watson left to co-found Achieva College Prep Service based in San Mateo, California. Watson sold Achieva in 2002 to competitor Kaplan, Inc..
In early 2009, Watson was named co-anchor of an hour-long MSNBC segment on Wednesdays and Fridays at 2 p.m. with Contessa Brewer, while continuing to appear bi-weekly on Morning Joe. Carlos' most recent work includes the week-in-review news show 7 Days in America alongside Arianna Huffington, making him the fourth MSNBC host with radio platform, after Rachel Maddow, Ed Schultz and Joe Scarborough. His Air America Media program ran every weekend, featuring Carlos and Arianna interviewing newsmakers about "what's really going on behind the news."
Watson was a founder and investor in The Stimulist, a daily blog that operated from mid to late 2009.
Watson began a television career in 2002 with guest appearances on Fox News and Court TV as a political analyst. On Labor Day, 2003, Watson hosted a highly rated prime-time interview show on CNBC featuring Howard Dean, Joe Montana, and Eva Longoria. Watson hosted a second interview show and was offered his own continuing interview show on CNBC, before joining CNN as a regular newscast contributor.
For two years, Watson appeared regularly as a political commentator on CNN, most notably covering the 2004 presidential election with Wolf Blitzer, Larry King and Jeff Greenfield. Also while at CNN, Watson wrote a column on CNN's web site and hosted two airings of his own prime-time show interviewing Shaquille O'Neal, Barack Obama, Arnold Schwarzenegger, and Heidi Klum. Watson also hosted Meet the Faith on BET.
In 2007 Watson began hosting a series of one-hour primetime interview specials on Hearst-Argyle television stations across the country called "Conversations with Carlos Watson", which won a Gracie Allen award for "Outstanding Portrait/Biography Program" and an Accolade Award in 2008.
Watson was named one of People's "Hottest Bachelors" in 2004, as well as Extra TV's list of most eligible bachelors in 2008.
In September 2013, Watson launched OZY Media, a daily digital news and culture magazine.
In March 2016 PBS announced a new debate program, Point Taken, produced and hosted by Watson. The show was scheduled to at 11 p.m. EST on Tuesdays.