Carli lloyd the best setter of team usa team fenerbahce 2017 2018
Carli Ellen Lloyd (born August 6, 1989) is an American indoor volleyball player, a member of the United States women's national volleyball team, a participant of the 2016 Summer Olympics, bronze medalist of the 2016 Olympic Games, and a gold medalist of the 2015 Pan American Games. She currently plays for the club Volleyball Casalmaggiore in the Italian Serie A1. She played college women's volleyball at the University of California, Berkeley.
Contents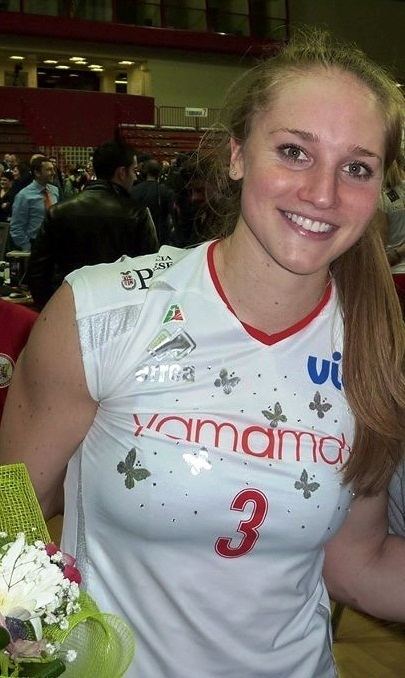 Carli lloyd discusses team captain role for usa
Career
Lloyd played with the Italian club Yamamay Busto Arsizio from the 2011/12 to the 2012/13 season, winning during the season 2011/12 the League, Cup and Supercup also winning the CEV Cup.
The Italian club Pomì Casalmaggiore recalled Lloyd to the Italian League and her return to the Champions League.
Lloyd won the Best Setter individual award and the 2015 Pan-American Cup gold medal. She later won the 2015 Pan American Games gold medal and became Most Valuable Player and Best Setter.
Clubs
Yamamay Busto Arsizio (2011–2013)
Prosecco Doc-Imoco Conegliano (2013–2014)
Lokomotiv Baku (2014–2015)
Pomì Casalmaggiore (2015–2017)
Fenerbahçe (2017–present)
College
2010 AVCA Player of the Year
2010 NCAA Division I: Most Outstanding Player (regional)
2010 NCAA Division I: Final Four All-Tournament Team
2007 NCAA Division I: Madison Regional All-Tournament Team
Individual
2015 Pan-American Cup "Best Setter"
2015 Pan American Games "Best Setter"
2015 Pan American Games "Most Valuable Player"
2015-16 CEV Champions League "Best Setter"'
2016 FIVB Club World Championship "Best Setter"
Clubs
2011-12 Italian Cup - Champion, with Yamamay Busto Arsizio
2011-12 Italian League - Champion, with Yamamay Busto Arsizio
2012 Italian Supercup - Champion, with Yamamay Busto Arsizio
2011–12 CEV Cup - Champion, with Yamamay Busto Arsizio
2012–13 CEV Champions League - Bronze medal, with Yamamay Busto Arsizio
2015 Italian Supercup - Champion, with Pomì Casalmaggiore
2015–16 CEV Champions League - Champion, with Pomi Casalmaggiore
2016 FIVB Club World Championship - Runner-up, with Pomi Casalmaggiore
References
Carli Lloyd (volleyball) Wikipedia
(Text) CC BY-SA