Covid-19
1-6




5.08





22




Bill Harrelson





William Charles Harrelson (born November 17, 1945) is a former professional baseball player who played one season for the California Angels of Major League Baseball. During his playing days, he stood at 6' 5" and weighed 215 lbs.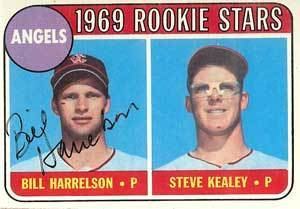 Harrelson, a "full blooded Cherokee Indian," was born in Tahlequah, Oklahoma. In 1964, he was signed by the Angels and began his professional baseball career that season. He played in the Pioneer League, California League, and Midwest League in 1964 and 1965 but had little success. In 1966, Harrelson went 8-11 with a 3.31 earned run average in the New York–Penn League; in 1967, he had his best season, going 7-4 with a 2.48 ERA for the California League's San Jose Bees. That performance got him promoted to Class AA, Class AAA, and finally the majors in 1968.
Harrelson made his major league debut with the Angels on July 31, 1968. He was involved in a pitching duel with future Hall of Famer Catfish Hunter that day, both allowing just one run through seven innings. Harrelson gave up just four hits, all singles, through seven, but he weakened in the eighth and eventually took the loss. Things didn't get much better for him, as he went 1-6 with a 5.08 ERA over the next two months. He made his final major league appearance on September 18.
In 1969, Harrelson returned to the minors and played in the Texas League and Pacific Coast League. On January 14, 1970, he was traded to the Cincinnati Reds organization, along with Dan Loomer, for Jack Fisher. Harrelson had losing records in the minors in both 1970 and 1971 before retiring from baseball.
Bill Harrelson Wikipedia