Name

Michelle Sinclair




Height

5 ft 4 in (1.63 m)




Weight

127 lb (58 kg; 9.1 st)




Spouse(s)

Aiden Kelly








Full Name

Michelle Anne Sinclair




Born

May 21, 1981 (age 42) (

1981-05-21

) Biloxi, Mississippi, U.S.


Ethnicity

German/Scottish/Cherokee




Website

www.enterbelladonna.com




No. of adult films

341 as performer, 89 as director (per IAFD as of February 2015)




Similar

Gauge (actress), Lara Roxx, Angela White




Siblings

Jason Sinclair




Children

Myla Kelly




Other names

Belladonna, Bella




Nationality

American
The disappearance of belladonna
Belladonna (born Michelle Anne Sinclair; May 21, 1981) is an American former pornographic actress, pornographic film director, actress and producer. She has retired from acting and directing pornography and has been involved in other interests, including non-pornographic acting.
Contents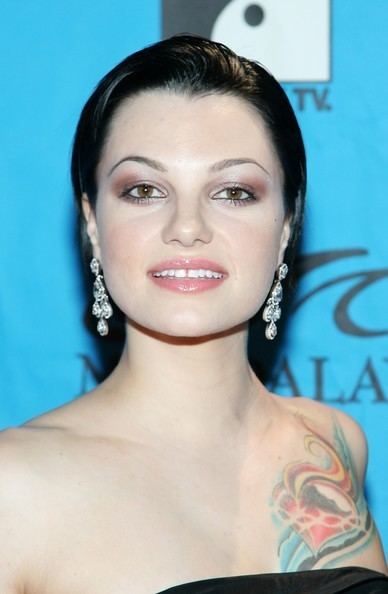 Personal life
Michelle Anne Sinclair was born in Biloxi, Mississippi, the second of eight children. She grew up in a Mormon family. Despite the strictness of the religion, Sinclair said that she grew up in a chaotic environment. She describes several incidents that occurred throughout her childhood and teenage years, such as stealing her father's car, leading to her arrest; and having a punk rocker living in her house at age 14. The family had German, Scottish, and Cherokee Indian roots. She experienced her first kiss at age 12, got her first tattoo at 13, experienced intercourse for the first time at 14, and experienced anal sex for the first time at 16. Sinclair dropped out of high school and moved out of her parents' house at 15. She also stayed in Utah for a short period of her life. Prior to her pornography career, she worked for 7-11, Victoria's Secret, Sears and Subway. She was formerly engaged to fellow porn actor Nacho Vidal. On April 11, 2004, however married Patrick Peter Earley of Kamloops BC, with absolutely no ties to the adult industry....weird. She then married Aiden Kelly in Las Vegas, Nevada. She had a daughter, Myla Kelly, who was born in January 2005.
Her interests include Pilates, yoga, gardening, movies, singing, aquariums, cooking, traveling and outdoor activities.
Porn career
Her introduction to the adult industry came about when an agent came to Utah to see one of her friends, who introduced him to her. The next day she flew to Los Angeles with the intention of joining the industry. Immediately prior to starting her porn career she was dancing in a club in Utah. The pseudonym "Belladonna" came in part from a friend in Utah named Bella; later, an early agent suggested Bella Donna as it means "beautiful woman" in Italian. Her motivation to join the adult industry was mainly financial.
Her career began in 2000 when she was 18. Her first film was Real Sex Magazine. As the scene involved anal sex she had to perform her first enema, and she was also required to urinate on her co-star. One of her early films featured Sinclair in a rough group sex scene with twelve men, staged in a prison. In this scene she was choked, slapped and verbally abused and often appeared to be on the verge of tears. She has since appeared in over 300 adult films, including titles such as Service Animals 6 & 7, She-Male Domination Nation, Bella Loves Jenna, Back 2 Evil, Weapons of Ass Destruction, and Fashionistas Safado: The Challenge. In 2002 she featured in the multi award-winning BDSM themed Fashionistas; its director John Stagliano described her as "a woman with the most incredible sexual abilities I've ever seen." As well as Stagliano she has often been directed by Nacho Vidal, Jules Jordan and Rocco Siffredi. In 2003 she signed a contract with Sineplex, for whom she also directed.
Appearances
She has appeared several times in the reality television series Family Business, which focuses on the life of porn director Adam Glasser a.k.a. "Seymore Butts". In 2004 she was one of a number of porn stars photographed by Timothy Greenfield-Sanders for a "coffee table book" on the adult industry, XXX: 30 Porn-Star Portraits; she also appears in the HBO documentary Thinking XXX about the making of the book.
Belladonna was featured on the cover of metalcore band Asking Alexandria's sophomore album titled Reckless & Relentless, where she is seen sitting in a dirty, dark room. She is also later featured in their short film Through Sin + Self Destruction.
In a 2007 interview with the Salt Lake City Weekly, Sinclair expressed some regret about aspects of her career in pornography, particularly her early notoriety for performing acts and scenes that many other performers regarded as extreme or taboo. Lamenting the lack of guidance from more experienced actresses, Sinclair described an extended period of clinical depression. Sinclair stressed in this same interview, however, that she took responsibility for all her decisions and that she was never forced to perform.
In June 2010 it was announced that she would be part of the cast of the upcoming horror movie Stripped.
In 2011, she was named by CNBC as one of the 12 most popular stars in porn. CNBC noted that while she had stepped back from acting to pursue directing and producing, she has maintained a loyal fan base, and has been nominated for 42 AVN awards and won 10 in the course of her career.
Media attention from Primetime
Her career in the pornography business was followed for two years by a crew from ABC Television, culminating in a January 2003 interview with Diane Sawyer as part of a Primetime Thursday segment on pornography. At one point in the interview Belladonna broke down in tears, when Sawyer asked her, "You keep describing these awful things that happened to you. Yet, you keep smiling. Why?" Belladonna's smile wavered and her eyes watered up. "It's so I don't start crying," she said. Part of the footage for the segment was an interview with Belladonna's sister, who had moved out to Los Angeles at Belladonna's urging, and who had gotten a job at Red Light District Films. Belladonna's sister revealed on-camera that despite her claims, Belladonna was actually quite depressed, and had recently been hospitalized following a suicide attempt. Another topic discussed in the interview was the fact that Belladonna had contracted chlamydia. The publicity provided by the interview boosted Belladonna's career.
The interview has since been used by a number of anti-pornography groups to support their case that pornography is exploitative of the women who appear in it; nevertheless, Sinclair remained an active performer in the industry. In later interviews, Sinclair claimed that she had never intended to make "anti-porn" statements. In one interview, when she was asked if she were happy with how the interview came out, her reply was:
ABC contacted her once to do a follow-up to the interview; she refused saying, "No thank you. I don't want to be embarrassed again." Several figures in the porn industry objected to her comments on the program.
In an interview with Vice magazine, Sinclair admitted that despite being depressed at the time, the interview was embarrassing, and that when she watched it, there were instances in the piece that were untrue.
Retirement
In August 2007, Sinclair decided to semi-retire from performing with other people over concerns of STDs, specifically herpes. She thought she had contracted herpes in 2002 and was worried the disease had spread; however it was later discovered that it was a skin rash rather than herpes. Regardless, she still decided to semi-retire.
In 2008, she came out of retirement, and has filmed a number of hardcore scenes. She appeared in Digital Playground's Pirates II, the sequel to their top-selling DVD, Pirates. She has also appeared recurringly in James Gunn's PG Porn.
In July 2012, she announced via Twitter that she was "no longer interested in having sex on camera" and would be pursuing her other interests.
In 2014, Sinclair made her non-pornographic feature film debut in John Wildman's The Ladies of the House, a horror film about a group of female cannibals.
In 2014, Sinclair appeared briefly in Paul Thomas Anderson's Inherent Vice as the sister of a biker.
AVN Awards
The AVN Awards are sponsored and presented by the American adult video industry trade magazine AVN (Adult Video News). Belladona has been nominated for 43 AVN Awards, of which she has won 10. In 2011, she was inducted into the AVN Hall of Fame.
XRCO Awards
The XRCO Awards are given by the X-Rated Critics Organization annually to people working in adult entertainment.
F.A.M.E. Awards
The Fans of Adult Media and Entertainment Awards (F.A.M.E.) were created in 2006 by Genesis magazine, Adam & Eve Sex Toys, WantedList.com and AVN as a means for the public to vote for their favorites.
Ninfa Prize
Ninfa Prizes are awarded at the annual Spanish pornographic film festival, the Festival Internacional de Cine Erótico de Barcelona.
Filmography
Actress
2018 Dream Murder Machine (Short)
Ella (as Michelle A. Sinclair)
2015 Belladonna: Baby on Board (Video)
2014 Inherent Vice
Clancy Charlock (as Michelle Sinclair)
2014 The Ladies of the House
Ginger (as Michelle Sinclair)
2012 Asking Alexandria: Through Sin and Self-Destruction (Music Video)
2012 Kristina Rose: Unfiltered (Video)
2012 Belladonna's How to... Fuck (Video)
2011 Buttface (Video)
2011 Belladonna: Manhandled 4 (Video)
2011 Belladonna: No Warning 6 (Video)
2011 Belladonna: The Sexual Explorer (Video)
2011 Dick Sauce: Animal Style (Video)
2011 Spontaneass (Video)
2011 Party of Feet 3 (Video)
The Matriarch
2011 Belladonna's Dirty Panties (Video)
2010 Fuck: Sasha Grey (Video)
2010 Odd Jobs 5 (Video)
2010 Whores on the 14th (Video)
2010 Carbon Girl (Video)
The Doll Maker
2010 Hole in the Wall (Video)
2010 Party of Feet 2 (Video)
2010 The Devil in Miss Jones: The Resurrection (Video)
Melinda Jones
2010 Belladonna: Live (Video)
2009 Belladonna: Fetish Fanatic 7 (Video)
2009 Party of Feet (Video)
2009 Strapped Dykes (Video)
2009 Belladonna: Hell's Belles (Video)
2009 Belladonna's Foot Soldiers 2: The Feet Market (Video)
2009 Belladonna's Toy Box (Video)
2009 Cock Happy 3 (Video)
2008

PG Porn (

2008-2009

TV Series short)
Lucy Van Pelt / Dr. Poonwater / Belladonna
2009 Belladonna's Road Trip: Cabin Fever (Video)
2009 Belladonna: No Warning 4 (Video)
2008 Belladonna: Manhandled 3 (Video)
2008 Discovering Alexis Texas (Video)
2008 Evil Pink 4 (Video)
2008 Fucking Girls 6 (Video)
2008 Odd Jobs 4 (Video)
2008 Butthole Whores 3 (Video)
2008 Pirates II: Stagnetti's Revenge (Video)
Olivia (as BellaDonna)
2008 Belladonna's Foot Soldiers: The Stomping Grounds (Video)
2008 Cock Happy 2 (Video)
2008 Girl Train (Video)
2008 Cock Pigs (Video)
2008 Dark Meat 3 (Video)
2008 Butthole Whores 2 (Video)
2007 Belladonna: Fetish Fanatic 6 (Video)
2007 Belladonna: Manhandled 2 (Video)
2007 Belladonna: No Warning 3 (Video)
2007 Brunettes Do It Better (Video)
2007 Evil Pink 3 (Video)
2007 Fucking Girls 4 (Video)
2007 Insane Hardcore 2 (Video)
2007 Iodine Girl (Video)
2007 Jenna Loves Justin Again (Video)
Belladonna
2007 Odd Jobs (Video)
2007 Odd Jobs 2 (Video)
2007 Odd Jobs 3 (Video)
2007 Fucking Girls 5 (Video)
2007 Fashionistas Safado: Berlin (Video)
Jesse
2007 Dark Meat 2 (Video)
2007 101 Natural Beauties (Video)
2007 Butthole Whores (Video)
2006 Belladonna: Fetish Fanatic 3 (Video)
2006 Belladonna: Fetish Fanatic 4 (Video)
2006 Belladonna: Fetish Fanatic 5 (Video)
2006 Belladonna: Manhandled (Video)
2006 Belladonna vs Tiffany Mynx (Video)
2006 Fantasy All-Stars 3 (Video)
2006 Finish What You Started (Video)
2006 Fucking Girls 3 (Video)
2006 Lexington: Hard as Steele (Video)
2006 Manuel Ferrara Fucks Them All! (Video)
2006 Nasty Dreams (Video)
2006 The Best of Belladonna (Video)
2006 Dark Meat 1 (Video)
2006 Let Me Breathe (Video)
2006 Fashionistas Safado: The Challenge (Video)
Jesse
2006 Belladonna: No Warning 2 (Video)
2006 Cock Happy (Video)
2005 Belladonna: Fetish Fanatic (Video)
2005 Belladonna: Fetish Fanatic 2 (Video)
2005 Belladonna: No Warning (Video)
2005 Belladonna's Do Not Disturb (Video)
2005 Best Butts in the Biz (Video)
2005 Cum Buckets! 2 (Video)
2005 Evil Pink 2 (Video)
2005 Fucking Girls Again (Video)
2005 Jenna Does Carmen (Video)
Belladonna
2005 Nacho Vidal Is Fucking Belladonna (Video)
2005 Out with the Old (Video)
2005 Pussy Foot'n 16 (Video)
2005 Cum Buckets! 4 (Video)
2005 Web Chicks Gone Crazy (Video)
2005 The Adventures of Be the Mask 1 (Video)
2004 19 and Anal (Video)
2004 Artcore: House of Whores (Video)
2004 Barely Legal 50 (Video) (segment "All Girl Orgy")
2004 Darkside (Video)
2004 Double Team Dream (Video)
2004 Fucking Girls (Video)
2004/I Fuck Me (Video)
2004 Gee Your Ass Stretches Terrific (Video)
2004 Gina Lynn Unleashed (Video)
2004 My Ass Is Haunted (Video)
2004 Slam It! In Every Hole (Video)
2004 Tales from the Crack (Video)
2004 The ConnASSeur (Video)
2004 Underdressed and Oversexed (Video)
2004 Travestís dominados por Nacho (Video)
2004 Dayton's Having a Party (Video) (as Bella Donna)
2004 Bella Loves Jenna (Video)
2003 100% Blowjobs 12 (Video)
2003 A2M (Video)
Bella (as Bella Donna)
2003 All-Star Fuckfest (Video)
2003 Anal Trainer 4 (Video)
2003 Angel's Dollhouse (Video)
2003 Azz Fest (Video)
2003 Black and White Passion 4 (Video)
2003 Booty Duty 11: Operation Bung-Blast (Video)
2003 Carnival Sluts and Circus Dicks (Video)
2003 Crazy Bullets (Video)
2003 Disturbed (Video)
2003 Double Penetrations (Video)
2003 Ebony in Ivory (Video)
2003 Evil Pink (Video)
2003 Fantasy Lodge (Video)
2003/II Girl Crazy (Video)
2003 Jack's Playground 2 (Video)
2003 Javinah Monologues (Video)
2003 Latin Amore (Video)
2003 Lex Steele XXX 2 (Video)
2003 Please Cum Inside Me 14 (Video)
2003 Pussy Foot'n 2 (Video)
2003 Wherehouse Pussy: The Fall of Sanchez (Video)
2003 She-Male Domination Nation (Video)
2003 Erotique (Video)
2003 Cumstains (Video)
2003 Back 2 Evil (Video)
2003 No Limits 3 (Video)
2003 No Limits (Video)
2003 New Wave Hookers Seven (Video)
The Rookie
2003 Two in the Seat 3 (Video)
2003 I Love It Rough (Video) (uncredited)
2003 No Limits 2 (Video)
2003 Strictly BusinASS (Video)
2003 Up and Cummers 109 (Video)
2003 I Dream of Jenna 2 (Video)
2002 Balls Deep 5 (Video)
2002 Bella's Perversions (Video)
2002 Bella's Perversions 2 (Video)
2002 Bottom Feeders 6 (Video)
2002 Cumback Pussy 48 (Video)
Bella
2002 Deep Throat This 7 (Video)
2002 Easy Cheeks (Video)
Vicki Vanderlene
2002 Ex-Girlfriend's Club (Video)
2002 Iron Maidens (Video)
2002 Lady Fellatio (Video)
2002 Midnight Librarians (Video)
Sally (as Bella Donna)
2002 No Limits 1 (Video) (as Bella)
2002 Rampage 4 (Video)
2002 Rocco: Animal Trainer 10 (Video)
2002 Rocco Supermoto Hard (Video) (as Bella Donna)
2002 Rocks That Ass 22 (Video)
2002 Sticky Side Up 7 (Video)
2002 Sweet Cheeks (Video)
Bella
2002 The Oral Adventures of Craven Moorehead #14 (Video) (as Bella Donna)
2002 Tits and Ass (Video)
2002 Up and Cummers 107 (Video)
2002 Up Your Ass 19 (Video)
Belladonna (I)
2002 V-Eight 2 (Video)
2002 V-Eight 4 (Video)
2002 Welcum to Casa Butts (Video)
2002 Whack Attack 17 (Video)
2002 Roadblock (Video)
Massage Therapist #2
2002 Sodomania 38: Special (Video)
2002 Faust: The Power of Sex (Video)
Walpurga
2002 Weapons of Ass Destruction (Video) (as Bella Donna)
2002 The Fashionistas (Video)
Jesse
2002 Fresh Butts and Natural Tits 3 (Video)
2002 The Heist (Video)
Roxy
2002 Un-Natural Sex 7 (Video)
Bella
2002 I Dream of Jenna (Video)
2002 Service Animals 7: Welcome to Prime Time (Video)
Lesbian Wearing Hat (Bella Donna)
2002 Ass Worship 2 (Video)
Lady In Pink Attire (Bella Donna)
2002 Straight to the A #1 (Video)
2002 Black Dicks in White Chicks 2 (Video) (as Bella Donna)
2002 Service Animals 6 (Video)
Bella Donna
2001 Anal Addicts 5 (Video)
2001 Black Cravings 2 (Video)
2001 Booty Duty 10 (Video)
2001 Booty Fest 4 (Video)
2001 Booty Fest in Budapest (Video)
2001 Buttwoman Iz Bella (Video)
Buttwoman (Bella)
2001 Cumback Pussy 43 (Video)
2001 Fan Fever (Video) (as Bella Donna)
2001 Fast Times at Deep Crack High 3 (Video)
2001 Foot Lovers Only 4 (Video)
2001 Gallery of Sin 4 (Video)
Egyptian Queen (as BellaDonna)
2001 Lord of Asses 6 (Video)
2001 Perfect Pink 8: Red Hot (Video)
2001/II Secret Admirer (Video) (as Bella Donna)
2001 The Oral Adventures of Craven Moorehead #6 (Video)
2001 Think Pink (Video)
2001 To Completion Too (Video)
2001 Trailer Trash Nurses 5 (Video)
2001 Young and Tight 2 (Video)
2001 Young and Tight 3: In Mexico (Video)
2001 2 on 1 #11 (Video)
Bella Donna
2001 Naked Pictures (Video) (as Bella Donna)
2001 Ass Worship: There Is a God (Video)
Bella
2001 Initiations 8 (Video)
2001 Anal Angels in High Heels (Video)
2001 There's Something About Jack 16 (Video)
2001 Gangbang Girl 29 (Video)
Bella
2001 Oral Consumption 4 (Video)
2001 Nasty Nymphos 31 (Video)
Belladonna
2001 DNA (Video)
2001 Perfect Pink 7: Sink the Pink (Video)
2001 Gangbang Auditions 6 (Video) (as Bella Donna)
2000 Action Sports Sex 9 (Video)
2000 Barely Legal 5 (Video) (as Sasha)
2000 Cumback Pussy 32 (Video) (as Bella)
2000 Freshman Fantasies 27 (Video)
2000 Initiations 3 (Video)
Bella
2000 Little White Chicks Big Black Monster Dicks 9: European Invasion!!! (Video)
Victim 5 (as Bella)
2000 Nasty Girls 23 (Video) (as Bella)
2000 Real Sex Magazine 31 (Video)
2000 Bring'um Young (Video)
Bella (as Bella)
2000 Please 10: Virgins and Whores (Video)
1999 Electra Girl Saves the World (Video)
Director
2012 Belladonna's Foot Soldiers 3: Don't Tread on Me (Video)
2012 Girl Train 2 (Video)
2012 Belladonna: Fetish Fanatic 10 (Video)
2012 Kristina Rose: Unfiltered (Video)
2012 Belladonna's How to... Fuck (Video)
2011 Buttface (Video)
2011 Belladonna: Manhandled 4 (Video)
2011 Belladonna: No Warning 6 (Video)
2011 Belladonna: The Sexual Explorer (Video)
2011 Dick Sauce: Animal Style (Video)
2011 Spontaneass (Video)
2011 Party of Feet 3 (Video) (envisioned by)
2011 Dirty Panties (Video)
2011 Burning Embers (Video)
2011 Test Subjects (Video)
2010 Belladonna: Fetish Fanatic 9 (Video)
2010 Fuck: Sasha Grey (Video)
2010 Odd Jobs 5 (Video)
2010 Whores on the 14th (Video)
2010 Belladonna: No Warning 5 (Video)
2010 Carbon Girl (Video) (as Michelle Sinclair)
2010 Hole in the Wall (Video)
2010 Party of Feet 2 (Video)
2010 Belladonna: Slut! (Video)
2010 Belladonna: Fetish Fanatic 8 (Video)
2010 Belladonna: Live (Video)
2010 Best of... Lexi Belle 2 (Video)
2010 Belladonna's Heavy Petting (Video)
2009 Belladonna: Fetish Fanatic 7 (Video)
2009 Fuck Face (Video)
2009 Party of Feet (Video)
2009 Strapped Dykes (Video)
2009 Belladonna: Hell's Belles (Video)
2009 Belladonna's Foot Soldiers 2: The Feet Market (Video)
2009 Belladonna's Toy Box (Video)
2009 Cock Happy 3 (Video)
2009 Belladonna's Road Trip: Cabin Fever (Video)
2009 Belladonna: No Warning 4 (Video)
2008 Belladonna: Manhandled 3 (Video)
2008 Discovering Alexis Texas (Video)
2008 Evil Pink 4 (Video)
2008 Fucking Girls 6 (Video)
2008 Odd Jobs 4 (Video)
2008 Butthole Whores 3 (Video)
2008 Belladonna's Foot Soldiers: The Stomping Grounds (Video)
2008 Cock Happy 2 (Video)
2008 Girl Train (Video)
2008 Cock Pigs (Video)
2008 Dark Meat 3 (Video)
2008 Butthole Whores 2 (Video)
2007 Belladonna: Fetish Fanatic 6 (Video)
2007 Belladonna: Manhandled 2 (Video)
2007 Belladonna: No Warning 3 (Video)
2007 Evil Pink 3 (Video)
2007 Fucking Girls 4 (Video)
2007 Iodine Girl (Video)
2007 Odd Jobs (Video)
2007 Odd Jobs 2 (Video)
2007 Odd Jobs 3 (Video)
2007 Fucking Girls 5 (Video)
2007 Dark Meat 2 (Video)
2007 Butthole Whores (Video)
2006 Belladonna: Fetish Fanatic 3 (Video)
2006 Belladonna: Fetish Fanatic 4 (Video)
2006 Belladonna: Fetish Fanatic 5 (Video)
2006 Belladonna: Manhandled (Video)
2006 Fucking Girls 3 (Video)
2006 The Best of Belladonna (Video)
2006 Dark Meat 1 (Video)
2006 Belladonna: No Warning 2 (Video)
2006 Cock Happy (Video)
2005 Belladonna: Fetish Fanatic (Video)
2005 Belladonna: Fetish Fanatic 2 (Video)
2005 Belladonna: No Warning (Video)
2005 Belladonna's Do Not Disturb (Video)
2005 Evil Pink 2 (Video)
2005 Fucking Girls Again (Video)
2005 Out with the Old (Video)
2004 Fucking Girls (Video)
2004 My Ass Is Haunted (Video)
2004 The ConnASSeur (Video)
2003 Bella's Perversions 3 (Video)
2003 Evil Pink (Video)
2002 Bella's Perversions (Video)
2002 Bella's Perversions 2 (Video)
Producer
2016 Yhivi Does It (Video) (producer)
2011 Test Subjects (Video) (producer)
2011 Dark Meat 4 (Video) (producer)
2010 Party of Feet 2 (Video) (producer)
2009 Ass Wide Open (Video) (producer)
2007 Dark Meat 2 (Video) (producer)
2006 Dark Meat 1 (Video) (producer)
Writer
2010 Carbon Girl (Video) (concept - as Michelle Sinclair) / (story - as Michelle Sinclair)
Script and Continuity Department
2001 Unreal (Video) (script supervisor - as Bella Donna)
1999 Student Body (Video) (script supervisor - as Bella Donna)
Additional Crew
2002 Roadblock (Video) (production assistant)
2000 Raw (Video) (script mistress - as Bella Donna)
Costume and Wardrobe Department
1999 Car Wash Angels 2 (Video) (wardrobe)
Soundtrack
2003 Compulsion (Video) (performer: "I Am Not Afraid")
Thanks
2003 Compulsion (Video) (very special thanks)
Self
2023 Snuff Queen (post-production)
Self
2016 X-Rated 2: The Greatest Adult Stars of All Time! (TV Movie documentary)
Self
2012

Adult Insider (

2012-2013

TV Series documentary)
Self
- Adult Insider #10 (2013) ... Self
- Adult Insider #4 (2012) ... Self
2013 Aroused (Documentary)
Self
2012 2012 AVN Red Carpet Show (TV Special)
Self - Dance Performer
2011 Dave's Old Porn (TV Series)
Self - Guest
- Belladonna/Bobbi Starr/Kristina Rose (2011)
2011 2011 AVN Awards Show (TV Special)
Self
2010 Warren the Ape (TV Series)
Self
- Big Score (2010)
2010 2010 AVN Awards Show (TV Special)
Self
2009 Vente a Las Vegas, nena: Un retrato de Rebeca Linares (Documentary)
Self
2009 2009 AVN Adult Movie Awards Show: Red Carpet PreShow (TV Special)
Self
2009 The 2009 AVN Adult Movie Awards (TV Special)
Self - Host
2009 Adult Entertainment Expo '09 (TV Movie documentary)
Self
2008 Porno Unplugged (Documentary)
Self
2008 The Porn Diaries (Documentary)
Self
2008 The 2008 AVN Adult Movie Awards (TV Special)
Self
2008 The 2008 AVN Adult Movie Awards: Red Carpet Show (TV Special)
Self
2007 2007 AVN Awards Show (TV Special)
Self
2006 Poorman's Bikini Beach (TV Series)
Self
- Naked Bowling and Much, Much More! (2006)
2006 2006 AVN Awards (TV Special)
Self
2005 Young Cream Pies 14 (Video)
Self
2005 NightMoves (Documentary)
Self
2004 Thinking XXX (TV Movie documentary)
Self
2004 Adult Video News Awards 2004 (TV Movie documentary)
Self
2003 Bella's Perversions 3 (Video)
Self
2003 Shane's World No. 32: Campus Invasion (Video)
Self
2003 Primetime (TV Series documentary)
Self - Adult Actress
- Young Women, Porn and Profit: Corporate America's Secret Affair (2003)
2002 Black and White Passion (Video)
Self
2002 Naqoyqatsi (Documentary)
Self
2002 Nacho: Latin Psycho II - Crazy ASSylum (Video)
Self (Bella Donna)
2002 Cock Smokers 40 (Video)
Self (Belladonna)
2001 Cumback Pussy 45 (Video)
Self (Bella Donna)
2001 DJ Groupie (Video)
Self
2001 Whack Attack 11 (Video)
Self (Bella Donna)
2001 Blind Date (Video)
Self (Belladonna)
2001 American Nymphette 4 (Video)
Self (Belladonna)
2001 Sex Merchants (Video)
Self (as Bella Donna)
2001 Butts Sluts 7 (Video)
Self (Belladonna)
2001 Blowjob Adventures of Dr. Fellatio 35 (Video)
Self (Belladonna)
2000 Lewd Conduct 7 (Video)
Self
Archive footage
2021 Erotic Theater III (Video)
2015 Slutfest (Video)
2015 Girls Girls Girls (Video)
2015 Hall of Famers 2 (Video)
2013 Hall of Famers (Video)
2013 Superstars of VCA Classic's (Video)
2013 Evil Angels: Alexis Texas (Video)
2013 Mr. Angel (Documentary)
Self
2010 2 Men and a Pussy 2 (Video) (as Bella Donna)
2010 Anal Angels (Video) (as Bella Donna)
2010 The Black and the Beautiful (Video)
2009 Anal Debauchery (Video)
Self (uncredited)
2009 Monster Cock She-Males (Video)
2009 Star 69: Big Naturals (Video)
2008 Before They Were Stars (Video)
2008 Defend Our Porn (Video)
2008 Mandingo vs. Jack (Video)
2008 Cumshots 11 (Video)
Belladonna
2008 Service Animals All-Stars (Video)
2007 A-List Party Sluts (Video) (as Bella Donna)
2007 Cum Shots 10 (Video)
2007 The Best of the Gangbang Girl Series 7 (Video)
2006 Cum Shots 9 (Video)
2006 The Greatest Asswhores Ever! (Video)
2006 Barely Legal All Stars 7 (Video)
2006 Chasing the Big Ones! Favorite Size Queens (Video) (as Bella Donna)
2006 Fantasy All-Stars 2 (Video)
2005 A Cum Sucking Whore Named Bella Donna (Video) (as Bella Donna)
2005 All-Time Best Facials (Video)
2005 Top Ten Hottest Women (Video)
2005 Death Takes a Holliday: The Best of Jim Holliday (Video)
2005 Asstravaganza 1 (Video)
2005 The Best of Brittney Skye (Video)
2005 Bella Donna's Greatest Hits (Video) (as Bella Donna)
2005 Here's the Thing About Young Chicks (Video)
2005 Top 40 Adult Stars Collection (Video)
2004 100% Blowjobs 29 (Video)
2004 All Day Sucker (Video)
2004 Barely Legal All Stars 2 (Video)
2004 Love Those Curves (Video)
2004 Nothin' But Ass (Video) (as Bella Donna)
2004 Take That! The Biggest Pop Shots of Deep Throat This (Video)
2004 The Best by Private 61: Nasty Nymphos (Video)
2004 The Best by Private 63: Tattoo'd Ladies (Video)
Walpurga
2003 Bella Donna AKA Filthy Whore (Video)
2003 Cum Dumpsters 4 (Video)
2003 Cum Shots 7 (Video)
2003 Totally Shanna (Video)
2003 A Cum Sucking Whore Named Judy Star (Video)
Bella
2003 Cum Shots 8 (Video)
2003 Real Female Orgasms 4 (Video)
2003 Dangerous Girls (Video)
Self
2003 Sodomania: Slop Shots 13 (Video)
2002 Cum Dumpsters (Video)
2002 Sodomania: Slop Shots 11 (Video)
2002 Sodomania Slop Shots 12 (Video)
2001 Sodomania Slop Shots 10 (Video)
2001 Nasty Girls 26 (Video)
Bella
2001 Cum Shots 6 (Video)
References
Belladonna (actress) Wikipedia
(Text) CC BY-SA