13,266

18,450




Date

28 July 1864




642

3,000




Result

Union victory






Location

Fulton County, Georgia, United States




Combatants

Confederate States of America, Union




Similar

American Civil War, Battle of Peachtree Creek, Atlanta Campaign, Battle of Utoy Creek, Battle of Jonesborough
The Battle of Ezra Church, also known as the Battle of Ezra Chapel and the Battle of the Poor House was fought on July 28, 1864, in Fulton County, Georgia, during the American Civil War. The battle was part of the Atlanta Campaign, which featured Maj. Gen. William T. Sherman's Union Army of the Tennessee against the Army of Tennessee, commanded by Lt. Gen. John B. Hood, which was defending the Confederate stronghold of Atlanta, Georgia.
Contents
Sherman's army stretched in an inverted U around the northern defenses of Atlanta. Sherman decided to cut off the railroad supply lines from Macon, Georgia, into Atlanta, thus forcing the defending army to withdraw without a direct assault. To accomplish this goal, Sherman commanded his easternmost army, under Maj. Gen. Oliver O. Howard, north and west around the rest of the Union lines to the far western side of Atlanta where the railroad entered the city.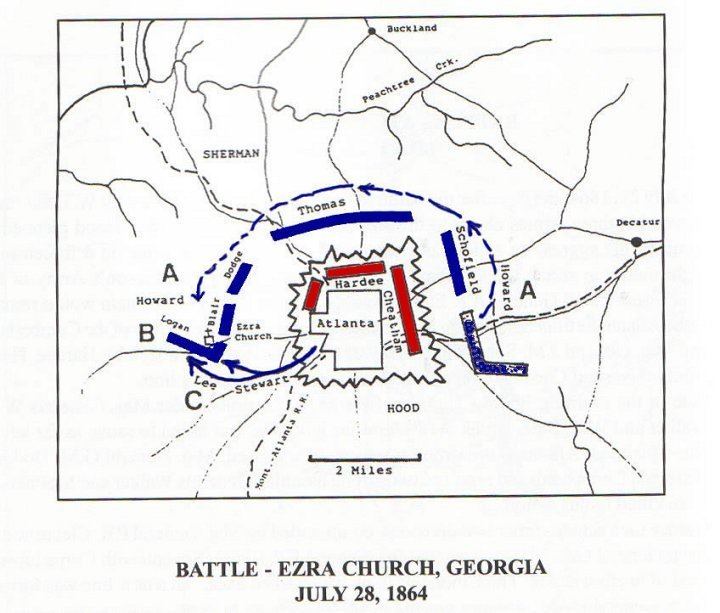 Hood, anticipating Sherman's maneuver, moved his troops out to oppose the Union army. Hood planned to intercept them and catch them completely by surprise. Although Hood's Confederate troops were outnumbered by the main Union army, he calculated that a surprise attack against an isolated portion of the enemy could succeed.
The armies met on the afternoon of July 28 at a chapel called Ezra Church. Unfortunately for Hood, there was no surprise for Howard, who had predicted such a maneuver based on his knowledge of Hood from their time together at West Point before the war. His troops were already waiting in their trenches when Hood reached them. The Confederate army attacked, but fell back before the Union army's improvised breastwork of logs and rails. The rebels were defeated, although they managed to stop Howard from reaching the railroad line. In all, about 3,642 men were casualties; 3,000 on the Confederate side and 642 on the Union side. Among the wounded was general Alexander P. Stewart, who led a corps under Hood.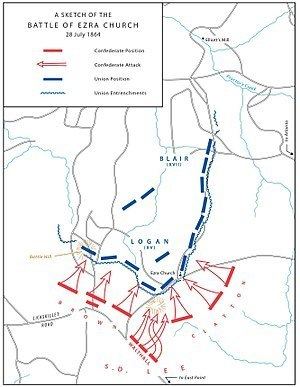 Another notable participant was Ernst R. Torgler, a 24-year-old sergeant in the 37th Ohio Infantry, who was later awarded the Medal of Honor for his action during the battle. Torgler saved the life of his commanding officer, Major Charles Hipp. His citation reads (in part): "At great hazard of his life he saved his commanding officer, then badly wounded, from capture".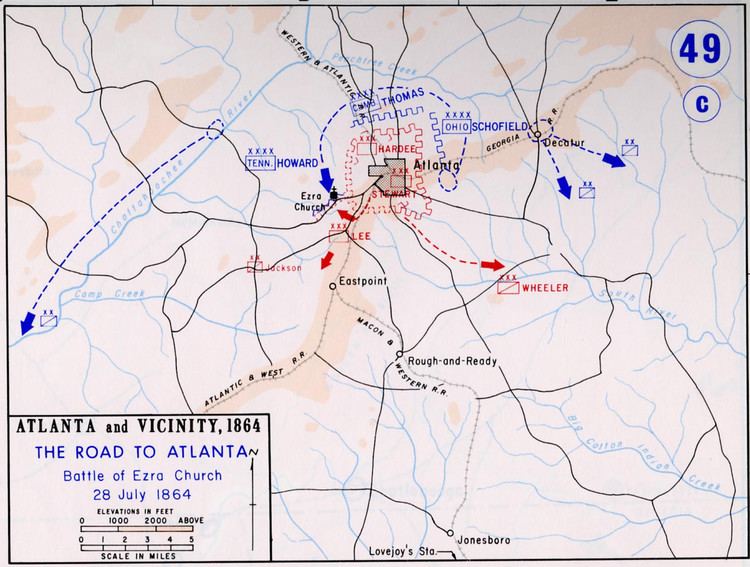 The battle of ezra church and the struggle for atlanta civil war america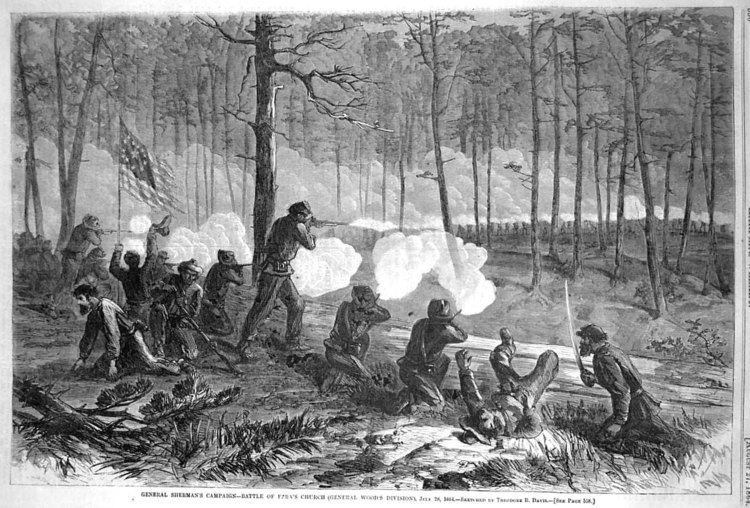 References
Battle of Ezra Church Wikipedia
(Text) CC BY-SA