Born

February 23, 1991 (Age 29) (

1991-02-23

)

Toronto, Ontario, Canada

Weight

123 pounds or 54 kg

Body Measurements

34-23-34.
Azzyland or Azzy, as she is commonly called, is a Canadian YouTube vlogger, who is mostly known for her game-centric content, reaction-based and cosplaying videos. In 2019 YouTube acknowledged her as their top 10 most viewed YouTuber with approximately 1.9 billion views globally, making her the only female content creator to achieve the milestone on the platform. Her fun-filled content has helped her gain 12.7million subscribers on YouTube and over 2 million followers on Instagram.
Contents
Huge Halloween Costume TRY ON HAUL from WISH
Azzy started playing on the NES and became hooked to the original Legend of Zelda, and since then, she hasn't looked back. Gaming became her passion, and little did she know that one day she would make a career out of her passion.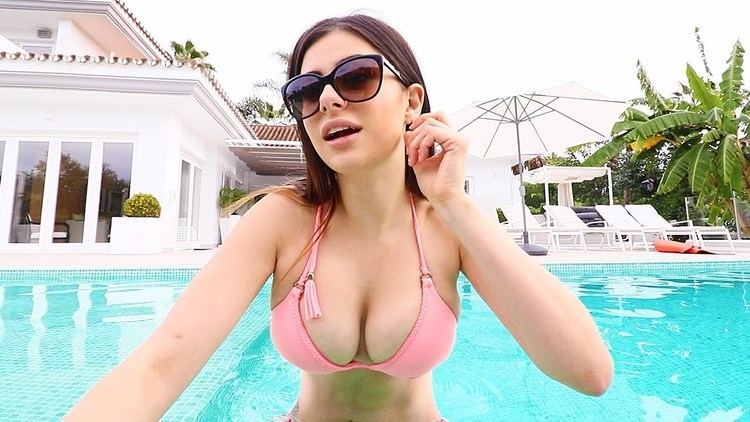 Facts
• Azzy posted a video on YouTube to celebrate her one million followers by running naked around Amsterdam. However, she later clarified that the description was only a parody and that she wasn't nude in the video; it was only meant to entertain her fans.
• She has a certificate from the Professional Association of Diving Instructors in scuba diving.
• She has donated to multiple funds and charities whenever she could to help change people's lives. She raised USD 26,251 for SickKids foundations through the children's hospitals COVID-19 impact fund. She also donated an amount of $13,055 USD personally.
•
She
contributed an amount of $9999 to the black lives matter fund in 2020.
• She also contributed a sum of $10,000 to help the devastating Australian wildfires in 2020.
•
She
has also collaborated with night media which is known to manage top YouTubers like MrBeast, Preston, Unspeakable and Typical Gamer making her the third creator to be signed in 2020 after ZHC and Neeko.
I SURPRISED my Fans with Christmas GIFTS by randomly showing up at their homes !
Networth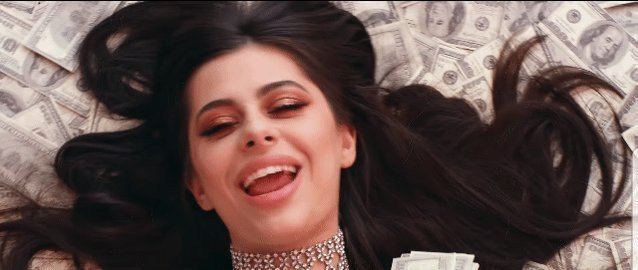 Azzyland has an estimated net worth of over $23 million as of August 2020. Her primary source of income is from her YouTube channel, which has around 15 million subscribers as of 2020 and over 6 billion views. The channel gets an average of 7.2 million views from different sources in a day as of 2020.
Early Life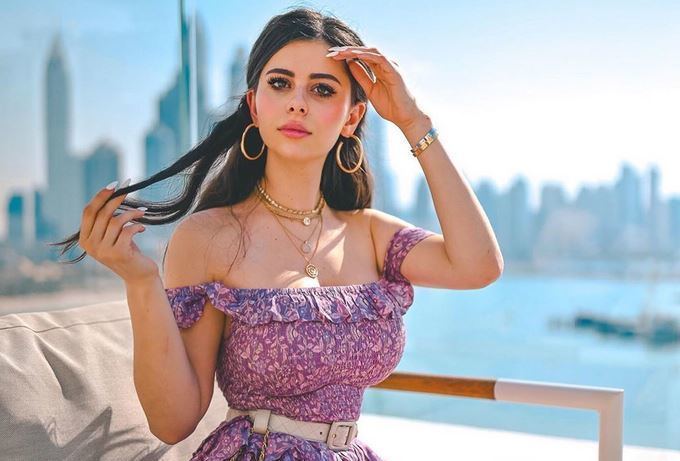 Since Azzyland is a very private person, not much is known about her early life. The little we know about her is through a few old questions and answers from her youtube channel, where she has always talked about her love for video games and how the gaming experience changed her life forever. Azzyland was introduced to video games by her family members, who were also avid gamers.
Personal Life
Azzy was born and brought up in Toronto, Canada. She graduated from Wilfrid Laurier University in Waterloo, Canada, with a double Honors Degree of BSc. in both Chemistry and Biology. Earlier she wanted to pursue a career as a medical practitioner but dropped her plans midway owing to her fear at the sight of blood and instead went on to become a YouTube vlogger.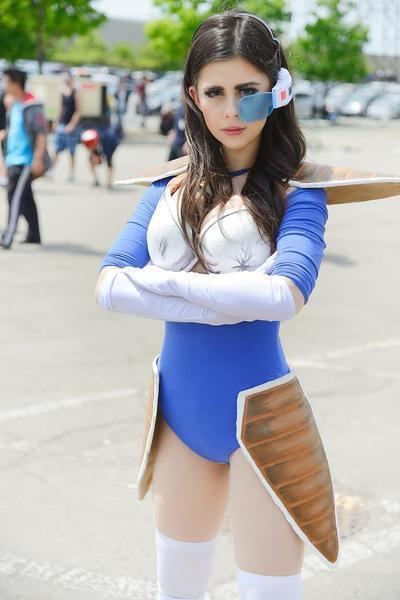 Before creating her own YouTube channel, she was a famous cosplayer where she dressed up as popular comic characters and attended various famous cosplay shows worldwide. Azzy's first-ever appearance in cosplay was that of a character called Vegeta from an acclaimed Japanese anime series 'Dragon Ball Z'. After that, she went on to represent many characters as a cosplay artist, with her favorite being Zelda from the game series 'The Legend of Zelda'. Her unique style and alluring get up helped her gain worldwide recognition.
Azzy's first venture into vlogging on her YouTube channel by the name of Azzyland turned out to be an instant winner with the viewers where she filmed and posted all her cosplay activities. Her videos garnered millions of views and followers for her.
Family Details
Not much information is known or available socially about her family. She has a younger sister who is also a gamer, although she prefers to stay away from the limelight. Her Parents were also avid gamers.
Ethnicity
From what we know, Azzy's parents are Albanian immigrants from North Macedonia.
Relationship with Jordi van den Bussche (Kwebbelkop)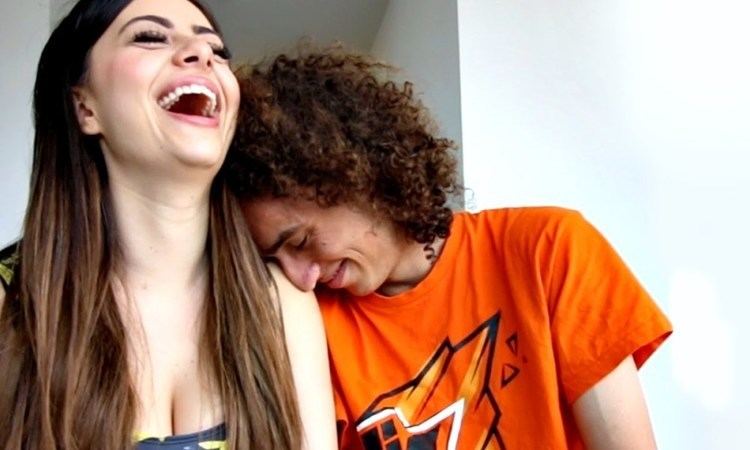 Azzy began dating Jordi Van den Bussche, AKA Kwebbelkop in 2016, who is also a fellow YouTuber. The two have said to first met at an after party for gamers' conference, E3, in Los Angeles, where Azzy was also invited. Their chemistry was undeniable ever since their first meeting, and they instantly developed a liking for each other.
Even though they were extremely private about their love life, the beans about their love-affair were spilled by their fellow YouTuber John Scarce. It was also reported that they had moved in together in Spain and also adopted a cat named 'Zorro.' They seemed to be in love going by their Instagram account, where they frequently posted each other's pictures with loving captions. They also collaborated on multiple videos on YouTube.
They dated for approximately three years and five months before parting ways on February 29, 2020. Her then-boyfriend Kwebbelkop officially confirmed this fact on his Twitter account.
Career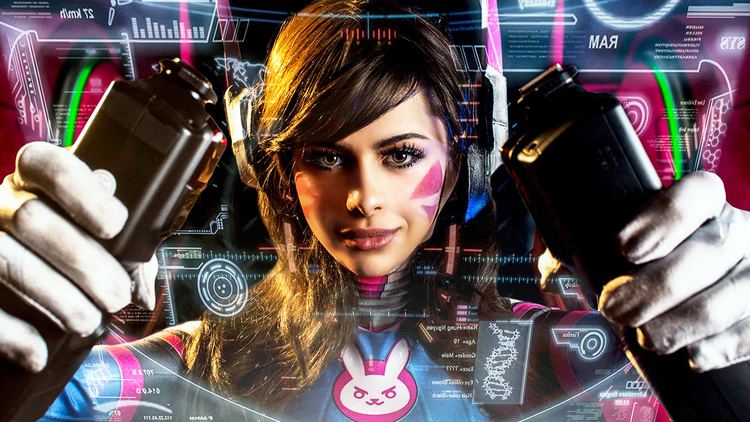 AzzyLand in D.Va Cosplay.

Being a gaming addict and passionate about art, while growing up, Azzy decided to build a career out of it. She was pursuing to become a doctor, but soon, she realized she is not passionate enough for the job and decided to quit her studies.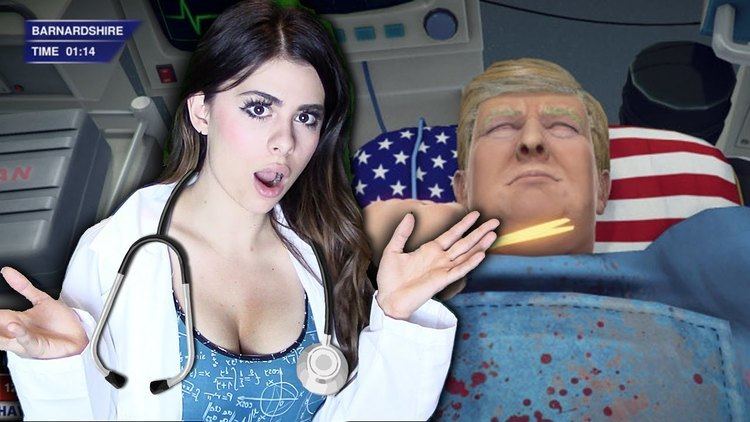 Azzy shifted her focus to creating gaming and cosplay content videos on YouTube. She first tried to center her channel content on videos about cosplay. Still, with time she found it tough to make the problematic costume production process interesting for her millions of viewers. Azzy was quoted saying, "I think it's a bit repetitive and boring". So she transitioned from her content feature to another one of her hobbies, which is also one of YouTube's top niches -GAMING.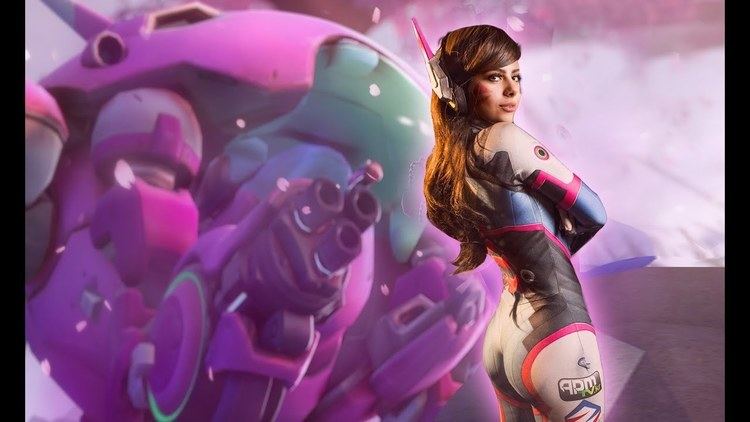 She also created a playlist on youtube named LET'SPLAYS on games like Minecraft, Fallout, and Grand Theft Auto, by filming short clips about the development of the game leaks and vlogged her experiences and adventures at different gaming conventions all over the world. Next year, she added more videos on her lifestyle and eventually started doing reaction videos that are her current genre.
All through her journey, her audience was growing more extensive than she had imagined. She gained more than 1 million subscribers over one year, and by then, it was clear to her that YouTube was not merely a hobby for her. After Azzy became a full-time YouTuber and regularly started posting on her YouTube channel, her fan following and viewership increased alarmingly and in four years, she earned around 12.3 million subscribers on YouTube with her channel netting 2.3 billion views alone in 2019. Her channel brings in 283 million views per month solely from reaction-based content videos and compilation of trending videos.
Cosplay
Azzy was always passionate about cosplays. Some of her noticeable cosplays include Azir-League of Legends that is an online battlefield video game in which multiple players can be seen going on quests and battles.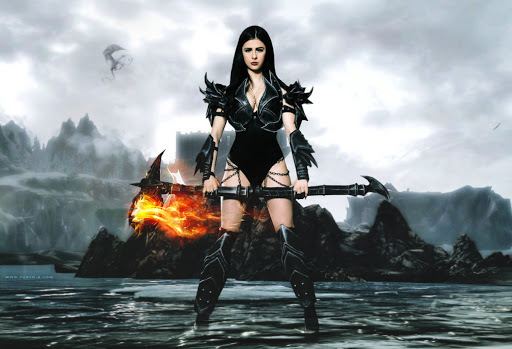 Another one is Skyrim- Daedric Armor that is an armor suit from a famous battlefield game called The Elder Scrolls V, where Azzy once again managed to entertain her fans with a creative display of armor.
Her portrayal as the villain Vegeta from the Dragon Ball Z series surprised fans again with a spectacular depiction of the character using perfect color combinations and similar eye patch. Zora Armor- Legend of Zora is also one of the trendy looks of the video game character created by her that was highly adored by her fans.
Gaming
Azzyland grew up watching her uncle and father playing video games. Azzy was introduced to her very first game, 'The Legend of Zelda: Ocarina of Time', at the age of seven, and she has been hooked to it since then. The world of gaming turned out to be a life-changing experience for her. She was addicted to the original Legend of Zelda, and ever since, she had played thousands of games, making them her biggest passion.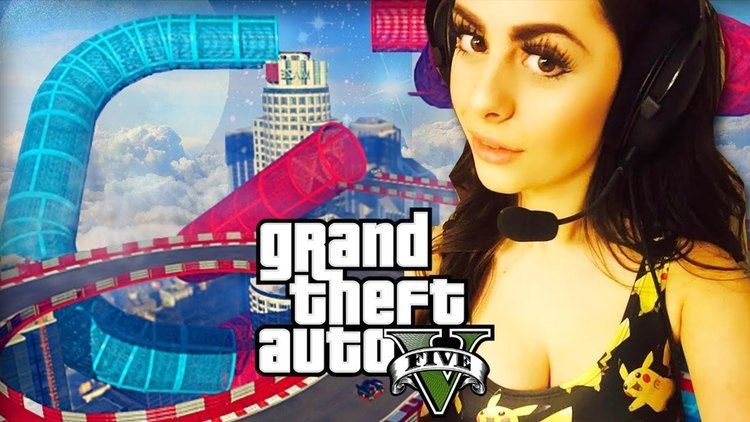 Azzy has frequently appeared in collabs with other gamers on YouTube. Her collaboration with her ex-boyfriend, Kwebbelkop, with the name "PLAYING GTA 5 WITHOUT BREAKING LAWS", has received over 4.7 million views. Azzy's immense passion for games has helped viewers change the experience of gaming for millions of subscribers.
Azzyland's gaming videos playlist consists of GTA 5, Happy Wheels, Mine craft, ROBLOX, Pokémon, COD, and many more.
Movies & TV Shows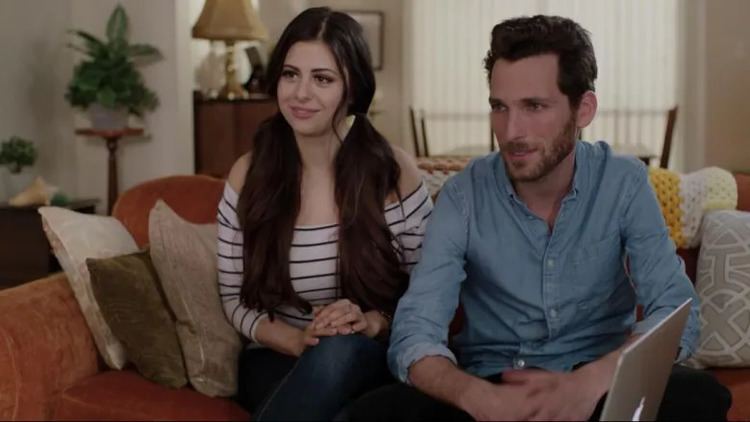 Azzy has starred in 2 episodes of season 2 of my 90- year old roommate in the year 2016. Azzyland has also appeared in one episode of the 2020 comedy series Cam_Girlfriend that explores romance, technology, connectivity, and love through a live-in couple.
Azzyland vs SSSniperwolf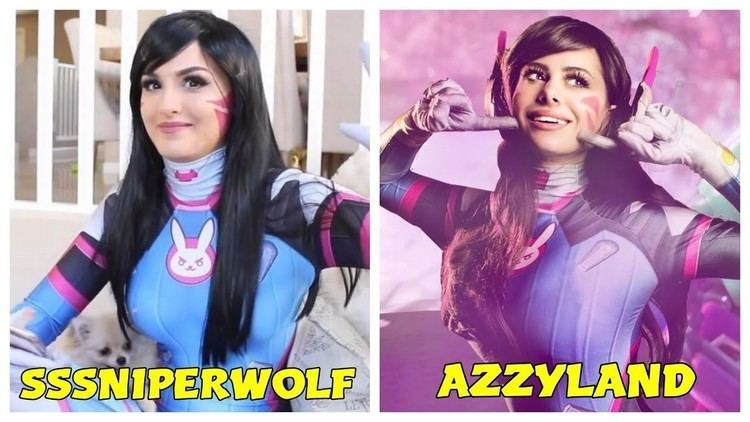 SSSniperwolf or Alia Marie Lia Shelesh is an American YouTuber who makes content on gaming and reaction videos just like Azzyland. Alia or Sniper has a wider fan base as compared to Azzy on all social media sites, including YouTube, Twitter, Instagram, and Twitch. In July 2020, SSSniperwolf became the leading English speaking female gamer with maximum subscribers of 21.4 million on YouTube.
Azzyland and Sniper are mostly compared for their similar YouTube content and massive popularity amongst their viewers. They both shifted their content from gaming to reaction-based videos on YouTube. Since Sniper transitioned first, she made allegations on Azzy for copying her.
They have called out to each other on several occasions, but that doesn't lead to a decrease in their popularity amongst their fans, and each has their fortune owing to their love for art and video games.
Questions & Answers
How old is Azzyland ?
Azzyland was born on February 23, 1991, in Toronto, Ontario, Canada. She is currently 29 years and 5 months old.
Where is Azzyland from ?
Azzyland is from Toronto, Canada. She was born and raised here and holds a Canadian nationality.
Where does Azzyland live ?
Azzy owns a penthouse in Toronto, Canada. But she moved to Spain in 2016.
Is Azzyland single ?
Post her break with Kwebbelkop in 2020; she hasn't dated anybody else. So for all her admirers out there, she is currently single.
How many people has Azzyland dated ?
Azzyland is known to have been in only two relationships. Her affair with famous YouTuber Kwebbelkop wasn't hidden from the public eye. They dated for 3.5 years before splitting up in early 2020. According to CelebCouples, Azzy has dated one more person in the past whose name is not known. She has not been previously engaged.
How did Azzyland get famous ?
Azzy first came into the limelight as a cosplay artist, where she would travel around the world as an official guest to conventions. She got an opportunity there to not only showcase her creations but also meet fans and speak at panels. Soon she started getting recognition for her work and caught the attention of a famous YouTube star, Mc Crudden, who offered her to host 'Before They Were Famous' that is a popular celebrity biography channel.
It was on this platform that Azzy realized her passion and love for YouTube. This experience inspired her to create content for her YouTube channel. Soon she started posting regularly on her YouTube channel, and before she could realize her videos began to blow up.
What is Azzyland's real name ?
Azzyland's real name is Azra Bajrami. Her first name Azra is of Bosnian origin, meaning purity, whereas her second name Bajrami is Albanian, which means Celebration.
Who is Azzyland dating ?
As of 2020, Azzy is currently not dating anyone. There have been no rumors about her dating life post her breakup with Kwebbelkop.
Is Azzyland copying SSSniperwolf ?
Since Azzzyland and SSSniperwolf both create videos on the same genre of content, so there have been certain debates amongst their fans about the copying of content. In fact, in one of her videos, SSSniperwolf took a little dig at Azzy, where she accused her of not being original and stealing her content. People were quick to notice that Azzy's content is very much similar to Sniper's, including the thumbnails that she has used in her videos.
A lot has been said about them both copying each other. But let's not forget that when you work on similar content, ideas are bound to overlap.
Discography
Azzyland surprised her fans back in 2018 when she decided to appear in a music video called MONEY feat BIG NEM. As of 2020 the music video gained around 38 million views on YouTube. This video was received well by the masses with mixed reviews from viewers worldwide.
References
AzzyLand Business Insider
(Text) CC BY-SA