The film, which cost US$16.5 million, opened on May 2, 1997, grossing US$53 million from its North American release and over $67 million worldwide. The film later spawned two sequels, Austin Powers: The Spy Who Shagged Me (1999) and Austin Powers in Goldmember (2002), with Myers repeatedly mentioning the possibility of a fourth film over the years (as of 2017).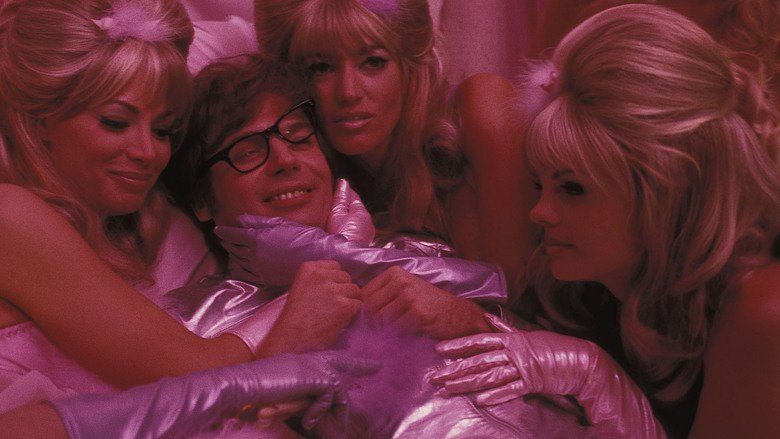 In 1967, British spy Austin Powers (Mike Myers) thwarts an assassination attempt by his nemesis Dr. Evil (also played by Mike Myers) in a London nightclub. Dr. Evil escapes in a space rocket disguised as a Big Boy statue, and cryogenically freezes himself. Powers volunteers to be placed into cryostasis in case Dr. Evil returns in the future.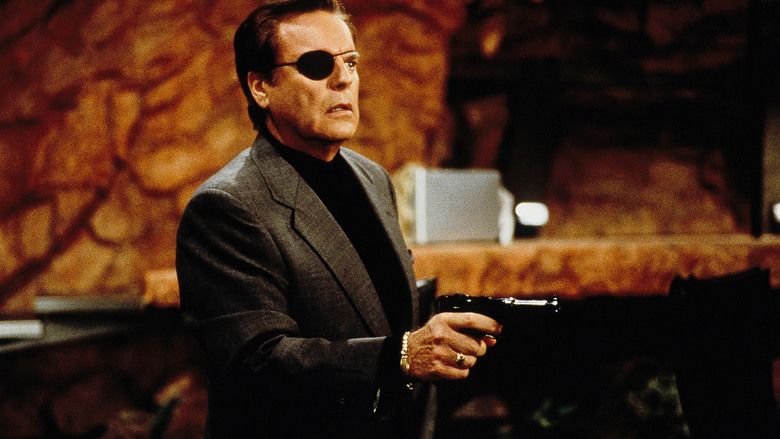 Thirty years later, in 1997, Dr. Evil returns to discover his henchman Number 2 (Robert Wagner) has developed Virtucon, the legitimate front of Evil's empire, into a multibillion-dollar enterprise. Uninterested by genuine business, Dr. Evil conspires to steal nuclear weapons and hold the world hostage for $100 billion. Evil also learns that, during his absence, his associates have artificially created his son, Scott Evil (Seth Green), using his frozen semen. Now a Generation X teenager, Scott is resentful of his father's absence and resists Dr. Evil's attempts to get closer to him.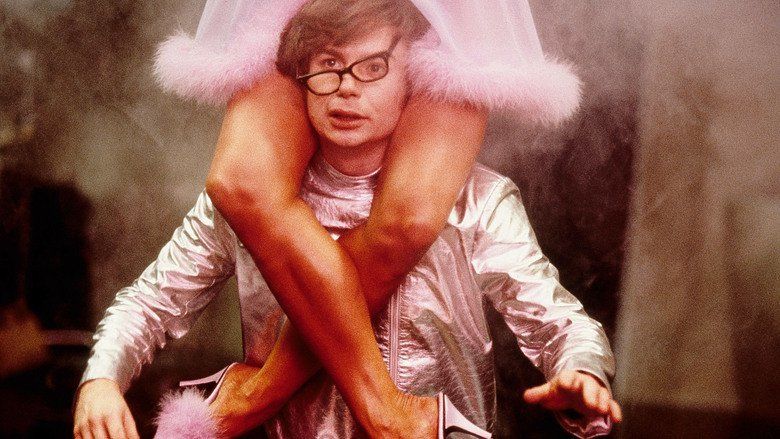 Having learned of Dr. Evil's return, the British Ministry of Defence unfreezes Powers, acclimatizing him to the 1990s with the help of agent Vanessa Kensington (Elizabeth Hurley), the daughter of his sidekick in the 1960s, Mrs. Kensington (Mimi Rogers). Posing as a married couple, Powers and Kensington track Number 2 to Las Vegas and meet his Italian secretary, Alotta Fagina (Fabiana Udenio). Later, Powers infiltrates Fagina's penthouse suite for reconnaissance and discovers plans for Dr. Evil's "Project Vulcan", which involves drilling a nuclear warhead into the Earth's molten core and triggering volcanic eruptions worldwide. Fagina discovers Powers in her suite and seduces him into revealing his true identity. Learning that Powers is back, Dr. Evil and his entourage conspire to defeat the spy by creating a series of fembots: beautiful female androids equipped with automatic guns concealed in their breasts.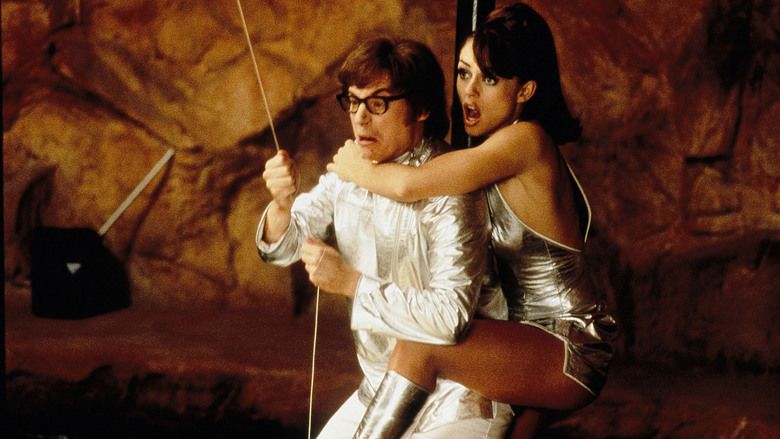 Powers and Kensington attempt to infiltrate the Virtucon headquarters but are soon apprehended by Dr. Evil's henchman, Random Task (Joe Son). Meanwhile, the United Nations accede to the demands of Dr. Evil, who proceeds with Project Vulcan regardless. Powers and Kensington are placed in a death trap by Dr. Evil, but they easily escape, and Kensington is sent for help. While searching for Dr. Evil, Powers is confronted by the fembots, whom he defeats by counter-seducing them with a striptease. Led by Kensington, British forces raid the underground lair, while Powers finds the doomsday device and deactivates it. Powers confronts Dr. Evil, but Fagina arrives holding Kensington hostage. They are interrupted by Number 2, who attempts to betray Dr. Evil by making a deal with Powers. Dr. Evil uses a trap door to eliminate Number 2, then activates the base's self-destruct mechanism and escapes. Powers and Kensington flee just as a nuclear explosion destroys the lair.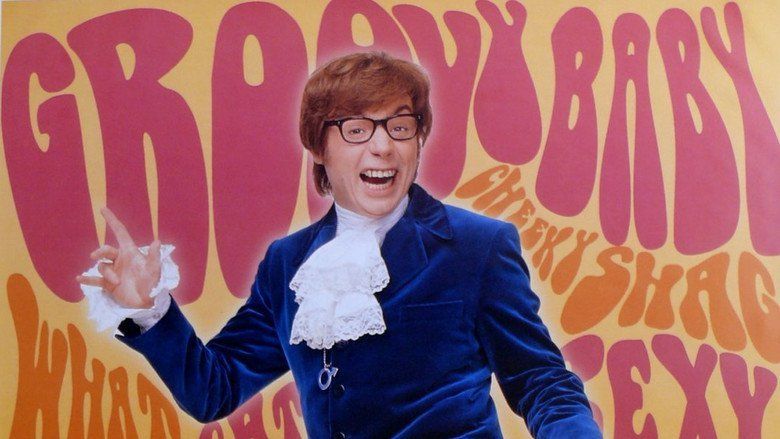 Powers and Kensington are later married, and during their honeymoon Powers is attacked by Random Task. Powers subdues the assassin using a penis pump, allowing Kensington to knock him out using a bottle of champagne. Afterwards, the newlyweds adjourn to the balcony. Among the stars, Powers spots the cryogenic chamber of Dr. Evil, who vows revenge on Powers.
Myers created the character of Austin Powers for the faux 1960s rock band Ming Tea that Myers started with Matthew Sweet and Susanna Hoffs following his Saturday Night Live stint in the early 1990s. Mike Myers stated that he was inspired to create the character after hearing the song "The Look of Love" on the radio, which was the theme song of Ursula Andress' character, Vesper Lynd, in the 1967 version of Casino Royale. Myers' then wife Robin Ruzan encouraged him to write a film based on the character. Dana Carvey felt that Myers copied Carvey's impression of Lorne Michaels for the Dr. Evil character.
Myers sought out Jim Carrey to play Dr. Evil, as his initial plan was not to play multiple characters in the series. Carrey was interested in the part, but had to turn the role down due to scheduling conflicts with Liar Liar.
The film adopts the late '60s psychedelic pop culture stylings and adapts / parodies many characters, lines, set pieces, and plot points of the James Bond films from that era. Elements from all of the early Bond movies are used for inspiration, including:
Dr. No (1962): the shower sequence during the unfreeze sequence; Austin's and Vanessa's change of clothing and dinner with Dr. Evil; Dr. Evil's outfit and general surroundings during the climax; Vanessa's bikini identical to Honey Rider's.
From Russia with Love (1963): modeling the Irish assassin on both Red Grant and the leprechaun character from the Lucky Charms commercials; Frau Farbissina partly modeled on Rosa Klebb.
Goldfinger (1964): Random Task's name and role modeled on Oddjob; the dialogue "do you expect them to pay? - No, I expect them to die" based on "Do you expect me to talk? - No, I expect you to die"; Random Task/Odd Job chopping off the head of a statue; the final fight between Austin and Random Task against a wall modeled on fight between Bond and Odd Job against a wall inside Fort Knox; Powers stating to Random Task "Who throws a shoe, honestly?" (in Goldfinger, Oddjob kills by throwing his hat); the character Alotta Fagina modeled after the name of Auric Goldfinger's companion and partner in crime, Pussy Galore.
Thunderball (1965): Dr. Evil's headquarters, where he kills people around the table; the plot about stealing nuclear arms and holding the world to ransom; conversation about a swimming pool with sharks; Austin playing Black Jack with No 2.; No. 2 modeled on Emilio Largo; both Austin and Bond fighting with a bad-guy in drag—though the audience does not know that it is the bad-guy in drag until the fighting begins.
Casino Royale (1967): the song "The Look Of Love"; the rotating bed; psychedelic set during Dr. Evil's initial 1967 escape; No. 2 cheating at cards by having special glasses modelled on a similar sequence with Orson Welles.
You Only Live Twice (1967): the lines "this organization does not tolerate failure" and "in Japan men come first"; the scenes with the Jaguar and the video communication with Basil Exposition at the very beginning modeled on similar sequences with Bond, Aki and Tiger Tanaka; external shots of the Virtucon enterprise modeled on external shots of the Osato enterprise; interior of Alotta's apartment; bath tub sequence in Alotta's apartment; Austin's poetry similar to Tiger Tanaka's reading of poetry (actually written by Bond in the novel); Mr. Bigglesworth (Dr. Evil's cat) being a parody of Bond villain Ernst Stavro Blofeld's white Persian, although it becomes hairless due to the cryostasis; interior of Dr. Evil's lair modelling interior of Blofeld's volcano lair; face and suit of Dr. Evil modeled on Blofeld.
On Her Majesty's Secret Service (1969): the look and behaviour of Austin Powers modeled on Lazenby's Bond; Frau Farbissina modelled on Irma Bunt; the Fembots are based on Blofeld's angels of death.
Diamonds Are Forever (1971): Nevada and Las Vegas locations; Austin climbing through the window into Alotta Fagina's apartment modeled on how Bond enters Blofeld's apartment; double entendres by Austin and Vanessa modeled after those made by the two homosexual hitmen (i.e. "moving", "heartwarming" in the original film); No. 2 using a model of the US to explain the enterprise; Dr. Evil's global attack being counted down in similar style; final attack on Austin at the hotel modeled on similar final sequence on the Queen Elizabeth.
Live and Let Die (1973): Dr. Evil's shark tank is an allusion to Kananga's shark tank.
Moonraker (1979) Lois Chiles who played Dr. Goodhead in Moonraker also has a cameo role in a deleted scene as the wife of the security guard who is killed by Austin by the steamroller in the Virtucon compound.
For Your Eyes Only (1981) When Austin is captured by the fembots, the scene of him viewed from one of their two legs is reminiscent of For Your Eyes Only's poster.
Octopussy (1983): Mustafa modeled on Gobinda.
A View to a Kill (1985): Vanessa knocking out Random Task by hitting him on the head with a bottle of champagne is a reference to Stacey Sutton knocking out one of Max Zorin's henchman by hitting him on the head with an urn containing her grandfather's ashes. The bed onboard Austin's jet is an homage to Bond's onboard his personal submarine craft. The tub scene with Allota Fagina is similar to the scene Bond has with Pola Ivanova.
The Living Daylights (1987): Patty O'Brien partly modeled on Necros.
Additionally, Mike Myers has stated that Austin's thick chest hair is based on Sean Connery's.
The film also drew inspiration and elements from other movies and television shows of the late 1960s, including:
Dr. Goldfoot and the Bikini Machine, the BBC series Adam Adamant Lives!, in which an Edwardian hero is frozen by his arch-enemy The Face and is revived in 1960s London, Michael Caine's bespectacled Harry Palmer character from The Ipcress File (which is why Austin wears glasses), Matt Helm's The Ambushers (Mustafa) and Peter Wyngarde's "Jason King" character from Department S and Jason King.
The idea of the Fembots may have been adapted from the 1965 film The 10th Victim and the 1966 film Dr. Goldfoot and the Girl Bombs. The word "fembot" first appeared during a crossover episode of The Bionic Woman and The Six Million Dollar Man.
The leather-clad Mrs. Kensington was inspired by Diana Rigg's character Emma Peel from the British TV series The Avengers.
The characters of Commander Gilmour and General Borchevsky were named after Doug Gilmour and Nikolai Borschevsky, two former players from Myers' favorite National Hockey League team, his hometown Toronto Maple Leafs.
The intro scene in which Austin is chased around London by a crowd of women is a reference to the iconic opening of The Beatles' film A Hard Day's Night, in which John Lennon, Ringo Starr and George Harrison are similarly chased by a frenzied mob of admirers. Powers is also pictured disguised with a fake beard, after Paul McCartney in the same scene.
The toilet fight scene resembles a similar scene in Woody Allen's What's Up, Tiger Lily?, and the unfreezing scene references Allen's Sleeper.
The shots of dancing girls in bikinis and body paint between scenes are taken from the 1960s television show Rowan & Martin's Laugh-In.
The line "This is my happening, and it freaks me out" is from the 1970 film Beyond the Valley of the Dolls.
The film ends with a parody/homage of Veruschka's photo shoot in the 1966 film Blowup.
The film contains several references to The Naked Gun: From the Files of Police Squad! including the steamroller scene and Dr. Evil's finger pointing move.
The opening dance sequence is hugely influenced by Bob Fosse's 1969 musical film "Sweet Charity."
Myers estimated that about 30–40% of film was improvised.
The film was shot at the following locations:
Japanese Gardens, Donald C. Tillman Water Reclamation Plant in Van Nuys, California—Alotta Fagina's penthouse (interior shots);
Imperial Palace Hotel and Casino in Paradise, Nevada—Alotta Fagina's penthouse (exterior shots);
Riviera Hotel and Casino in Winchester, Nevada—interior shots;
Stardust Resort & Casino in Winchester, Nevada—interior shots;
Valley of Fire State Park in Overton, Nevada;
Vasquez Rocks National Area Park in Agua Dulce, California;
Circus Circus in Winchester, Nevada—exterior shot
The international release differs from the North American release, as it includes these additional scenes:
Evel Knievel is among the celebrities frozen in cryo-stasis alongside Austin.
When Austin and Vanessa first enter the restricted area at Virtucon, Austin hypnotizes the guard (played by Christian Slater) with a mind control technique he learned on a trip to India.
Immediately after one of Dr. Evil's security guards is crushed by a steam roller driven by Austin and Vanessa, the security guard's wife (played by former Bond Girl Lois Chiles) and stepson are informed of his death.
After another guard has his head eaten by ill-tempered mutated sea bass, his friends (led by Rob Lowe, who would play the younger No. 2 in the sequel and has previously worked with Mike Myers in the film version of Wayne's World and with Seth Green in The Hotel New Hampshire) hosting a surprise Bachelor's Party at a Hooters are informed of his death.
While Austin and Vanessa are escaping Dr. Evil's underground lair which is about to explode, the guard Austin hypnotized earlier in the movie shows up and gives Austin a container of orange Sherbet.
Austin's fight with Random Task is longer, with Austin reaching for a knife, a candlestick, and a coral rake during the fight.
A scene with Gary Coleman, Evel Knievel, and Vanilla Ice unfrozen
The UK release deleted the Princess Diana joke from the theatrical release as the film was released on the week of her death. The joke was subsequently restored in the VHS and DVD releases, as well as its TV broadcast on UK's Channel 4.
In addition, many scenes cut from the theatrical release are found on the DVD:
While No. 2 talks about the business ventures he created during Dr. Evil's absence, he mentions the Franklin Mint Cheeses of the World Series Commemorative Plates;
Austin's flirting with the lead stewardess (played by Cheri Oteri, who later acted with Mike Myers in Shrek the Third) aboard his Jumbo Jet. A portion of this scene was played in the official trailer;
During Austin's final confrontation with Dr. Evil, No. 2 attempts to bribe Austin with $1 billion in a Fendi briefcase. When Austin grabs just one stack of $100 bills, he notes that the money is $832 short of a billion, to which No. 2 mentions that the cost of the Fendi briefcase makes up the remainder. They continue to argue until Dr. Evil presses the button to eliminate No. 2;
Three alternate endings, all of which show Austin and Vanessa in a lifeboat.
"The Magic Piper (of love)" by Edwyn Collins
"BBC" by Ming Tea
"Incense and Peppermints" by Strawberry Alarm Clock
"Carnival" by The Cardigans
"Mas Que Nada" by Sérgio Mendes & Brasil '66
"Female Of The Species" (Fembot Mix) by Space
"You Showed Me" by The Lightning Seeds
"Soul Bossa Nova" by Quincy Jones and His Orchestra
"These Days" by Luxury
"Austin's Theme" by The James Taylor Quartet
"I Touch Myself" by Divinyls
"Call Me" by The Mike Flowers Pops
"The Look Of Love" by Susanna Hoffs
"What The World Needs Now Is Love" by Burt Bacharach and The Posies
"The Book Lovers" by Broadcast
"Austin Powers" by Wondermints
"The 'Shag-adelic' Austin Powers Score Medley" by George S. Clinton
"Green Tambourine" by The Lemon Pipers
"Happy Together" by The Turtles
There are two notable omissions: "Secret Agent Man", which is played during the attack on Dr. Evil's compound, and "These Boots Are Made for Walkin'", which plays during the Fembot presentation.
Another CD featuring George S. Clinton's scores to the film and its sequel was later released in 2000.
Austin Powers: International Man of Mystery was released to region 1 single disc "flipper disc" DVD with widescreen and full screen versions on opposing sides of the disc. The widescreen transfer is unusual in that it is a modified version of the theatrical ratio: despite being filmed in 2.35:1 aspect ratio, on DVD it is presented as 2:1 ratio, "as specified by the director" according to the disc packaging. The film was featured in the correct theatrical aspect ratio for the first time when it was released on Blu-ray, in the Austin Powers Collection.
All versions of the film released on home video (including VHS) have two alternate endings and a set of deleted scenes. The DVD and Blu-ray versions feature a commentary, as well. However, all US versions of the films are the PG-13 cut, with edits to sexual humor/language. International versions are uncut.
On their official website, the UK Ministry of Justice revealed that every week they have one person who wants to change their middle name to 'Danger' – claiming that this was inspired by the line in Man of Mystery, "Danger is my middle name!". (This phrase, however, had been in common use for many years prior to the film: it may be found in James Wallerstein's The Cactus Wildcat (1954) and E.B. White's The Trumpet of the Swan (1970).)
Austin Powers: International Man of Mystery received positive reviews. The film received a 70% approval rating on Rotten Tomatoes, based on 60 reviews, with an average rating on 6.4/10. The site's critical consensus read, "A light and goofy comedy which provides laughs, largely due to performances and screenwriting by Myers". The movie debuted at No.2 at the box office with US$9.5 million.