Metropolitan Augoustinos Kantiotes (Greek: Αυγουστίνος Καντιώτης, 20 April 1907 – 28 August 2010) was the Greek Orthodox bishop of Florina. He was born in Paros in village of Piso Livadi.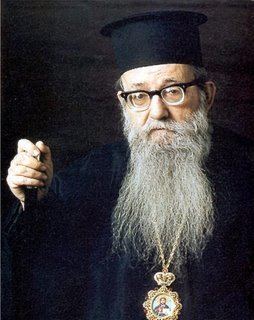 Kantiotes was a defender of traditional Greek Orthodox beliefs. He was a writer of spiritual literature and is credited for the spiritual renewal of Greece, and the establishment of traditional Orthodox theology. He preached countless sermons, which have been recorded and distributed worldwide. For many years he was at the forefront of the anti-ecumenism movement; he believed that ecumenism contradicted the basic principles of Greek Orthodoxy. Kantiotes is known for his conservative activism and ideals; in 1952, he was the leader of a 1500-strong group that protested the "Miss Greece" pageant, denouncing what he saw to be an "exhibition of naked bodies", a "scandal" and an "orgy". Despite support from the Holy Synod of the Greek Church, he was unsuccessful in his campaign to ban beauty pageants; in fact, the 1952 pageant was attended by many, including former prime minister Konstantinos Tsaldaris, who was a prominent conservative politician, and the Athens Police Chief at the time. Bishop Augoustinos also denounced the neo-paganism which he saw as implicit in the use of the Olympic flame. Augoustinos, who published over 80 books in Greek, of which over 25 have appeared in English, and other languages, was known as a classic writer, in the English speaking world of Orthodox Christianity.
Kantiotes died on 28 August 2010 of renal failure while in hospital in Florina for a stroke.