Athos Marques de Amorím (born 14 June 1932) was a general authority of The Church of Jesus Christ of Latter-day Saints (LDS Church) from 1998 to 2002.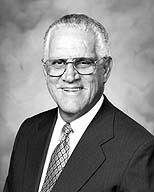 Amorím was born in Rio de Janeiro, Brazil. In 1957, he married Maria Alice Ferrao. Amorím joined the Brazilian military. In 1972, he joined the LDS Church. He and his wife were sealed in the Washington D.C. Temple in 1978.
In the military, Amorím eventually received a degree from the Superior War College. He retired with the rank of colonel in the reserve. In 1990, Amorím received the Timbira Order of Labor Judiciary Merit.
Amorím was president of the LDS Church's Brazil Fortaleza Mission from 1990 to 1993 and was president of the São Paulo Brazil Temple from 1993 to 1996.
From 1998 to 2002, Amorím was a member of the Second Quorum of the Seventy. During his time as a Seventy, Amorím was the president of the church's Brazil South Area.