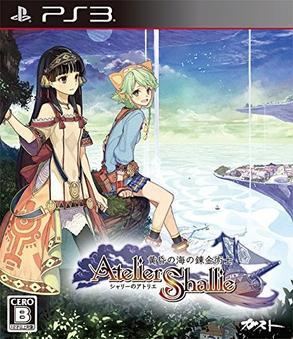 The player is able to choose one of two characters, each with a differing storyline and adventure; regardless of which character is chosen, the flow of the game remains the same. In comparison to previous Atelier games, fields are significantly larger, and the player is able to harvest a wider variety of items and raw materials to use for mixing. Field actions differ depending on the character. Shallote is able to scrub the floor for items with her broom or clean and catch fish using bait, Shallistera is able to uncover hidden items through dowsing, and both characters are able to mine for items at various locations on the field.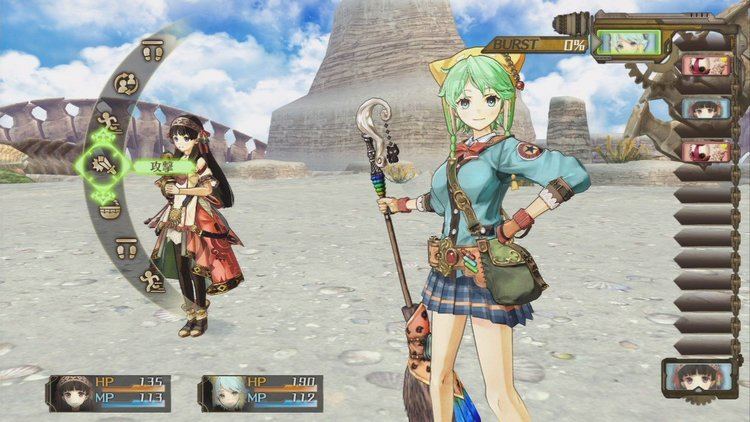 A new goal management system known as the "life task system" displays the tasks that need to be performed at specific times, and is tailored to suit different play styles. This system replaces the time limit feature from previous installments of the series. The details of each life task vary upon play style and progression so that they match the player's previous choices, an example being that a player who spends much of the time in battle will be given battle-related tasks. The field changes dynamically during exploration depending on the player's actions; monsters and items on the map change after fulfilling life tasks. Failure to accomplish enough life tasks has a toll on the player's performance during exploration and item gathering.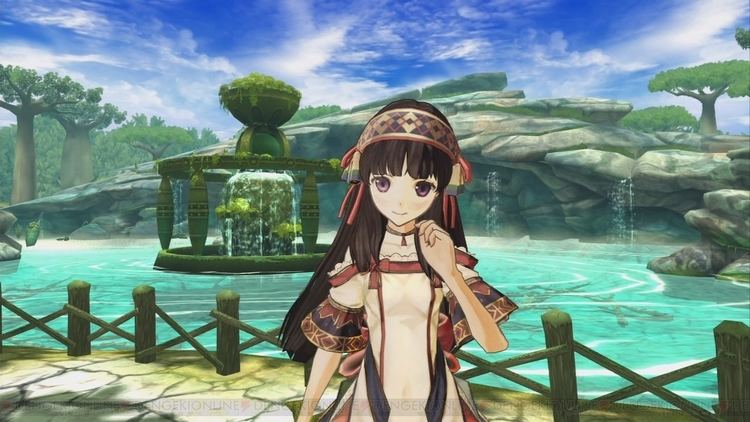 Just like the previous game, the battle system involves parties consisting of up to six characters, where consecutive attacks fill a Burst gauge which triggers a Burst state when filled, allowing the player to build up effect boosts from the chain, and utilise special skills.
The player is able to experience events with the characters as the game proceeds. These events are separate from the main storyline, and allows the player to view new sides of the characters.
The player is able to combine items into different items. To create an item, the player must first obtain the blueprints and items to use as ingredients for the new item. The player can then choose what item to create through a list that is displayed by accessing a cauldron in an atelier. The player will then be able to choose ingredients and decide in what order they will be added, and the player will after a certain point in the game be able to use skills to fine-tune items in this step. At a high enough level, the access to using "Chain" will be given. By using skills of the same element, a "Chain" will build up. The Chain value affects the effect of skills. Additional effects can be picked in the last step of the creation of the item. Weapons and armor is made in the same way, but has to be crafted by character Miruca at her atelier, as the player characters Shallistera and Shallotte are unable to create such items. Miruca will also learn skills and share the level used to create items with the protagonists, but there are differences between Miruca's, Shallotte's, and Shallistera's skills. Items that can be used to create other items can be obtained from the fields, but items may disappear from a location if they are harvested too frequently.
The game's story takes place about 10 years after the beginning of Atelier Ayesha: The Alchemist of Dusk and 6 years after the beginning of Atelier Escha & Logy: Alchemists of the Dusk Sky. As water sources dry up from an oasis town, the plants wilt and animals go hungry. It is here where two alchemists with different methods of making a living meet. Whilst Shallistera aims to find a way to save her village from demise, Shallotte Elminus goes on her daily life in an attempt to become a proper alchemist. Shallistera's story will reveal the truth and mysteries that have been depicted throughout the Dusk series, while Shallotte's story will revolve around the daily life in the world. After meeting each other, Shallistera and Shallotte will grow by fulfilling goals by working together and the friendship of the two are one of the elements that the story will focus on.
Shallistera Argo
Voiced by: Kotori Koiwai
The leader of a ship family's daughter who searches for a means to save her home village from drought and travels to the oasis town to do so. She is given the responsibility of protecting a sacred alchemist relic.
Shallotte Elminus
Voiced by: Sumire Uesaka (Japanese); Sarah Anne Williams (English)
An inexperienced young girl who obtains few subcontracting jobs. She works as an alchemist and continues to run her late father's atelier while also receiving alchemy training from Wilbell.
Kortes Argo
Voiced by: Yoshitsugu Matsuoka (Japanese); Lucien Dodge (English)
Shallistera's guard and childhood friend, who fights with a pike. He is a soldier of Shallistera's family, but he is doubtful towards the customs of his hometown after as a child seeing the modern oasis town and the progressing alchemy.
Miruca Crotze
Voiced by: Rina Hidaka (Japanese); Mela Lee (English)
A young alchemist who runs a small atelier, where she offers to create armor and weapons for the player. She is a childhood friend of Shallotte and the younger sister of Jurie Crotze.
Jurie Crotze
Voiced by: Kanae Itou (Japanese); Erica Lindbeck (English)
A treasure hunter who aims to obtain riches and pay of her debts by seeking out treasures told of in legends. She is the older sister of Miruca Crotze, and hopes to live happily with her once she has paid of her debts.
Wilbell voll Erslied (ウィルベル・ヴォル エルスリート, Uiruberu Boru Erusurīto)
Voiced by: Asami Seto (Japanese); Cristina Valenzuela (English)
A sorceress in training who travels to the area in order to make contracts with spirits. She becomes Shallotte's teacher. Wilbell is a returning character in the "Dusk" series, and initially appeared in
Atelier Ayesha: The Alchemist of Dusk
. She looks younger than her actual age, which bothers her.
Homura
Voiced by: Haruka Terui (Japanese); Kira Buckland (English)
A nihilistic homunculus who is an experienced treasure hunter. Homura is a strong fighter and is learning an old kind of swordsmanship. He is well respected among the other homunculi because of his good speaking skills.
Keithgriff Hazeldine (キースグリフ・ヘーゼルダイン, Kīsugurifu Hēzerudain)
Voiced by: Jōji Nakata (Japanese); Richard Epcar (English)
First seen in
Atelier Ayesha
, he is an experienced alchemist from another country with a keen interest about ancient times. He is searching for remains of ancient alchemy together with Odelia, an automaton who serves him. He is always holding on to his smoking pipe.
Escha Malier (エスカ メーリエ, Esuka Mērie)
Voiced by: Rie Murakawa (Japanese); Lindsay Torrance (English)
A returning character and one of the main characters from
Atelier Escha & Logy
, Escha is an alchemist like Shallistera and Shallotte, and government official summoned by Solle to the oasis town in order to continue the investigations. Ancient alchemy is her strongest skill, but her attempts on challenging the uses of alchemy gives cause to turbulence. Like Solle, she is only available to play via DLC.
Solle Grumman
Voiced by: Daisuke Matsubara (Japanese); Ray Chase (English)
A returning character from
Atelier Escha & Logy: Alchemists of the Dusk Sky
. Solle is a government official sent for the sake of investigating the oasis town and to set up a Branch Office in the town. Like Escha, he is only available to play via DLC. He has a sharp tongue, and in his spare time he likes to bake sweets.
Logix "Logy" Fiscario (ロジックス フィクサリオ, Rojikkusu Fikusario)
Voiced by: Kaito Ishikawa (Japanese); Jason Baker (English)
A returning character and one of the main characters from
Atelier Escha & Logy
. He only appears in the "Plus" version.
'Ayesha Altugle' (アーシャ・アルトゥール, Āsha Arutūru)
Voiced by: Marina Inoue (Japanese); Erika Harlacher (English)
A returning character and the main character from
Atelier Ayesha: The Alchemist of Dusk
. She only appears in the "Plus" version.
Nady Elminus
Voiced by: Aya Hisakawa (Japanese); Julie Ann Taylor (English)
A housewife and Shallotte's mother, who supports her daughter by finding jobs for her.
Theokhuga
Voiced by: Shin Aomori (Japanese); J. B. Blanc (English)
A shipbuilder by trade and escort of Shallistera. He is very trusted by Shallistera's parent, the head of the family, and is handling the family's treasure - a ship. He has been taking care of Shallistera since she was a young child.
Katla Larchica
Voiced by: Chihiro Uno (Japanese); Dorothy Elias-Fahn (English)
Also a returning character from
Atelier Escha & Logy
, she is a traveling peddler who sells rare wares, though to most people, her wares does not appear very useful. She is looking for a way to make high profit in a short time in order to expand her business.
Raoul Pireit
Voiced by: Satoshi Tsuruoka (Japanese); Kaiji Tang (English)
The leader of an union for treasure who bestows the player with quests. He considers everyone affiliated with the union as a family.
Harry Olson (ハリー・オルソン)
Voiced by: Mitsuaki Madono (Japanese); Ray Chase (English)
A recurring character in the Dusk series, Harry is a wealthy and eccentric collector of rare items. He travels around the world on an expedition together with Reyfer.
Linca (リンカ, Rinka)
Voiced by: Ami Koshimizu (Japanese); Julie Ann Taylor (English)
A skilled and calm secretary who appears to have many secret admirers because of her beauty. She is the seventh born Linca, and an older sister to the eighth born Linca who appeared in previous games of the series.
Albert Perriend
Voiced by: Nobunaga Shimazaki
The only son of Gerard Perriend. He dreams about to revive automaton technology and mass produce them.
Odelia
Voiced by: Kaori Sadohara (Japanese); Kira Buckland (English)
Originally seen in
Atelier Ayesha
, Odelia is a 900-year-old automaton who used to work in an ancient library until she accepts Keithgriff as her new master and starts traveling with him. She serves Keithgriff as his assistant, and she has become like him a bit over the time they have spent together. She knows a lot about the past, but despite being a very well-performing automaton, her memory seems to have been damaged. Her name is romanized as Odileia in Japanese media related to the games.
Reyfer Luckberry (レイファー・ラックベリー, Reifā Rakkuberī)
Voiced by: Yasunori Masutani (Japanese); Ben Pronsky (English)
Returning from
Atelier Escha & Logy
, Reyfer is a sharpshooter and treasure hunter. He came to the area together with Harry, looking for a great pirate's treasure. Despite that he has already become rich, he continues to travel in search for new adventures.
Rosemia
Voiced by: Yumi Hara (Japanese); Dorothy Elias-Fahn (English)
A mysterious collector who travels by ship. In exchange for personal belongings as payment, she buries those who have died. She sells the valuables she has collected.
Gerard Perriend
Voiced by: Mahito Ōba (Japanese); Kirk Thornton (English)
Albert's father and the leader of a company who controls the water source of the town.
During the development phase, the game was referred to by the code name "Project A16", which was announced as a new game project by Gust on March 16, 2014. The game was initially announced for release on June 28, 2014, but was delayed to July 17 in the same year in order to improve the game's quality.
Famitsu gave the game a review score of 33/40. The game sold 43,744 physical retail copies within the first week of release in Japan. Within a November 2014 earnings report, Koei Tecmo announced that 80,000 copies were shipped within the Japanese and Asian regions.
The game has a Metacritic rating of 76%. Push Square's review of the game compliments how the game simplifies some of the more complex mechanics from previous games while still remaining to be challenging enough for the player to enjoy, giving an overall rating of 7/10.