Covid-19
9

/

10

1

Votes

Alchetron

Rate This





Thruster Games




24 October 2013




Android, iOS







Bottle Rocket Apps




Single-player video game




App Store, Google Play






October 24, 2013 (Original Version) January 27, 2014 (Version 1.1.2)




Annoying Orange: Kitchen C, Sonic Dash 2: Sonic Boom, Splat!, Anomaly: Warzone Earth, Sine Mora
Annoying Orange: Splatter Up is the second Annoying Orange game, after Kitchen Carnage. It is available for download on iOS and Google Play. The latest update for the game, version 1.1.2, was released on January 27, 2014.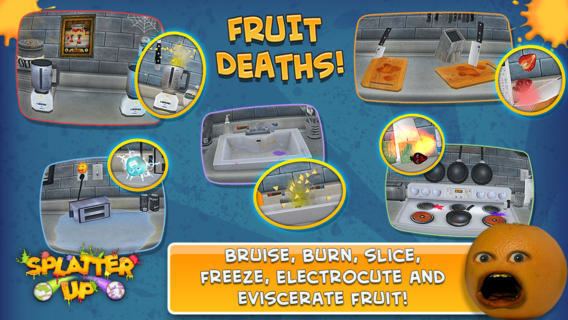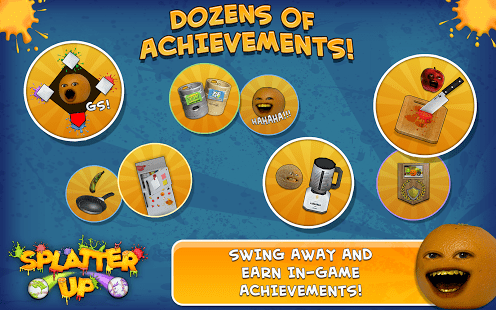 Splatter Up is a baseball game where screaming fruit is thrown at you and your task is to swipe your finger from the bottom right, hitting it right under it, to send it flying as far as possible while passing the set "Home-Run" distance and also trying to make it land in several of the death traps for the fruits. Each death trap has different bonus points like the first blender right after the home run line is worth 150 points, hitting each of the stove's burners is another 125 points. The farther you hit the more points you gain along with the number of death traps. Some other death traps include a toaster, knife and ceiling fan. You get ten outs to get a score as high as possible but if you fail to hit ten fruits outside of the "home-run" line then it's a game over and the game will tally up your score. The game sprites are the same as in Kitchen Carnage; the only character that doesn't appear in this game but appears in Kitchen Carnage is Fred Figglecorns.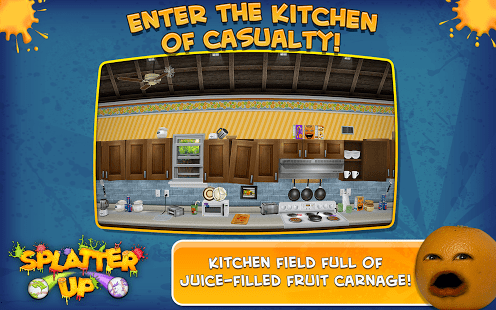 After each round your points are tallied up and are converted into experience points. As you pass each level you can place your upgrade points into Power or Contact. A higher power will enable you to hit the fruit even harder and contact will enable you to make contact with the fruit much more precisely. You can also buy Stitchy the Baseball (moves slower for an easy pitch), ZOOM (makes you hit harder) and ZIP (makes you hit the try fruit in the exact spot).
The characters that appear in the game are: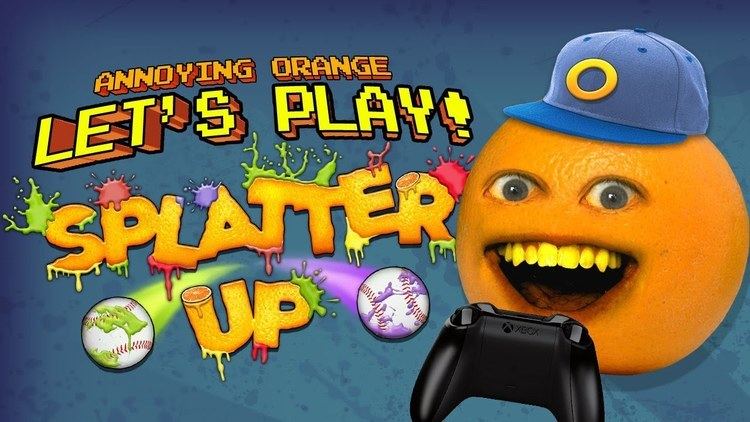 Orange, Midget Apple, Dane Boedigheimer, Robert Jennings, Zack Scott and Zombie George Washington have been seen playing this.
The game has over 30 achievements that the player can earn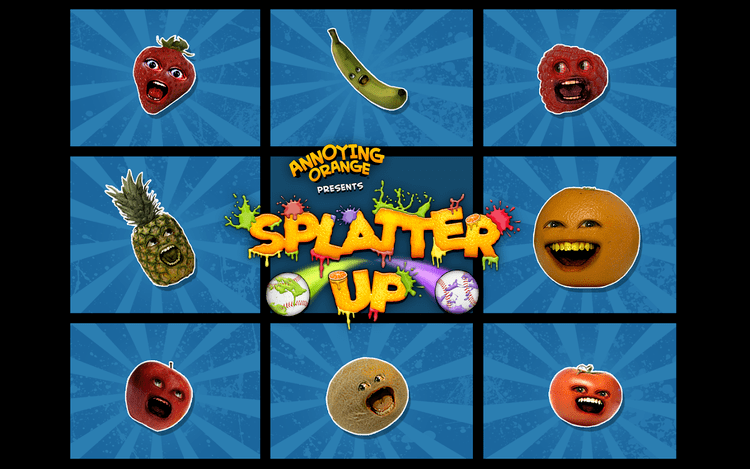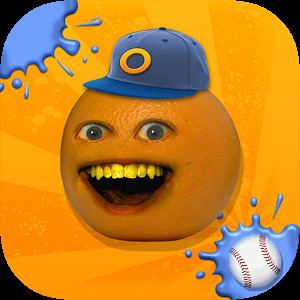 Annoying Orange: Splatter Up Wikipedia