Anne Debelle, Princesse d'Essling (1802 - 1887), was a French courtier. She served as Grand-Maitresse (Mistress of the Robes) to Empress Eugénie de Montijo in 1853-1870.
She was the daughter of General Jean Francois Joseph Debelle and Marguerite Justine Deschaux, and married Francois Victor Massena, 2nd Duke of Rivoli and 3rd Prince d'Essling, in 1823. She had four children.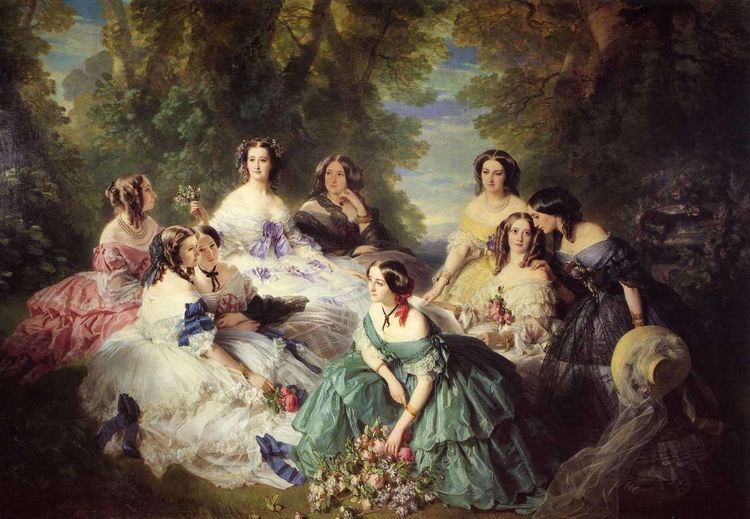 In 1853, she was appointed Grande-Maitresse to the new Empress consort. The court of the newly wed empress had then just been formatted, and the ladies-in-waiting consisted of a Grande-Maitresse (Mistress of the Robes), one dame d'honneur, as well as six (later twelve) dame du palais who alternated in service one week each, most of whom were chosen from among the acquaintances to the Empress prior to her marriage. As Grande-Maitresse, Anne d'Essling was first in rank of all female courtiers. It was her task to supervise all the other ladies-in-waiting and their schedule, and receive all applications from people wishing to be given an audience with the empress. In practice, however, she normally delegated this to the next in rank, dame d'honneur Pauline de Bassano. Alongside the dame d'honneur, it was also her task to be present at the side of the empress at all grander public representational state occasions, and she was a such a well known public figure.
Anne d'Essling has been described as thin and fragile to her appearance, and stiff, formal and proud to her behavior, though closer acquaintances saw her as friendly and intelligent.
She remained in service until the fall of the monarchy and was present with the Empress in the Tuileries Palace during the fall of the Second Empire in 1870. She then retired from high society life.
Anne d'Essling belonged to the ladies-in-waiting depicted with Eugenie in the famous painting of Empress Eugenie and her ladies-in-waiting by Franz Xaver Winterhalter from 1855.
René Primevère Lesson named the "Anna's hummingbird" after her.
Anne d'Essling Wikipedia