Anna Camner, born 1977, is a Swedish contemporary artist, based in Stockholm. Camner is a painter, known for her intense and meticulously executed paintings in oil on plexi glass board. She holds a master's degree from The Royal Academy of Art in Stockholm. Camner has exhibited in Stockholm, New York and London, and was the recipient of the Beckers Art Award in 2017. http://www.fargfabriken.se/en/right-now/item/1334-beckers-art-award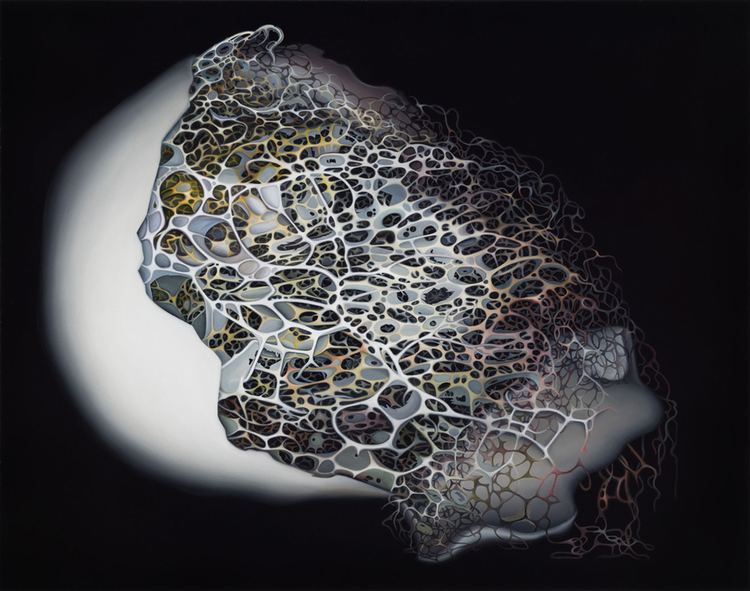 Anna Camner's earlier work was focused on dark Vanitas themes; the paintings used to burst with foliage, flowers, insects, spider webs, snails and rodents, all in various stages of decay. The new body of work from 2015-2016 marks a clear departure from that. Conceptually, the artist still moves in the dark borderland between life and death, but her subjects, always painted against a solid pitch black background, have been refined, given a stronger focus and a minimalist character, along with a sense of inherent mystery and uncertainty about whether the depicted subject is in fact alive or dead matter. The new body of work was exhibited in Stockholm and reviewed in a number of Swedish newspapers, such as Dagens Industri, http://www.di.se/di/artiklar/2016/1/13/anna-camner-utforskar-det-abstrakta-2/, Expressen http://www.expressen.se/kultur/konst-for-evigheten-av-anna-camner/ and Svenska Dagbladet, amongst others http://www.svd.se/terminsstart-for-konststockholm.
Camner's work is represented at the UBS Art Collection, Swedish Art Council and Magasin 3 Stockholm Konsthall.
In 2012, Wanås Konst Förlag published a picture book with the works of Anna Camner, titled The Sick Rose. http://www.wanas.se/svenska/Konst/Konstnärer/Konstnär.aspx?fid=62