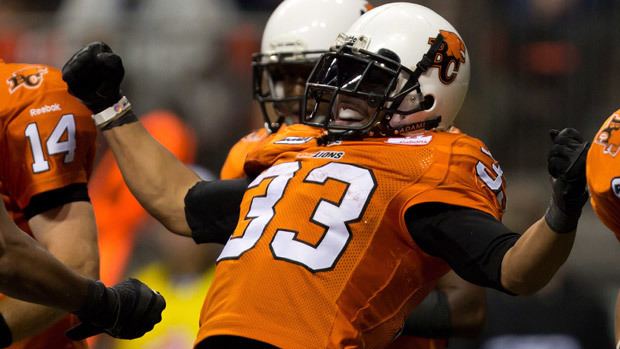 Harris took the rare path to professional football by going through the junior system. Instead of joining a CIS football program after school, he joined the Vancouver Island Raiders of the Canadian Junior Football League. During his phenomenal junior career, he led the Raiders to three national championships (2006, 2008, and 2009) and broke a number of British Columbia conference and CJFL records, including all-time touchdowns and scoring. In 2009, he was awarded the Wally Buono Award for most outstanding junior football player in Canada.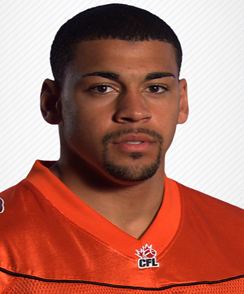 BC Lions head coach and general manager Wally Buono took notice of Harris's talents in junior football and claimed him as a territorial exemption in 2008. He joined the Lions practice roster in 2009, while continuing to play his final season of junior for the Raiders.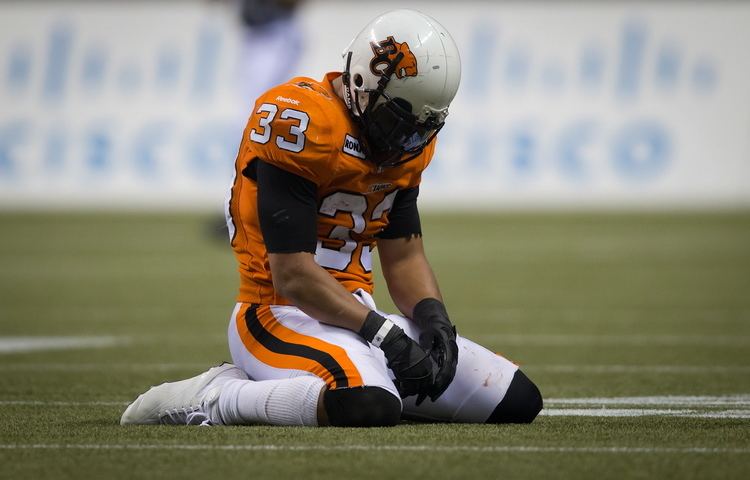 In 2010, Harris earned a spot on the Lions active roster and was primarily used on special teams in his first season. He was named the CFL's special teams player of the week on September 14, 2010.
Harris began the 2011 season as the Lions' backup running back. Harris saw his role expand and he took over as the starting running back in mid-season, finishing with 853 total yards and eight touchdowns. In the playoffs, Harris was named the Canadian player of the week for his performance in the Lions' win over the Edmonton Eskimos in the West Division Final. A week later, Harris was named the Most Outstanding Canadian at the Grey Cup, scoring a touchdown and rushing for 65 yards over 10 carries in the Lions 34–23 win over the Winnipeg Blue Bombers.
On December 29, 2011, Harris and the Lions agreed to a two-year contract extension, with an option for year three.
Following a strong 2011 campaign, Harris became the starting running back for the 2012 CFL season. Harris continued his strong play and became the ninth Canadian running back to rush for 1,000 yards in a season and the first Canadian BC Lion to rush for a 1,000 yards since Sean Millington in 2000. Fellow Canadian running back Jon Cornish also ran for 1,000 yards, marking the first time since 1956 that two Canadian running backs ran for 1,000 yards in the same season. Despite seeing increased rushing attempts in the 2013 CFL season, his total yards fell short of 1000, finishing with 998. Harris added 61 pass receptions for 513 yards. Prior to the 2014 CFL season Harris and the Lions agreed to a contract extension through the 2015 CFL season.
Harris' 2014 campaign was cut short by injuries, missing the final six games of the season due to injury. He finished the season with 652 yards on 122 carries (5.3 average) with two rushing touchdowns. He added 529 receiving yards on 46 catches with four touchdowns. Harris finished the 2015 CFL season with the second most rushing yards, trailing Montreal's Tyrell Sutton by 20 yards (1,059 to 1,039). He set a career-high in rushing attempts with 222, while simultaneously posting a career worst 4.7 yards per carry. Immediately following playoff elimination as a pending free-agent, Harris expressed his displeasure with the BC Lions organization, putting his future with the club in doubt.
On February 9, 2016, Harris signed with his hometown Winnipeg Blue Bombers as a free agent. During the 2016 season Harris played in all but 3 of the regular season games for the Blue Bombers, missing some time with an ankle injury. He finished the season third in the league in rushing yards, falling short of the 1,000 yard plateau by only 26 yards. In a game against the Edmonton Eskimos in 2017, Harris set a professional first by surpassing 100 yards in both rushing and receiving, netting a total of 225 yards in the game.
Harris was born in Winnipeg, Manitoba, and is an Oak Park High School alumnus. His early years took place in Steinbach, Manitoba where he started playing the game of football at age 9 with the Eastman Raiders. Harris cites his idol as being former Winnipeg Blue Bombers running back Charles Roberts. Since joining the Lions and his following move to the Bombers, Harris has worn #33 as a tribute to a Vancouver Island Raiders teammate who died in a car crash in September 2008. Harris has a daughter and continues to make Winnipeg his home during the off-season. In November 2015 Harris bought Koncept nightclub in Nanaimo, British Columbia from Nanaimo city councillor Jerry Hong.