Eleni Delliyani




1840, Athens, Greece




Greek Orthodox





Andreas Zaimis




Thrasyvoulos Zaimis




Political leader




Alexandros Zaimis






Georgios Kountouriotis as President of the Executive




Ioannis Kapodistrias



Andreas Asimakou Zaimis (Greek: Ανδρέας Ζαΐμης, 1791–1840) was a Greek freedom fighter and government leader during the Greek War of Independence.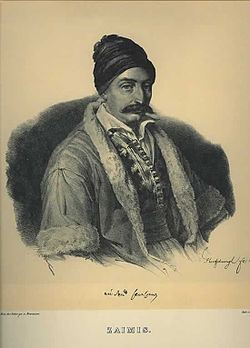 Born in Kalavryta, in the northern Peloponnesos, Zaimis was a leader of armed men who fought the Ottoman Turks, ultimately securing Greece's freedom.
In 1826, Zaimis was chosen as the leader of the interim Greek government. His son, Thrasivoulos Zaimis, and grandson, Alexandros Zaimis, would also serve as Prime Ministers of Greece.
Andreas Zaimis Wikipedia