Associated acts

The Peaks




Years active

1992 (1992)–1999 (1999)

Past members

Allan BalmontDave JohnstonePhil NattSimon Hensworth

Members

Dave Johnstone, Simon Hensworth, Alan Balmont, Phil Natt

Albums
Ammonia were an Australian indie guitar rock band formed in Perth in 1992 as Fuzzswirl. Founding members are Allan Balmont on drums (ex-Dear Octopus, Cherrytones), Dave Johnstone on guitar and lead vocals (ex-Hideous Goldsteins), and Phil Natt on bass guitar. Natt left and was eventually replaced by Simon Hensworth on bass guitar in 1993 and they changed their name to Ammonia. They released two studio albums, Mint 400 (October 1995) and Eleventh Avenue (May 1998), which both reached the ARIA Albums Chart Top 20. Their debut single, "Drugs" (September 1995), peaked in the ARIA Singles Chart Top 40. The group disbanded in January 1999 following a two-month farewell tour of Australia.
Contents
Early success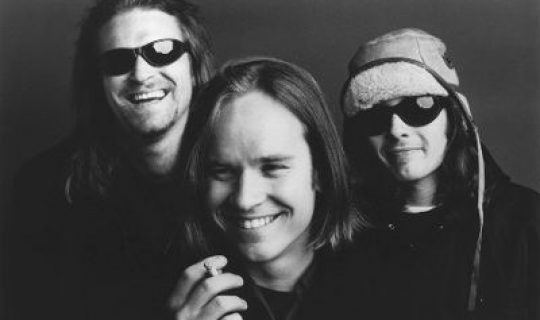 Ammonia were an alternative rock band from Perth, providing a mixture of grunge and guitar pop (a sound they described as 'pop-metal'), which Australian musicologist, Ian McFarlane, described as indie guitar rock. They began in 1992 as Fuzzswirl, initially comprising guitarist Dave Johnstone (ex Hideous Goldsteins), drummer Allan Balmont (ex Dear Octopus, Cherrytones) and bass player Phil Natt. Following the departure of Natt, they continued to perform with a variety of bass players around their hometown. In 1993, after bassist Simon Hensworth joined, the name was changed to Ammonia. The band members considered the name, Glorious Noise Earthquake, but selected Ammonia for its simplicity after Hensworth stumbled across the word in a science textbook.
The band's early success was due mostly to their self-financed recordings and word of mouth. The trio released a self-titled cassette and developed a distinctive live sound, due to by Hensworth's over-driven and high volume bass guitar, complemented by Johnstone's infectious pop hooks. By 1994 the band had completed tours of Melbourne and Sydney, establishing a solid fan base, and had an album worth of material recorded. They supported gigs by You Am I and United States alternative rockers, Redd Kross.
Richard Kingsmill of radio station, Triple J, aired Ammonia's track, "Incinerator", to a national audience, sparking further interest in the band. Importantly, they did not independently release these early recordings, as Ammonia was determined to sign with a major label. This was to ensure optimum exposure of their music, and given the isolation of the city, to avoid the pitfalls other independent bands from Perth had experienced in the past.
In 1994, the band did a live recording for Triple J, which added their track, "Orange Juice", from the session to their regular play list. The airplay generated interest by major record labels, which courted the group. Late that year, Ammonia were the first band to sign with Sony's Murmur label (the second band to sign was the then-unknown Newcastle group, Silverchair).
EPs and Mint 400
Ammonia's first release, In a Box (November 1994), is a five-track extended play, which comprised the band's early recordings paired with the newly recorded title song. They were supported by Triple J playing EP tracks, expanding their fan base across Australia, and leading to a national tour. McFarlane felt the EP "outlined the band's brand of guitar-driven power pop"; while AllMusic's Kim Summers wrote that it had "received rave reviews." In March 1995 a second five-track EP, Sleepwalking was released, again it had the band's self-produced recordings paired with a newly recorded title track. It included the first official release of "Orange Juice" and, aided by continued touring, allowed the band to cross over from Triple J to mainstream commercial radio.
The band released their debut album, Mint 400 (16 October 1995), which had ten new tracks alongside re-recorded versions of "In a Box" and "Sleepwalking". It was produced by American, Kevin Shirley (Led Zeppelin, Iron Maiden, Slayer), over ten days, at Festival Studios in Sydney. McFarlane noticed it "established the band at the forefront of national indie-pop. [It] showcased the band's uncanny pop sensibility." AllMusic's Nitsuh Abebe rated the album at two-out-of-five stars and explained, that it is "a good example of the simplistic but hooky post-grunge (barely) Ammonia typically deals with. They've backed away from grunge mainly through a melodic influence." Mint 400 peaked at No. 15 on the ARIA Albums Chart.
The album's lead single, "Drugs" (written in five minutes during a rehearsal), was issued in September 1995. Despite certain stations' hesitation to play the song due to its title, it peaked at No. 32 on the ARIA Singles Chart. Johnstone described its lyrics, "There isn't really that much of a message, 'Drugs' is about apathy towards drugs." It was listed at No. 27 on the radio listener's poll, Triple J Hottest 100, 1995. The success of the single saw the band added to the main stage of the 1995/96 Big Day Out, travelling with the national festival tour.
Sony's associate, Epic Records, released the album and single in the United States, in March 1996. MTV put the $5000 music video for "Drugs" on high rotation, the cheapest video to ever do so. The band toured North America in April and May, where the single "went on to sell over 50 000 copies." According to Summers, "Audiences applauded the group because of their musical style, adopting different sounds depending on the mood and messages of their songs." They also toured the United Kingdom and the rest of Europe throughout 1996. "Drugs" was the group's lone charting single in the US, reaching No. 29 on Billboard's Alternative Songs chart. The magazine's Carrie Borzillo declared that the band were "starting to make waves on modern rock radio"; and she identified 99X program director, Brian Philips, who "got the ball rolling."
Eleventh Avenue
In October 1996 Ammonia released their next single, "Satin Only", which did not chart and later re-emerged as a hidden track on their second album, Eleventh Avenue (8 May 1998). They finished 1996 preparing material for that album, which was recorded in New York state with Dave Fridmann producing (The Flaming Lips, Mogwai, Weezer). Fridmann used his home studio, Tarbox Studios, in Cassadaga, Johnstone recalled, "for about two months we were in the middle of nowhere, near Niagara Falls and Canada, in a place called Cassadega [sic]. It's a beautiful college town built in the early 1800s with one main drag and a town clock. And we were in this studio built by Quakers, which had this really weird feel to it. We were recording downstairs and sleeping upstairs."
Eleventh Avenue was different album from their debut, moving away from simple arrangements and traditional rock instrumentation. The record retains the initial chemistry of the band, but is sonically complex, adding harmonies, samples and psychedelic keyboards. Fridmann had supplied "keyboards, loops and magic studio touch augmenting Ammonia's melodic power pop agenda." It was mixed at Larrabee Studios in Los Angeles by Tim Palmer (Pearl Jam, Tears for Fears, Supergrass). Upon completion of the album, the band realised that they were unable to play it live as a three-piece. In mid-1997, while touring with label mates, Something for Kate; their member, Paul Dempsey played with Ammonia on second guitar and keyboards. Balmont and Johnstone recruited former band mate, Phil Natt, to rejoin on guitar, backing vocals and keyboards.
The next single from the album, "You're Not the Only One Who Feels This Way" (August 1997), was added to radio play lists: it was listed on Triple J Hottest 100, 1997 at No. 43. It was followed by the single, "Monochrome" (February 1998), and finally the album Eleventh Avenue, which was released in May. It peaked at No. 20 on the ARIA Albums Chart. The Times' reviewer, of Victor Harbor, described how their "trademark rhythmic urgency, indelible chorus hooks and intricate bass lines remain on some of their tracks but their deliberate expansion into layered harmonies and more textured arrangements is also evidenced." Initial pressings of the album as a limited edition, included a bonus disc of six live tracks.
The two singles, "You're Not the Only One Who Feels This Way" and "Monochrome", featured on national radio, as did the final single from the album, "Keep on My Side" (June). McFarlane felt it "featured melodic rock akin to UK bands like Radiohead or Teenage Fanclub." They recorded "Keeping My Hands Tied" for the soundtrack of the feature film, Occasional Course Language (November 1998).
Break up
Due to touring in support of Ammonia's second album, tensions within the group reached breaking point. In December 1998, they announced that they were splitting up. Wanting to go out on a high, they decided to play their final gigs as part of the Australian festival circuit. Their final Sydney show was at the Homebake Festival, their final Victorian performance was at The Falls Festival, and the last Ammonia show was on the Main Stage of the Big Day Out in Fremantle in January 1999.
By mid-1999 Dave Johnstone was performing with his next band, Parlour. Simon Hensworth played with Perth-based band, Potato Stars during 2001. Allan Balmont was a tour manager for The Living End. He provided drums on Bob Evans' debut album, Suburban Kid (September 2003). Johnstone and Natt formed a new band, the Peaks, with Dan O'Halloran (The Favourite Game) and Shaun Lohar (Blueline Medic), which released their debut album, Avoca, in November 2004. As of 2007 Johnstone recorded and played with the Lazybirds. In October 2009 Natt was a session musician on Sydney-based singer-songwriter, Catherine Traicos' album, The Amazing.
Personnel
Allan Balmont – drums (1992–99)
Dave Johnstone – guitar, vocals (1992–99)
Phil Natt – bass guitar (1992), guitar, keyboards, backing vocals (1997–99)
Simon Hensworth – bass guitar (1993–99)
Singles
"Drugs" – Murmur (1995) AUS: No. 32
"Ken Carter" – Murmur (1996) AUS: No. 50
"Suzi Q" – Murmur (1996)
"Satin Only" – Murmur (October 1996)
"You're Not the Only One Who Feels This Way" – Murmur (August 1997) AUS: No. 83
"Monochrome" – Murmur (February 1998)
"Keep on My Side" – Murmur (1998)
Other releases
Ammonia – Independent (cassette)
Songs
DrugsMint 400 · 1995
You're Not the Only One Who Feels This WayEleventh Avenue · 1998
Keep on My SideEleventh Avenue · 1998

References
Ammonia (band) Wikipedia
(Text) CC BY-SA