Covid-19
7

/

10

1

Votes

Alchetron

7

Rate This




4 April 2000




Abril Music




Barry Cole




American Psycho






Soundtrack, rock, pop rock, alternative rock, synthpop, new wave




Foolish Thing Desire, Psycho, Felons and Revolutionaries, Paid in Full, Fiends of Dope Island
American Psycho: Music from the Controversial Motion Picture is the soundtrack to the film, American Psycho, released April 4, 2000 by Koch Records.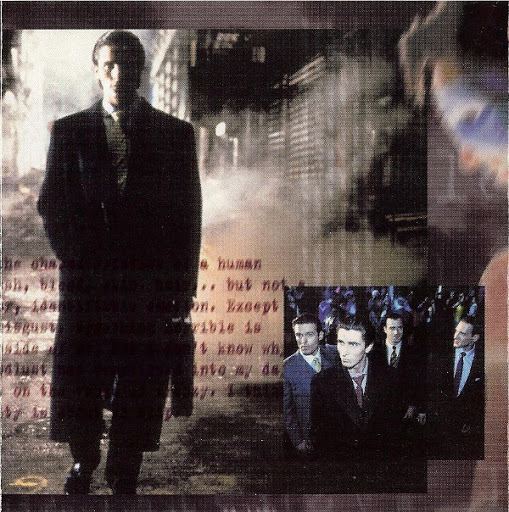 "You Spin Me Round (Like a Record)" – Dope (Dead or Alive cover)
"Monologue 1" – John Cale
"Something in the Air" (American Psycho Remix) – David Bowie
"Watching Me Fall" (Underdog Remix) – The Cure
"True Faith" – New Order
"Monologue 2" – John Cale
"Trouble" – Daniel Ash
"Paid in Full" (Coldcut Remix) – Eric B. & Rakim
"Who Feelin' It" (Philip's Psycho Mix) – Tom Tom Club
"Monologue 3" – M.J. Mynarski
"What's on Your Mind" (Pure Energy Mix) – Information Society
"Pump Up the Volume" – M/A/R/R/S
"Paid in Full" (Remix) – The Racket
"Monologue 4" (hidden track)
Other songs that appeared in the film, but did not appear on the album include:
"Walking on Sunshine" – Katrina and the Waves
"Simply Irresistible" – Robert Palmer
"I Touch Roses" – Book of Love
"The Lady in Red" – Chris de Burgh
"If You Don't Know Me by Now" – Simply Red
"In Too Deep" – Genesis
"Sussudio" – Phil Collins
"Red Lights" – Curiosity Killed the Cat
"Addicted to Love" – Robert Palmer
"Greatest Love of All" - Whitney Houston (Instrumental Version)
"Al Mirar Tu Cara" - Santiago Jimenez Jr
Huey Lewis and the News' "Hip to Be Square" was originally on the soundtrack album, but shortly after it was released, the CD was pulled from the shelves and the song was removed before being reissued, but a small number had already been sold. Reports suggested that Huey Lewis had objected to the context in which his song was used in the film and demanded it be removed from the CD.
In reality, there was no objection over the context. Although the film's production team had paid for the rights to use the song in the film, the right to include it on the soundtrack was overlooked. When the soundtrack was released with the song on it, Huey Lewis had it withdrawn, as the rights had not been reserved. Further proving that Huey had no hard feelings, for the 30th anniversary of the album Sports he remade the very scene he was supposedly against with Weird Al in the roles of Patrick and Paul respectively, in 2013.
1You Spin Me Round (Like a Record)Dope2:44
2Monologue 1John Cale0:38
3Something in the AirDavid Bowie6:02

American Psycho: Music from the Controversial Motion Picture Wikipedia