Alias is a comic book series created by writer Brian Michael Bendis and artist Michael Gaydos. It was published by Marvel Comics under Marvel's MAX imprint for a total of 28 issues from 2001 to 2004.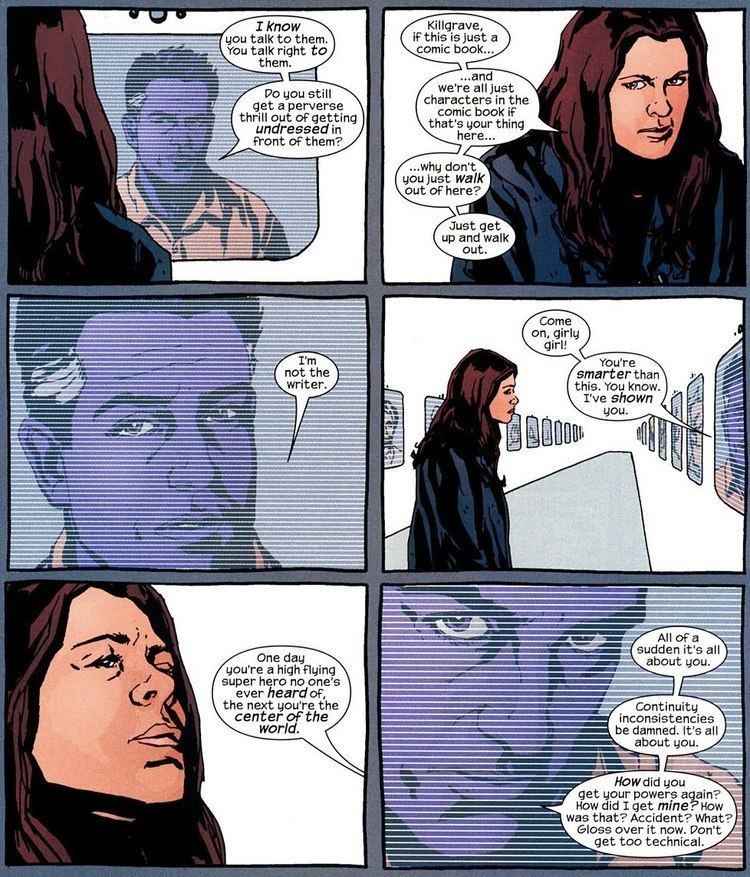 The protagonist of Alias is Jessica Jones, a former costumed superhero named Jewel who left that life behind to become a private investigator. The running thread is Jessica's character development, as the layers of her past and personality are revealed to the reader while, simultaneously, she tries to come to terms with them herself.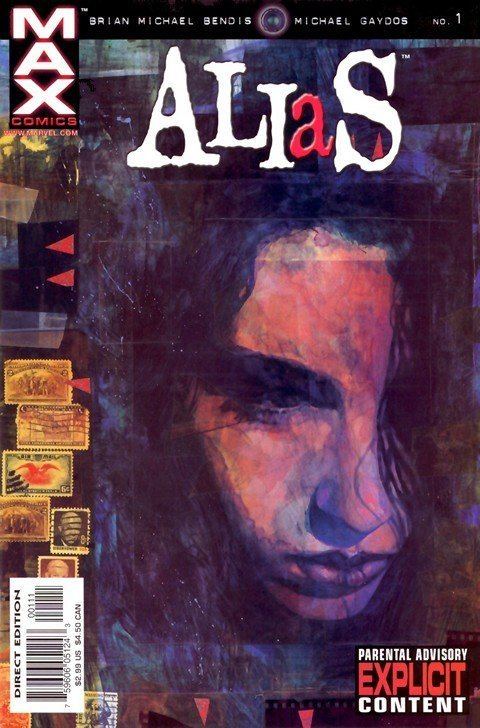 Characters from the series moved to Bendis' subsequent series The Pulse.
Alias became the basis of the first season of the Netflix series Jessica Jones, which premiered in November 2015.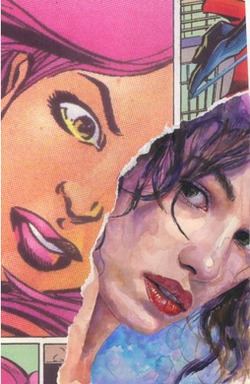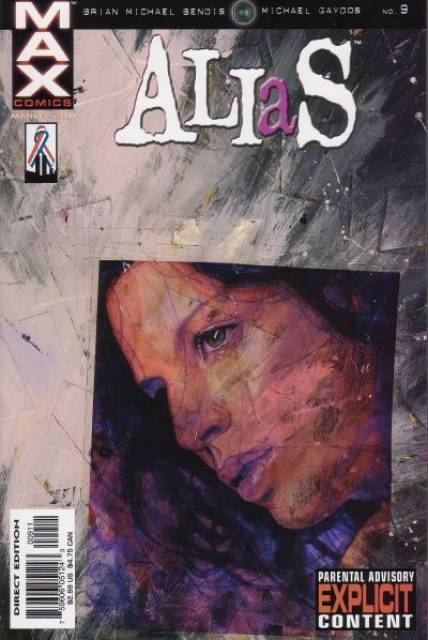 Alias was written by Bendis and illustrated for most of its run by Michael Gaydos, with covers by David Mack.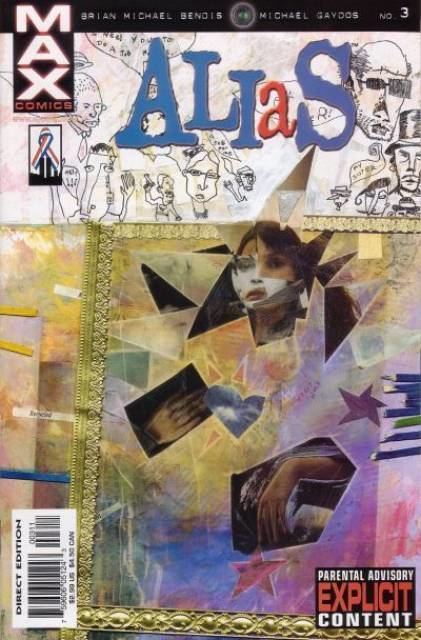 Alias was one of the titles that launched Marvel's "R-Rated" MAX imprint, and was reported to have been one of the reasons the imprint was created. Marvel Publishing President Bill Jemas read a draft of the script for the first issue of Alias (which, characteristically, starts with the word "fuck") and exclaimed "Why couldn't we publish this?"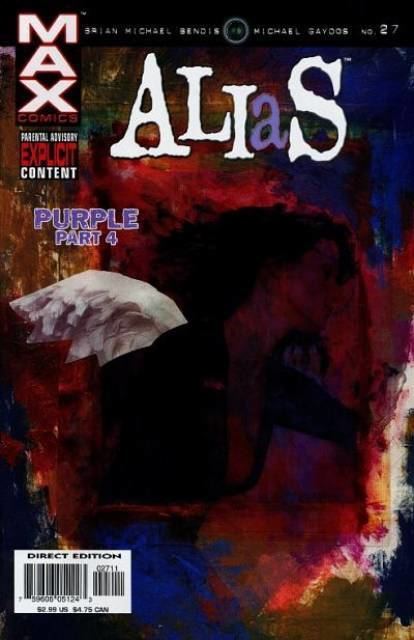 Being under the MAX imprint imposed certain other limitations on what the creators could do in the series. Bendis gave this as one reason for ending the series and moving the characters to The Pulse.
Asked to look for a missing woman, Jessica finds herself caught in a conspiracy involving Captain America and the president of the United States. Subsequently she is hired to find the recently missing Rick Jones.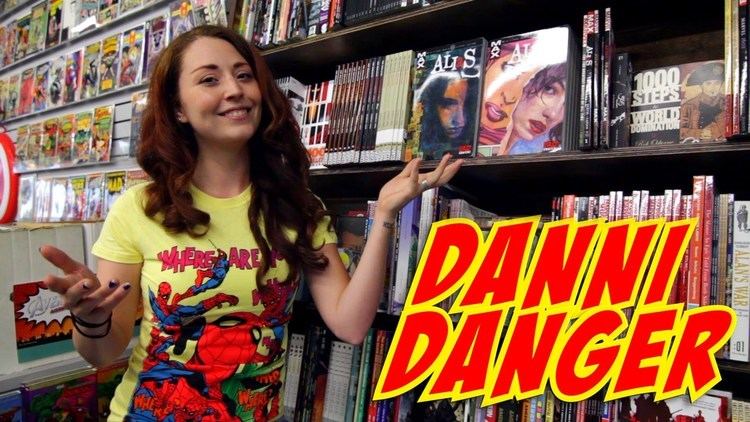 Other characters appearing in the arc include Daredevil (as Jessica's attorney Matt Murdock) and second-tier villain Man Mountain Marko.
Jessica Jones is assigned to look for a missing girl rumoured to be a mutant in a small, prejudiced town.
J. Jonah Jameson asks Jessica to uncover Spider-Man's identity. Later, Mattie Franklin, the latest Spider-Woman, goes missing and Jessica is asked to find her. When she does, she discovers a criminal underworld that sells the drug known as the Mutant Growth Hormone. Along the way, Jones meets an unexpected ally in Jessica Drew, the original Spider-Woman, who is also investigating Franklin's disappearance.
Jessica's origins, including the source of her powers and how she became a superhero, are revealed.
Family members of those murdered by the Purple Man ask Jessica to find evidence of those murders that he never confessed to. Jessica's history with the Purple Man is revealed. After confronting the Purple Man in prison, he escapes and Jessica is forced to deal with him and her past trauma.
The series was collected into a number of trade paperbacks:
Alias:
Volume 1 (collects Alias #1-9, ISBN 0-7851-1141-7, also released in hardcover ISBN 0-7851-0872-6)
Volume 2: Come Home (collects Alias #11-15, ISBN 0-7851-1123-9)
Volume 3: The Underneath (collects Alias #10, 16-21, ISBN 0-7851-1165-4)
Volume 4: The Secret Origins of Jessica Jones (collects Alias #22-28, ISBN 0-7851-1167-0)
Alias Omnibus (collects Alias #1-28 and What If? Jessica Jones had Joined the Avengers, ISBN 0-7851-2121-8)
Alias Ultimate Collection:
Volume 1 (collects Alias #1-15, ISBN 0-7851-3732-7)
Volume 2 (collects Alias #16-28, ISBN 978-0-7851-4490-8)
Jessica Jones: Alias:
Volume 1 (collects Alias #1-9, ISBN 0-7851-9855-5)
Volume 2 (collects Alias #11-15, ISBN 0-7851-9856-3)
Volume 3 (collects Alias #10, 16-21, ISBN 0-7851-9857-1)
Volume 4 (collects Alias #22-28, ISBN 0-7851-9858-X)
The series won the Comics Buyer's Guide Award for "Favorite Comic Series" in 2003, and the Harvey Award for "Best New Series" in 2002.
The series was also nominated for two Eisner Awards in 2004: "Best Continuing Series" and "Best Serialized Story" (for "The Secret Origin of Jessica Jones" & "Purple" in Alias #22-28).
Alias was adapted into the 2015 Netflix TV series Jessica Jones, which was developed by Melissa Rosenberg for ABC Studios and Marvel Television. The name change was needed due to the unrelated ABC series Alias.