Alexander Dimitry







Alexander Dimitry (February 7, 1805 – January 30, 1883) was an American diplomat, linguist and scholar. He worked as a U.S. ambassador to Costa Rica and Nicaragua.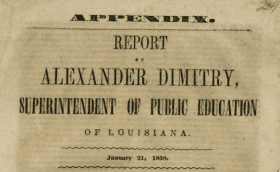 Dimitry was born in New Orleans, February 7, 1805; his father was a Greek, and his grandmother was a Native American woman from the Alibamon Tribe. At the age of ten, he was fluent in classical Greek and Latin. He spoke English, French, Greek, Italian and Spanish. He graduated with distinction from the college, Georgetown College, D.C. In 1842 he established the St. Charles Institute in Louisiana, where he headed as the first state superintendent of public education in 1847. During his period as superintendent (1847–51) he organized public schools of Louisiana. He was appointed in 1854 as translator in the U.S. Department of State, in 1859 he was sent as Minister to Central America by the current president James Buchanan. Many of his writings remains unpublished.
He died on January 30, 1883, in New Orleans.
During the War Between the States, he was Postmaster General and Chief of Finance of the Postal Service of the Confederacy.
Alexander Dimitry Wikipedia