Covid-19
Aleksander Czekanowski





Geologist






1876, Saint Petersburg, Russia
Aleksander Piotr Czekanowski (12 February 1833 – 30 October 1876) was a Polish geologist and explorer of Siberia. He was born in Kremenets, now in Ukraine.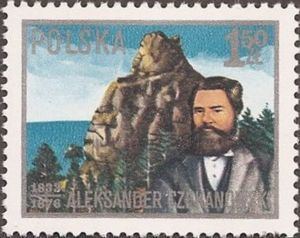 He took part in the January Uprising (1863); in the aftermath he was exiled to Siberia by the Russian authorities; where he took part in and later led several expeditions, surveying and mapping the geology of Eastern Siberia. He was released from exile in 1875, and in 1876 took up the post of custodian in the Mineralogical Museum of the Academy of Sciences.
In 1870 he received a gold medal from the Russian Geographical Society. He also received a medal in 1875 from the International Geographical Congress in Paris for his mapping of Eastern Siberia.
His name was given to a mountain range in Siberia, the Czekanowski Mountain Range (Russian: Чекановского Кряж).
Aleksander Czekanowski Wikipedia