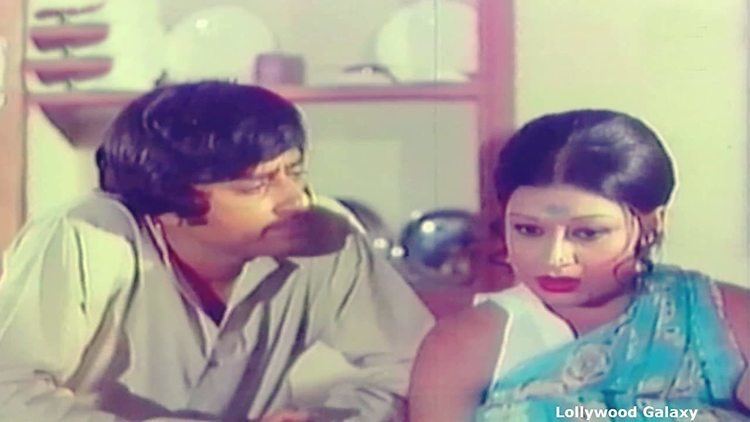 Aina is a love story of two hearts and two souls but from two different social classes, one being a daughter of a business tycoon i.e. Rita (Shabnam) and one being a realistic, self-confident and a little bit arrogant poor young man (Nadeem). Rita is a leisure girl whereas Nadeem works as a hotel receptionist and they both fall in love. The differences between Nadeem and Rita's father Seth (Rehan) arises right from the beginning, esp. when he (Rita's father) criticised Nadeem for his social status and earning capacity, saying his daughter's sari costs 7,500 rupees as compare to his (Nadeem) monthly salary of 750 rupees. But after a struggle by Rita and a threat to her parents that she would suicide if she would not be allowed to marry Nadeem, her father agreed. So both married but Nadeem knew that Seth was not really happy with this marriage. One day Rita's mother (Bahar) came to her daughter's house, located in a middle class, and offered Nadeem a job in Seth's friend's business firm, which he denied. Not only this, he also angried on Rita about the telephone (which was thought to be a very luxurious item esp. in those days) installed in his house by her. A few days later, Rita's mother purchased furniture for Nadeem's house (perhaps to hurt Nadeem's ego) and invited her guests to a dance party in Nadeem's house. When Nadeem came back home, he became very angry and he asked Rita to leave the house and stay in her father's house. Rita left, with tears, Nadeem's house. Next day, Nadeem got an appointment from a bigger company perhaps from a hotel in Murree, so he has to leave the city immediately. But before leaving the city he tried to meet Rita, but, at the entrance of her house, he met Seth. Seth misinform him that Rita does not want to see his face again and decided to get divorce from him, as she has realised that she has made such a big mistake in marrying a poor man like Nadeem. Shocked and dishearted Nadeem left the city.
On the other side, Rita was waiting for him in the hope that he would come back and take her back to his home. But her father deceived her too that he had visited Nadeem but he insulted him in front of his friends and said that he is going to divorce her. This shocked Rita to such an extent that she could not bear the pain of pregnancy. So they moved to a hospital in the same city where the Nadeem was gone for his new job. During his journey to Murree, a car driver incidentally injured Nadeem. Nadeem moved to the same hospital where Rita was admitted for child delivery. In the hospital's lobby, he found his wife unconscious on the hospital bed, during this Seth interrupted and said that he is going to give away the child to an orphanage, but Nadeem refused to do that and said that he will take care of child himself. The film has taken a very sad turn at that point esp. when Nadeem carrying the baby to his house and singing the sad version of the song Mujhe dil se na bhulana... and remembering those happy days with Rita. On the other side, Seth lied not only to Rita but to his wife (Bahar) also that the baby has died. This was a tremendeous shock for Rita and she somewhat lost her mental balance. After few years the baby is grown up to a teenage boy (Shahzeb), a very sensitive and very anxious about his mother. Whereas, Rita's mental instability grew day by day, so her mother asked Rita's father to let Rita visit her baby's grave which would perhaps help her. Next day all visited (Murree) and searched the graveyard, where they come across the real baby (Shahzeb), who was picking flowers there. As there was nothing to found there, they started leaving the place. During this Shahzeb immediately reached home and asked his father (Nadeem) about the features of his mother, Nadeem hand him over her photo. Shahzeb recognised his mother and ran towards the road where Rita and her parents come from and started singing the same song which he used to listen from his father Mujhe dil se na bhulana... Rita stopped the car and ran towards the place where the voice was coming from and finally she reached Nadeem's house. Amazed by the situation both asked about the divorce, as both were in misunderstanding, the truth revealed that it was Rita's father who had actually planned their separation (not legal divorce) and who had lied to her that her child is dead. Rita turned angriely and slapped her embarrassed father, who was listening this. Her mother said at this moment: 'You have not slapped your father, but you have actually slapped that mentality that believes in differences between poor and rich'. And then they lived happily ever after.
Its remake was made in 2013 with the same name, which starter Faisal Qureshi, Saba Qamar, directed by Sarmad Sultan Khoosat and produced by A & B Entertainment.
The film was a musical success as well and has trademark song visualizations from director Nazr-ul-Islam. The music was composed by Robin Ghosh, and the playback singers were Mehdi Hassan, Mehnaz, Alamgir, Nayyara Noor and Akhlaq Ahmed. The theme song is Mujhe dil se na bhulana sung in a happy mood, sad mood and another song version sung by the child star at the climax of the movie.
Kabhi mein sochta houn... by Mehdi Hassan
Wada karo saajna... by Mehnaz and Alamgir
Mujhe dil se na bhulana... by Mehnaz and Mehdi Hassan
Haseen wadion se yeh pucho... by Akhlaq Ahmed and Nayyara Noor
Ruthey ho tum tum ko kaisay manaun piya... by Nayyara Noor
Mujhe dil se na bhulana... by Mehdi Hassan
Mujhe dil se na bhulana... Meri maa... by Nayyara Noor
Aina was released on 18 March 1977 in Pakistani cinemas. In Karachi, it was released on two main cinemas Bambino and Scala.
Aina is Pakistan's only 'Crown Jubilee' (a mega-hit film) in Urdu language with a total running period of 401 weeks on all cinemas and 48 weeks on main cinema in Karachi. The film had broken all the box office records and yet no Pakistani film has touched that record again.
Mushtaq Gazdar in 'Pakistan Cinema 1947-1997', OUP, 1997 said:
"In Aina, Nazrul infused a romantic note through the songs using the elements of nature as tools to enhance their impact. His use of open spaces to create the mood of the scenes in contrast with the normal lip-sync presentation of songs greatly appealed to the audience."
This movie was so popular that it was shown in Karachi Cinemas for almost 8 consecutive years (401 consecutive weeks). The film ran to packed crowds in theaters across China as well. One of its songs Mujhay dil se na bhulaana... sung by Mehdi Hassan won Nigar Award for the best song of the year 1977. In total the film won 12 awards: