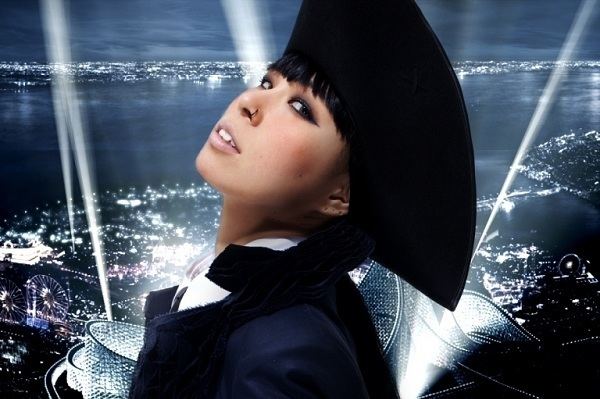 Ai was born in Los Angeles in 1981. Her father was Japanese, and her mother was American of Italian descent. She moved to Kagoshima in Japan when she was 4, and went to elementary school and junior high school in Japan.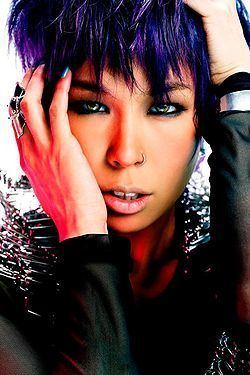 Ai was motivated to become a singer in her early teens, after singing at a cousin's wedding, having many people ask her if she wanted to be a professional singer, and hearing a gospel performance at the First African Methodist Episcopal Church of Los Angeles in 1993. After graduating from junior high school in Japan, Ai returned to Los Angeles for high school, enrolling at Glendale High School, however found high school difficult due to never formally studying English. After making it through the audition process, she switched to the Los Angeles County High School for the Arts, majoring in ballet. She became a member of the school's gospel choir. In 1998, she performed in a gospel choir at a Mary J. Blige concert at the Universal Amphitheatre, performing of "A Dream." In the same year, she appeared as a dancer in the music video for Janet Jackson's song "Go Deep."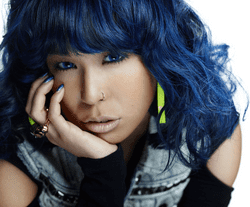 In 1999, she joined an Asian girl group called SX4, who were produced by George Brown of Kool & the Gang. Ai was a member of the group for two years, and later in 1999 the group were offered a record label deal. While on her summer holiday in Kagoshima, she performed Monica's "For You I Will" on a local radio station, which led to her being scouted by BMG Japan. She decided to take the offer, and after leaving SX4 and graduating from high school in June 2000, moved to Tokyo and debuted as a musician later in 2000.
Ai debuted under BMG Japan with the single "Cry, Just Cry" in November 2000. Between then and November 2001, she released three singles, culminating in her debut album, My Name Is Ai. However, the releases were not very commercially successful, and the album debuted at number 86.
In 2002 she moved to Def Jam Japan as the first female artist signed to the label. Ai has said that she felt more at home under Def Jam, as many of her co-workers shared her musical tastes. Her first album under the label in 2003 Original Ai debuted at 15 on Oricon's album charts, and her second, 2004 Ai, debuted at number three. In 2004, she won the Space Shower Music Video Awards' award for Best R&B Video, with her song "Thank U."
After moving to Def Jam, Ai increasingly began collaborating with musicians, especially Japanese hip-hop and rap artists (though under BMG Japan, Ai had collaborated with Mao Denda, and Soul'd Out rapper Diggy-Mo'). She was featured as a rapper on the Suite Chic single "Uh Uh,,,,,", a collaboration between Namie Amuro, Verbal of M-Flo, and music producer Ryōsuke Imai in 2003. Other musicians Ai collaborated with in this period were Afra, Boy-Ken, Joe Budden, Dabo, Deli, Double, Heartsdales, Ken Hirai, M-Flo, Sphere of Influence and Zeebra. Ai's collaborations featured her either as a rapper or a singer.
In 2005, Ai released the ballad single "Story", which became the biggest hit of her career. It was a sleeper hit, charting for 20 weeks in the top 30 in 2005 and 2006, however went on to sell over three million ringtones, one million cellphone downloads, and 270,000 physical copies. Ai later performed "Story" at the prestigious 56th NHK Kōhaku Uta Gassen New Years music concert. Her next studio album, Mic-a-holic Ai, was the best selling album of her career, being certified double platinum by the RIAJ.
Ai's first single of 2006, the ballad "Believe", was also a success: it debuted at number two, and sold more than one million ringtones. The song was used as the theme song of the Kenji Sakaguchi starring medical drama, Team Medical Dragon. Her next two albums, What's Goin' On Ai (2006) and Don't Stop Ai (2007) were also greatly commercially successful, being certified platinum and gold respectively.
In 2009, Ai released her greatest hits album, Best Ai. It was the first number one record of her career. In 2010, Ai collaborated with many artists such as Namie Amuro, Miliyah Kato, Chaka Khan and Boyz II Men on her 10th anniversary album, The Last Ai.
To the end of Ai's career with Universal, her album sales began to decrease. Viva Ai (2009) debuted at number 10, and The Last Ai (2010) at 14 (despite her gold hit from the album, "Fake" featuring Namie Amuro).
In June 2011, Ai signed with EMI Music Japan. She collaborated with The Jacksons on December 13 and 14, 2011, at the Michael Jackson Tribute Live tribute concerts held in Tokyo. She performed the vocals in the third act for Michael Jackson's songs. She also performed and released the theme song for the event, "Letter in the Sky" featuring the Jacksons. In November 2011, Ai released the song "Happiness", a collaboration with Coca-Cola for their winter 2011 campaign. The song was a hit, being certified gold in two different mediums. The song revitalised the sales of her ninth studio album, Independent, which has sold more than 60,000 copies.
In August 2012, Ai travelled to Los Angeles to work on her next studio album, as well as her American debut. To promote the debut, Ai released a promotional music video, for a new song called "Put You On (Remix)" that featured American musicians Chris Brown and Diggy Simmons. Ai performed her second concert in Los Angeles on August 24, at Club Nokia.
On April 1, 2013, EMI Music Japan was completely merged into Universal Music Japan as a sublabel by the name EMI Records Japan as a result of Universal Music's purchase of EMI in September 2012. All the artists from EMI Music Japan will continue releasing material at Universal Music Japan while still maintaining the catalogue code (TOCT).
In April 2011, Ai presented a music documentary, Ai Miss Michael Jackson: King of Pop no Kiseki, that was recorded for Music On! TV. In the documentary, she travelled to the United States and interviewed members of the Jackson family in their home.
For the American musical comedy Glee's season two episode Britney/Brittany, Ai dubbed the voice of Britney Spears in the Japanese release.
As is standard for Japanese musicians, Ai has featured as a spokesperson, or has her music featured, for many products. Ai's songs have been used as TV commercial songs, drama theme songs, film theme songs and TV show ending theme songs.
Ai has worked on four major Coca-Cola TV commercial campaigns, two featuring her own songs ("You Are My Star" (2009), "Happiness" (2011)) and two featuring collaborations (K'naan's "Wavin' Flag" (2009), Namie Amuro's "Wonder Woman" (2011)). She has also been featured in two Audio-Technica campaigns (using "My Friend (Live Version)" and "I'll Remember You", a campaign for Japan Airlines ("Brand New Day") and Pepsi Nex with "I Wanna Know."
Ai's most high-profile work for a TV drama was the theme song for 2006's primetime drama Team Medical Dragon, "Believe", which was one of her greatest hits, selling over one million ringtones. Ai also sung the theme song for the drama's second series, "One." Ai also worked on the theme song for the 2010 primetime drama Keishichō Keizoku Sōsahan, "Nemurenai Machi." Other program theme songs include the Japanese theme song for the American drama Heroes ("Taisetsu na Mono"), and the 15th ending theme for the children's animation Crayon Shin-chan, "Crayon Beats"). In 2005, Ai's song "Alive (English Version)" was used as an insert song for the South Korean drama Delightful Girl Choon-Hyang.
Many of Ai's songs have been used in films. Her "Story" song was remade (also with its English version) for Disney`s box office Big Hero 6 in 2014. She performed the theme song for Departures (2008), the winner of the Academy Award for Best Foreign Language Film in 2009. She has also sung the theme songs for Crayon Shin-chan: The Legend Called Buri Buri 3 Minutes Charge (2005), Pray (2005), Lalapipo (2009) and Berserk Golden Age Arc I: The Egg of the High King (2012). Her music has been featured on the soundtracks of TKO Hiphop (2005), the musical film Memories of Matsuko (2006), in which Ai cameoed to perform the song, and Heat Island (2007).
On March 6, 2013, Ai announced her engagement to Hiro, the leader and vocalist of the rock band Kaikigesshoku. The pair had been dating for 10 years, and wed in January 2014. On August 28, 2015, Ai gave birth to her first child, a baby girl.
My Name Is Ai (2001)
Original Ai (2003)
2004 Ai (2004)
Mic-a-holic Ai (2005)
What's Goin' On Ai (2006)
Don't Stop Ai (2007)
Viva Ai (2009)
The Last Ai (2010)
Independent (2012)
Moriagaro (2013)
Wa To Yo (2017)