Covid-19
Adele




Adele Vermandois




960 AD, Bruges, Belgium







Herbertien dynasty House of Flanders by marriage




Herbert II of Vermandois




Arnulf I, Count of Flanders (m. 934 AD)




Baldwin III, Count of Flanders




Hildebranda of France, Herbert II, Count of Vermandois




Arnulf II, Count of Flanders




Arnulf I - Count of Flanders, Baldwin III - Count of Flanders, Robert I of France, Arnulf of Metz
Adele of Vermandois (bef. 915–960) was both a Carolingian as well as a Robertian Frankish noblewoman who was the Countess of Flanders (934–960).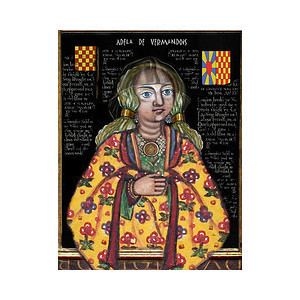 Adele, born c. 910–915 was a daughter of Herbert II of Vermandois and his wife, Adele, daughter of Robert I of France. She died in 960 in Bruges.
In 934 Adele married Count Arnulf I of Flanders (c. 890 – 965). Together they had the following children:
Hildegarde, born c. 934, died 990; she married Dirk II, Count of Holland.
Liutgard, born in 935, died in 962; married Wichmann IV, Count of Hamaland.
Egbert, died 953.
Baldwin III of Flanders. (c. 940 – 962). Married Mathilde Billung of Saxony (c. 940 - 1008), daughter of Hermann Billung, and had issue, Arnulf II, Count of Flanders (c. 960 – 987), who succeeded as count after Arnulf I, skipping one generation.
Elftrude; married Siegfried, Count of Guînes.
Adele of Vermandois Wikipedia