Covid-19
Adam Walker




Writer





1821




Deane Walker






Definitive Book of Colour Healing, Arran, Arrochar and the Southern Highlands, Golf for the Girls
Adam Walker (1731–1821) was an English inventor, writer, and popular science lecturer connected with York.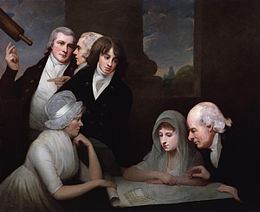 He was the son of a woollen manufacturer in Patterdale, Westmorland, England. Mainly self-taught, he attended fashionable lectures on experimental philosophy in Manchester and established his own school there in 1762. In 1766 he purchased the "philosophical apparatus" of an itinerant lecturer, William Griffith. For publicity he inserted advertisements in local papers and wrote a book entitled Syllabus of a Course on Natural Philosophy (Kendal, 1766). His syllabus covered 'Astronomy, the use of Globes, Pneumatics, Electricity, Magnetism, Chemistry, Mechanics, Hydrostatics, Hydraulics, Engineering, Fortifications, and Optics'. As a lecturer he travelled the north of England, using Manchester as a base. His "philosophic apparatus" is shown in an advertisement in the York Courant in 1772.
He settled in London after many years as a travelling science lecturer. He was responsible for the introduction of the Eidouranion and an improved type of harpsichord. In London he shared a room in George Street, Hanover Square with Henry Moyes where lectures were given to small groups of Gentry.
He also had an interest in astronomy. His numerous popular works on science included An Epitome of Astronomy. Two of his sons became astronomers. He was a friend of Joseph Priestley and of other members of the Lunar Society.
His portrait was painted by Samuel Drummond (1765–1844) and (with his family) by George Romney. In the latter portrait (of six sitters), three of them are examining a geometric diagram which shows some theorem relating to the squares on secants of an ellipse. The sitters are
Eliza Gibson (née Walker) (d.1856), daughter of Adam Walker
Adam Walker
Adam John Walker (1769 or 1770–1839), Divine; AW's second son
Deane Franklin Walker (1778Mar24-1865May10), Astronomer; AW's youngest son, who was born in York "where his parents were then residing"
Eleanor Walker (fl. 1764-circa 1801), AW's wife
William Walker (1766?-1816), Astronomer; AW's eldest son.
The portrait was a gift from the artist to his friend Adam Walker, who described it to William Blake as 'the last performance of Romney'. The portrait was bequeathed to Beningbrough Hall, where it now hangs, by Walker's granddaughter, Miss Ellen Gibson in 1897.
Adam Walker (inventor) Wikipedia