Name

Almirante Brown




Laid down

September 8, 1980




Commissioned

March 28, 1983




Construction started

8 September 1980




Length

126 m




Builder

Blohm + Voss




Namesake

Adm William Brown




Acquired

February 2, 1983




Status

in active service




Launched

28 March 1981




Owner

Argentine Navy





ARA Almirante Brown (pennant number D-10) is the lead ship of the MEKO 360H2 series of four destroyers built for the Argentine Navy. The ship is the ninth ship in the history of the Argentine Navy to be named for Admiral William Brown, the founder and commander of the Argentine Navy during Argentina's war of independence against Spain.
Contents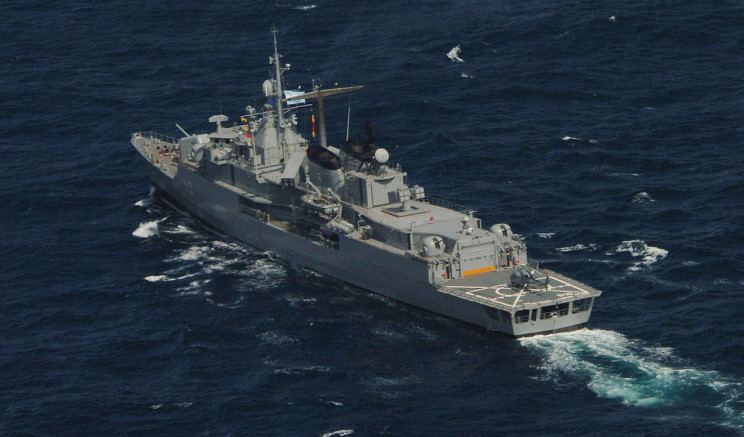 The Argentine Navy struggles to meet maintenance and training requirements because of financial problems and import restrictions. The Almirante Brown class are reported to be short of spares and suffering engine problems, and are equipped with obsolete ordnance.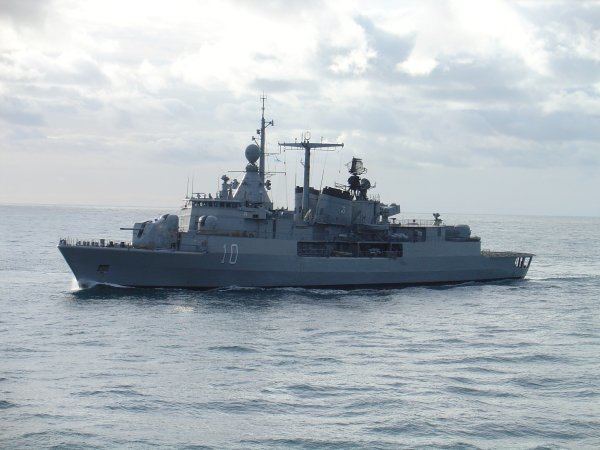 Origin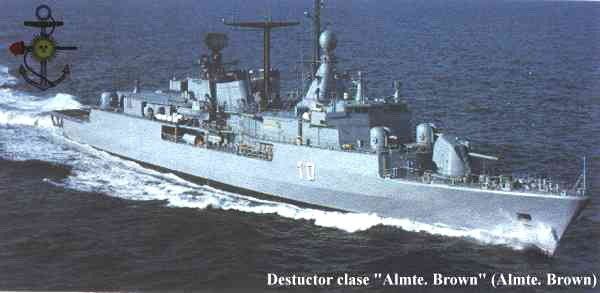 Almirante Brown and her sister ships were authorized under the Naval Construction National Plan of 1974, an initiative by the Argentine Navy to replace old World War II-vintage warships which were nearing the end of their operational lives. A contract was signed with the Blohm + Voss Shipyards in Hamburg, West Germany for the construction of four MEKO 360H2 destroyers.
Construction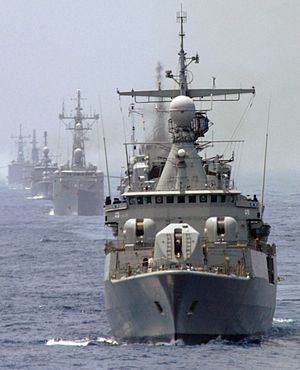 The keel of Almirante Brown was laid down on September 8, 1980 and she was launched on March 28, 1981. The ship was delivered to the Argentine Navy on February 2, 1983 for her sea trials, following which the ship departed for Argentina, arriving at Puerto Belgrano Naval Base on March 21 and being formally commissioned into the Navy on March 28 of that same year.
Service history
Almirante Brown, together with the corvette ARA Spiro, was ordered to proceed to the Persian Gulf on September 25, 1990, as part of the United Nations-mandated naval blockade on Iraq following its invasion of Kuwait. The ship formed part of the multinational task force and participated on Operations Desert Shield and Desert Storm, returning to Argentina on April 25, 1991.
On April 16, 1996, Almirante Brown conducted the first trans-horizon launch of an Exocet MM-40 missile in the Argentine navy.
Her home port is Puerto Belgrano, where the class of four ships form part of the Navy's 2nd Destroyer Division.
References
ARA Almirante Brown (D-10) Wikipedia
(Text) CC BY-SA