Years active

1991–present




Website

afireinside.net






Also known as

Anthems For Insubordinates A Fire Inside




Origin

Ukiah, California, United States




Associated acts

Blaqk Audio, XTRMST, Hunter Revenge, Redemption 87, The Force, The Reckless Kind, Dreamcar




Past members

Mark Stopholese Vic Chalker Geoff Kresge




Members

Davey Havok, Jade Puget, Adam Carson, Hunter Burgan, Geoff Kresge, Markus Stopholese, Vic Chalker




Genres

Alternative rock, Emo, Punk rock, Hardcore punk (early years)




Record labels

Nitro Records, Insomniac/Interscope Records




Albums

Sing the Sorrow, Decemberunderground, Burials, AFI (The Blood Album), Crash Love




Profiles




Facebook

Twitter

Myspace

Instagram

YouTube
AFI (A Fire Inside) is an American rock band from Ukiah, California, formed in 1991. They have had the same lineup since 1998: lead vocalist Davey Havok, drummer and backup vocalist Adam Carson, with bassist Hunter Burgan and guitarist Jade Puget, who both play keyboard and contribute backup vocals. Of the current lineup, Havok and Carson are the two remaining original members.
Contents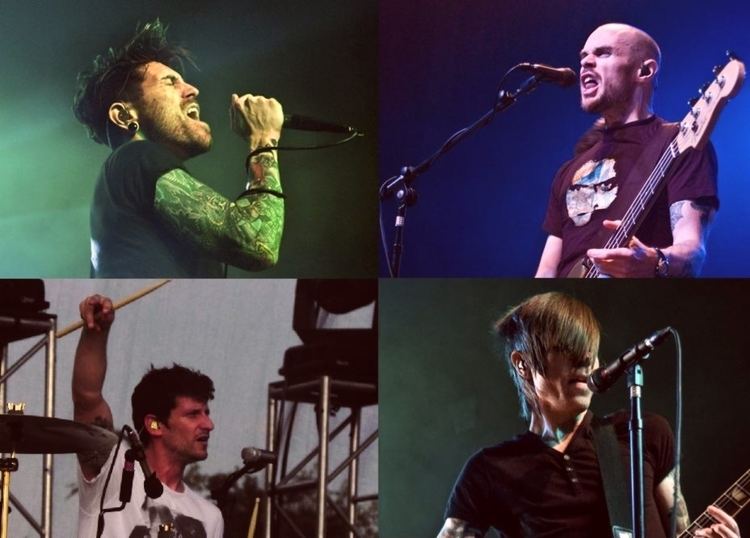 They have released ten studio albums, ten EPs, one live album and one DVD. The band first reached substantial commercial success with their fifth album, The Art of Drowning (2000), which peaked at number 174 on the Billboard 200.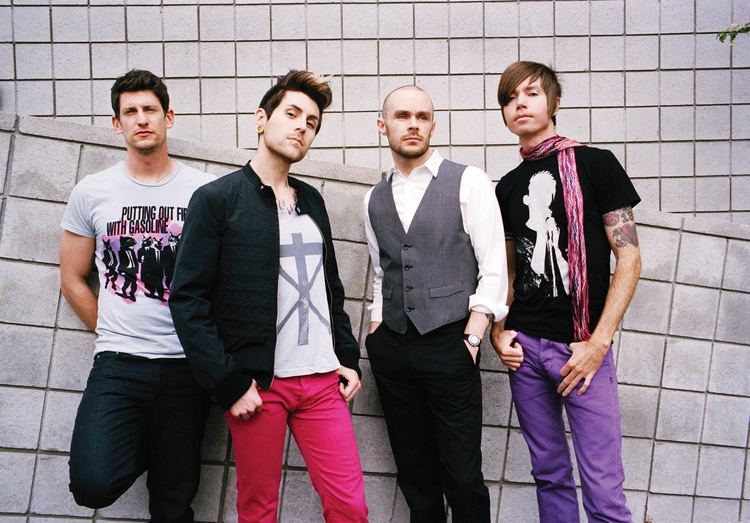 AFI broke into the mainstream with their sixth album, Sing the Sorrow (2003), which peaked at number five on the Billboard 200 and remained on the chart for 51 weeks. The album was supported by popular singles "Girl's Not Grey" and "Silver and Cold", both of which peaked at number seven on America's Hot Modern Rock Tracks chart in 2003. "The Leaving Song Pt. II" was also released as a single, reaching number 16 on the chart. Sing the Sorrow was certified Platinum by the RIAA in 2006 and is AFI's best-selling release, having sold over 1.26 million copies as of September 2009.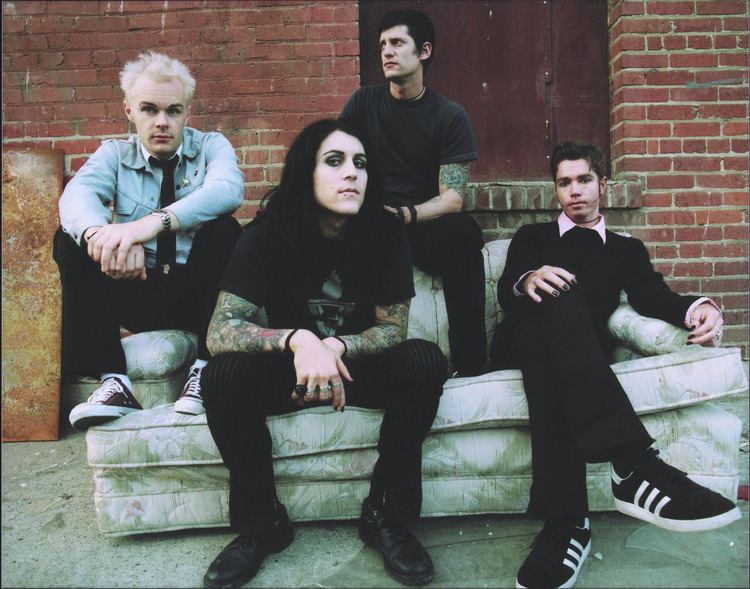 Their seventh album, Decemberunderground (2006), debuted at number one on the Billboard 200 and featured the hit single "Miss Murder", which topped the Hot Modern Rock Tracks chart and reached number 24 on the Billboard Hot 100. Another single, "Love Like Winter", reached number four on the Modern Rock Tracks chart. Decemberunderground was certified Platinum by the RIAA in 2013.
AFI's eighth studio album, Crash Love, was released in 2009 and peaked at number 12 on the Billboard 200. Their ninth album, Burials, was released in 2013 and peaked at number nine on the Billboard 200. The band's tenth self-titled album was released on January 20, 2017.
Early years (1991–94)
While still in high school in Ukiah, California, Davey Havok (vocals), Mark Stopholese (guitar) and Vic Chalker (bass) formed a band called AFI in November 1991. While the meaning of the acronym "AFI" currently stems from the full title "A Fire Inside," band members have stated that the name formerly originated from the titles "Asking for It" and "Anthems for Insubordinates." At the time, the band did not know how to play any instruments. Stopholese suggested his friend, Adam Carson, who had a drum kit join the band. Stopholese learned guitar and Chalker learned bass, but Chalker was soon replaced by Geoff Kresge and AFI made its first EP in recording Dork (1993) with the now defunct band Loose Change, which included future AFI guitarist Jade Puget. AFI's beginnings were somewhat inauspicious, as Davey Havok laughed in a 1999 interview, "We were amazed that we even got our shit together enough to put out a split 7-inch with Jade's band at the time."
AFI disbanded when its members attended different colleges, one of which was UC Berkeley where members of the band lived and practiced for a time in the basement of the Delta Chi fraternity house on Channing Way. Kresge moved to New York where he played with street punk band Blanks 77. The members of the band decided to pursue playing in AFI full-time after enjoying an extremely positive experience and enthusiastic crowd response at a reunion show at the Phoenix Theater in Petaluma, California in 1993. Between 1993 and 1995 the band released several vinyl EPs (Behind the Times; Eddie Picnic's All Wet; This Is Berkeley, Not West Bay; AFI/Heckle; Bombing the Bay; Fly in the Ointment) independently.
Answer That and Stay Fashionable and Very Proud of Ya (1995–96)
Their first full-length, Answer That and Stay Fashionable was released July 4, 1995 on Wingnut Records, and was produced by Tim Armstrong. The album featured fast and upbeat hardcore songs, with humorous lyrical themes, which are well-vocalized in songs such as "Nyquil", "Cereal Wars", and "I Wanna Get a Mohawk (But Mom Won't Let Me Get One)". The album's cover is a parody of the film Reservoir Dogs's promotional poster. The album title takes root from a quote spoken in British TV show The Comic Strip Presents. Audio samples from both films/shows and European Vacation are featured in several of the album's tracks, namely "Don't Make Me Ill" and "High School Football Hero".
AFI signed on to Nitro Records, Dexter Holland of The Offspring's label. They would remain with the label until the release of the 336 EP. Around this time they coined the term 'East Bay hardcore' to describe their genre of music.
In 1996, AFI then released their second album, Very Proud of Ya. The songs "Cruise Control" and "Love Is a Many Splendored Thing" from Very Proud of Ya were used in the 1996 independent film Mary Jane's Not a Virgin Anymore, which was first screened in 1997 and also featured Havok in a small role. Two songs from their previous album, "Yurf Rendenmein" and "Two of A Kind", were re-recorded for this album.
Shut Your Mouth and Open Your Eyes (1997–98)
After several tours in support of the album Very Proud of Ya, Kresge decided to leave the group. His spot was filled by Hunter Burgan for the remaining Very Proud of Ya tour dates. Burgan went on to help AFI record Shut Your Mouth and Open Your Eyes (1997) and was invited to become the full-time bassist. Future AFI guitarist Jade Puget also provided background vocals on Shut Your Mouth and Open Your Eyes, with his name credited as 'Jade "The Playah" Puget', making it the first album to feature all four current members of the band. The release of Shut Your Mouth and Open Your Eyes is also notable because AFI started to gather a larger following.
When asked about the band's beginnings, Davey Havok stated to Revolver Magazine, "The reason why we started doing this is because we loved it," and "at the onset of the band, there was no real hope of burning bright at all. The goal was just to keep burning no matter how bright–to play music for the rest of our lives, at any cost."
Black Sails in the Sunset and The Art of Drowning (1999–2001)
After recording the A Fire Inside EP (1998), Stopholese left the band and was replaced by Jade Puget, former member of Influence 13 and vocalist Havok's close friend. The band then recorded Black Sails in the Sunset (1999), a musical turning point which introduced AFI fans to a much darker sound, mixing the band's original hardcore roots with dark romantic influences (a poem by Charles Baudelaire, "De profundis clamavi," is present in the hidden track "Midnight Sun") and an emphasis on a more somber atmosphere and lyrics. The New York Times later referred to this as the point where Havok "developed into a singer and songwriter of substance". The influence of the deathrock and goth rock scenes was also apparent. During this period their style was mostly referred to as horror punk or "goth-punk". Offspring frontman Dexter Holland was featured as a backing vocalist on two tracks: "Clove Smoke Catharsis" and "The Prayer Position".
The All Hallow's EP (October 5, 1999) further explored the horror punk genre, featuring artwork and lyrics containing Halloween themes. The EP spawned the single "Totalimmortal", a track later covered by The Offspring for the Me, Myself and Irene soundtrack. It received a fair amount of radio play and exposed AFI to larger audiences. The Boy Who Destroyed The World from the All Hallows EP was featured in the Tony Hawk's Pro Skater 3 video game. All Hallow's also featured a cover of the Misfits song "Halloween".
On September 19, 2000, AFI released The Art of Drowning, which debuted on the Billboard Charts at number 174, and peaked at number 9 on the Heatseekers chart. It continued to touch base with the horror punk genre, but expanded into styles that were a departure from previous works. The album featured slower, more melodic songs that were more reminiscent of alternative rock, such as "Ever and a Day" and "6 to 8". Still, the presence of hardcore influences was imminent in most of the album, flaunted most on tracks like "Smile", "The Lost Souls", and "Catch a Hot One". The album brought the band unprecedented success in the underground scene, selling in excess of 100,000 copies. "The Days of the Phoenix" was released as a single and video and, like "Totalimmortal," had some moderate mainstream success, garnering the band more TV and radio airplay. The song even managed to reach the UK Singles Chart with its titular EP in 2001, peaking at number 152. The success of The Art of Drowning helped to encourage the band to pursue higher mainstream notoriety.
Sing the Sorrow and Decemberunderground (2002–07)
In 2002, AFI left Nitro Records. A&R Luke Wood signed them to DreamWorks Records following intense record label interest. Their first album for the label, Sing the Sorrow, was released in 2003. The album opened in Billboard's top ten and scored enthusiastic lead reviews in major music magazines. The songs "Girl's Not Grey", "The Leaving Song Pt. II", and "Silver and Cold" had some Billboard chart success and exposed the band to even larger audiences. They were nominated in the 2003 MTV Video Music Awards for the MTV2 award category for the "Girl's Not Grey" video, which came to be their first VMA. Around this time, The Pitch described the band's fan club as a "particularly excitable bunch", adding that "there's also the type of sentiments that put the cult back into cult success, such as links to something called "the Church of Havok"."
In June 2006, AFI's seventh studio album, Decemberunderground, was released on Interscope Records. The album's first single "Miss Murder" reached No. 1 on the Billboard Modern Rock Charts. The release reflects the continually changing and growing fan base of the band, and the album debuted as No. 1 on the Billboard charts. The album has been certified Gold by the RIAA for sales of over 500,000 copies of the album. Also, the band's second single, "Love Like Winter", enjoyed tremendous success on MTV's Total Request Live and was retired after 40 days on the countdown.
On December 12, 2006, AFI released their first DVD I Heard a Voice – Live from Long Beach Arena, featuring a live performance shot in Long Beach, California. The performance was later released on December 13, 2007 as a live album, and charted at number 133 on the Billboard 200, and number 16 on the Hard Rock Albums chart. The album was well-received, with punknews.org giving it a four-star rating and commenting that when hearing or seeing the performance "you begin to realize AFI are truly a great live band," and that at some points "Pantera would say turn the noise down."
On January 20, 2007, AFI played "Miss Murder" and "Love Like Winter" on Saturday Night Live. Although the band performed "Love Like Winter" according to plan, technical difficulties occurred during their performance of "Miss Murder," during which singer Davey Havok's microphone repeatedly cut out throughout the song.
Though "The Missing Frame" was originally supposed to be the third single off Decemberunderground, Davey Havok confirmed in the "Ask AFI" section of the Despair Faction message boards that there would not be a video for the song. Havok also confirmed on the same boards that there would be no summer tour that year. Puget began writing some material for the next album.
On July 7, 2007 AFI performed on the American leg of Live Earth. They performed "The Missing Frame," "Love Like Winter," "Miss Murder," and a cover of David Bowie's "Ziggy Stardust". "Carcinogen Crush" was made available as a downloadable song exclusively for the Xbox 360 version of Guitar Hero III: Legends of Rock by obtaining a code from purchasing the official soundtrack of the game. The song was later released as a digital single on December 4, 2007.
Crash Love (2008–2012)
A new EP was set for a December release, however, Havok announced through the Despair Faction forums that it would not be available until early 2008. The EP was to contain previously unreleased songs from the Decemberunderground and Sing the Sorrow sessions. It was later announced that the EP would be released after Crash Love, but then Havok said that due to political issues, it would not be released. The songs that were to be on the EP would instead be distributed on various versions of Crash Love.
In July 2009, Havok released a statement saying that after two years of writing and recording, the upcoming album would be released on September 29, 2009. It was recorded with producer David Bottrill (who was later dismissed in favor of Joe McGrath and Jacknife Lee). AFI previewed Crash Love on their MySpace page for two days starting September 22, 2009, seven days ahead of the official album release.
In regard to the process of writing the album, Puget said "I've got my guitar and [Davey's] got his tape recorder ... anything can happen. We don't know what kind of song we're going to write; it could be the best song you've ever written or nothing, just the amount of possibilities is exciting to me."
The first single from the album, "Medicate", was released on August 25, 2009 and reached number 7 on the Billboard Alternative Songs Chart. A music video directed by Paul Minor premiered October 2. In January 2010, AFI released a teaser for the video of their new single "Beautiful Thieves". The full video officially premiered on February 4, 2010 on MTV television networks and websites.
On September 8, 2011, a post was made to the band's official forum, DespairFaction.com, from frontman Davey Havok's forum account, which said that the band had split up. This was shortly confirmed by the management to be a hoax, and the thread in question was deleted.
Burials and AFI (The Blood Album) (2013–present)
On April 17, 2013, AFI's website was replaced with a single video of Davey Havok walking down a corridor followed by a shot of the band together, before displaying the text, "A Fire Inside" and "September 2013." The band's MySpace reads "unknown major" under record label since June, 2013. A new producer Gil Norton was working with the band.
On May 2, 2013, a second teaser video was posted to the band's website entitled "Convergence". The video is black and white and one minute in length. On May 14, 2013, a third video was posted to the band's website entitled "No Harbingers". Like "Convergence" before, "No Harbingers" is black and white and is a little over a minute in length. On May 30, 2013, a fourth video was posted entitled "Openings", having the same black and white theme as AFI's previous videos. On June 13, 2013, a fifth video was posted entitled "Silence". The band was later announced to play Riot Fest 2013, as well as being signed to Republic Records.
On July 1, 2013, a sixth image was released titled "The Rite". It was also announced on Universal Music's Norwegian page that a single titled "I Hope You Suffer" would be released on July 22. On July 18, 2013, AFI's website was replaced with the single cover for "I Hope You Suffer", and a stream of the new song. The song was made available for purchase on July 23; the same day, Burials was announced as the title of the album, and will be released on October 22. Another single, "17 Crimes", was released on August 6.
On July 31, 2013, AFI released the official music video for "I Hope You Suffer". It contained primarily shots of the band performing the song in black and white and contained similar imagery to the teaser videos previously released by the band. On August 16, 2013, a music video was released for the song "17 Crimes." An EDM remix of the song was included on the soundtrack to the film The Mortal Instruments: City of Bones. The third single from the album, titled "The Conductor," was released on September 9, 2013. A new song from Burials, "A Deep Slow Panic", was made available for streaming on the website for Spin, along with a new interview of the band on October 10, 2013.
In a June 2016 interview with Aggressive Tendencies, guitarist Jade Puget confirmed that AFI had begun working on new material for their tenth studio album, but chose not to reveal more information about it, including the release date. On October 17, 2016, a few days after blacking out their profile pictures on social media, AFI began posting cryptic teaser videos on their Facebook and Twitter accounts. Later that week, the band released a teaser of their first song in three years via a Facebook live video. On October 27, the band released two new songs, "Snow Cats" and "White Offerings", via Spotify.
The band's tenth album, AFI, was released on January 20th, 2017.
Musical style, legacy and influences
AFI's music has been described as garage punk, skate punk, screamo, emo, gothic rock, pop punk, horror punk, alternative rock, punk rock, hardcore punk and post-hardcore. The band has often been called "goth-punk" due to their appearance, but they never considered the label accurate. "Goth-punk isn't a style of music, it doesn't even exist," guitarist Jade Puget has said.
The band has received much credit for influencing late-1990s and 2000s post-hardcore and horror punk. The Sydney Morning Herald has pointed the band out as being responsible for bringing back the big '80s rock chorus. The band has received much praise in particular from Alternative Press, which has supported the group since the mid-1990s. The publication rated the band's major label debut, Sing the Sorrow as the most anticipated album of 2003, and noted that it "blew the doors off goth-punk as we knew it".
AFI has also been granted responsibility for influencing the rise of the visual element of rock bands in the 2000s; in a December 2006 article, Revolver Magazine wrote that "AFI have increased the importance of a band's visual identity and the flair for the theatrical," adding that "when a group like Panic! at the Disco borrows imagery from a movie such as Moulin Rouge!, you have to consider the precedent AFI set when they borrowed cues from Tim Burton's The Nightmare Before Christmas."
Shoutmouth.com placed AFI at number 22 on its list of the 25 most influential punk bands, noting that the band "have evolved with each album, showing that a punk band can not only change, but stay true to their sound at the same time. AFI have been on a constant rise through their career, and as such, eeked [sic] out the honors".
After Sing The Sorrow's release, Yorkshire Evening Post described Havok's voice as one of those "you'll love or hate, but one thing can't be denied, this guy has range beyond belief". Recognized by his trademark flair and vocal style, Havok has been recognized as "a bona fide rock god" by Alternative Press.
In an interview, Davey Havok described the band's influences: "We have many, many influences that span the musical spectrum. Each of us grew up on everything from punk to hardcore to dark '80s UK stuff like The Cure, Bauhaus, Joy Division, and The Sisters of Mercy. And there were rock bands like The Misfits, Samhain, and Danzig and industrial bands like Skinny Puppy, Ministry, Front 242 and Alien Sex Fiend. And we all love The Smiths."
AFI have also been influenced by some of their musical peers such as Green Day, Jawbreaker, Bad Religion, Placebo and The Offspring.
Band members
Timeline
Discography
Studio albums
Answer That and Stay Fashionable (1995)
Very Proud of Ya (1996)
Shut Your Mouth and Open Your Eyes (1997)
Black Sails in the Sunset (1999)
The Art of Drowning (2000)
Sing the Sorrow (2003)
Decemberunderground (2006)
Crash Love (2009)
Burials (2013)
AFI (2017)
Songs
Miss MurderDecemberunderground · 2006
Love Like WinterDecemberunderground · 2006
Silver and ColdSing the Sorrow · 2003

References
AFI (band) Wikipedia
(Text) CC BY-SA