50 Cent: Bulletproof is an action video game developed by Genuine Games and published by Sierra Entertainment for the PlayStation 2 and Xbox consoles, which released in November 2005. 50 Cent: Bulletproof was reworked into a PlayStation Portable version titled 50 Cent: Bulletproof G Unit Edition, with a top-down perspective, which released in 2006. A sequel, 50 Cent: Blood on the Sand, was released in 2009.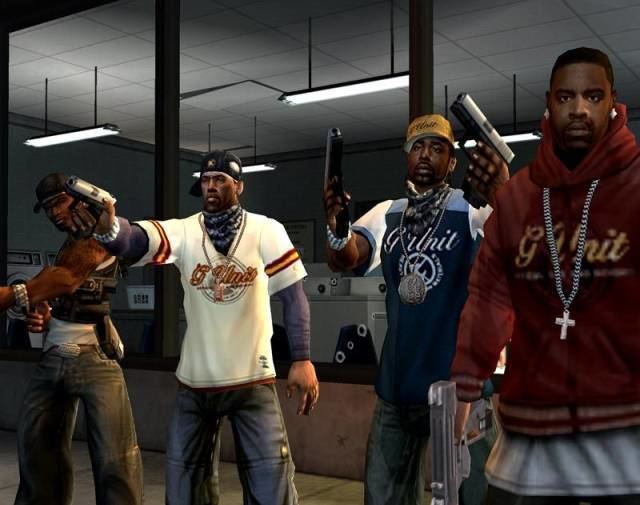 The story revolves around protagonist hip hop musician 50 Cent's search for vengeance against the hitmen who attempted to murder him. The game features members of the G-Unit rap crew as a gang. Dr. Dre plays an arms dealer, Eminem plays a corrupt police officer, and DJ Whoo Kid plays himself as a person selling "bootlegged" music (of the G-Unit camp) out of his trunk. A soundtrack album titled, Bulletproof, was released by DJ Red Heat's Shadyville Entertainment. It won "Best Original Song" in the 2005 Spike TV Video Game Awards.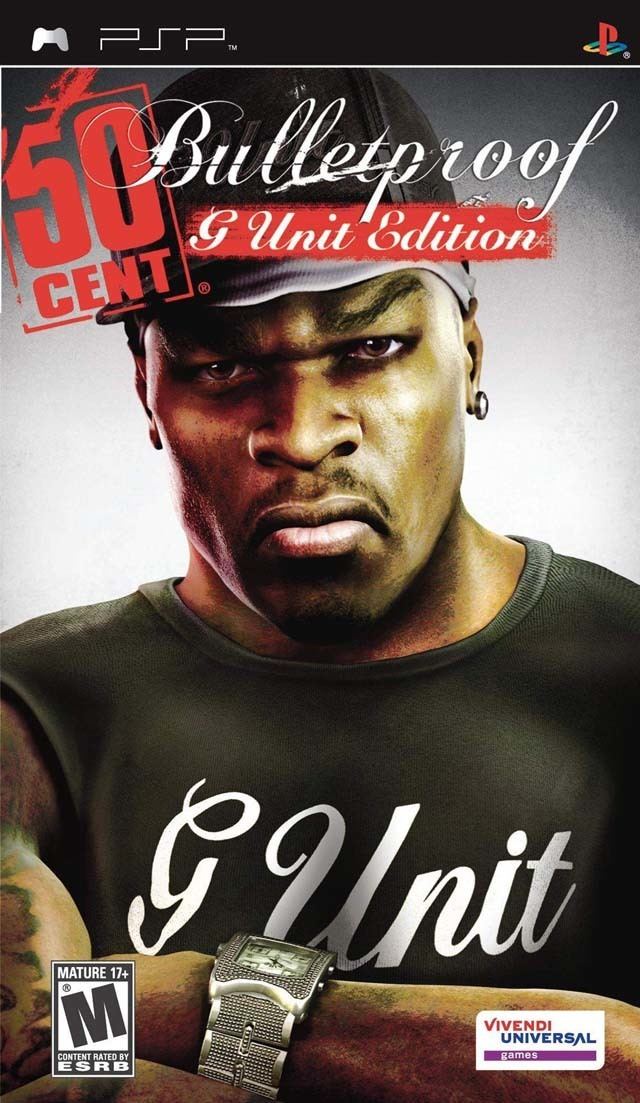 On August 29, 2006, Vivendi Games released a G-Unit edition for the PlayStation Portable. While the story and cut-scenes are the same as the console counterpart, the game eschews the third-person perspective game-play for a top-down, isometric viewpoint. Also added is multiplayer game-play through ad hoc wireless connectivity. The PlayStation Portable version featured a "Vitamin Water" mini-game in which you play as 50-Cent at the apex of his business endeavors.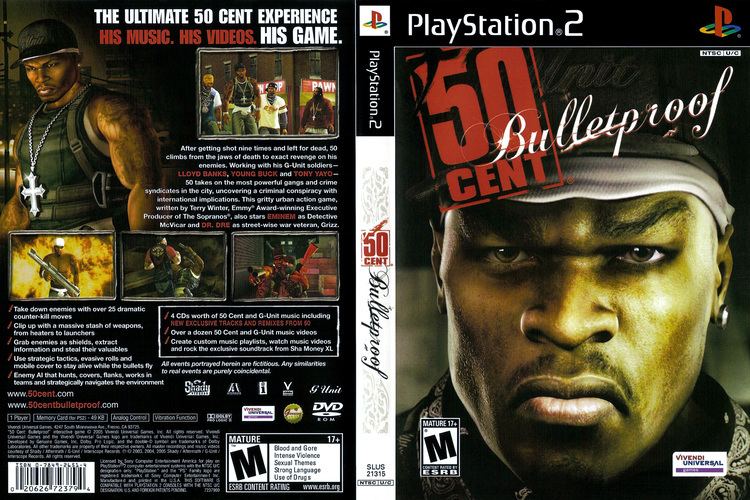 50 Cent quickly finds himself being dragged back into the criminal underworld, taking on the most dangerous crime organizations in New York City, uncovering an international conspiracy with devastating implication.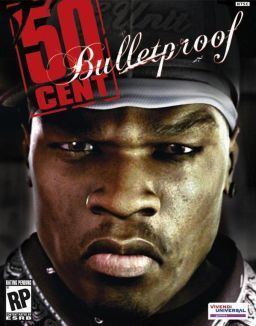 The setting is New York. 50 Cent, 1 night in his apartment, gets a call & page from his former cellmate & friend "K Dog". The latter tells the former he is trouble. 50 Cent gets his "nine" & leaves. 50 Cent then gets his crew: Rappers Lloyd Banks (who is the locksmith & weapon of choice is a "gat"), Young Buck (who 50 states he knew since "pre-school"; ironically, 50 Cent & Lloyd Banks discovered him on tour with Juvenile; he is seen as a weapons specialist & his weapon of choice is 2 "gats") & Tony Yayo (The demolition expert whose weapon of choice is a Mac 11). They all go down the subway station.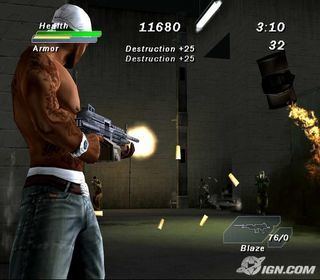 The crew go to Queens, New York, & see K Dog being physically assaulted by unknown masked assailants. After killing multiple masked unknown assailants, 50 Cent is shot 9 times & left for dead. 50 Cent wakes up in Doc Friday's house/workplace. Doc Friday was a licensed doctor until he started writing prescriptions for himself. Tony Yayo & Young Buck were the 2 that had brought 50 to Doc Friday. 50 Cent is given painkillers, which can be used throughout the whole entire video game to gain health back, along with a medical aid kit & Vitamin Water (a reference to the fact that 50 Cent was a spokesperson & had a stake in Vitamin Water, an energy water brand). 50 Cent is then welcomed & greeted by his fellow New York natives & friends who initially thought he was dead, such as: Moet & Chandon, 50's prostitutes; Bugs, a paraplegic pawn shop owner who throughout the video game story-line give(s) 50 Cent missions & information. He sees his belongings in the pawn shop, & demands his belongings shipped back to his home. After walking out, he runs into Grizz, a war vet who lost his trigger finger in the war. Throughout the game, Grizz sells 50 Cent guns, & armor. He later tells 50 Cent his war medals were stolen, & gives 50 Cent money &/or armor for every war medal he finds. The 2 then go see Popcorn, a psycho that sells "counter kills" (slow mo special kills) to 50 Cent. Then, he sees Booker, a homeless man who knows everything. 50 Cent goes to Detective Aaron MCVicar who was a corrupt cop on info..for a price. 50 gets a weapon from Grizz.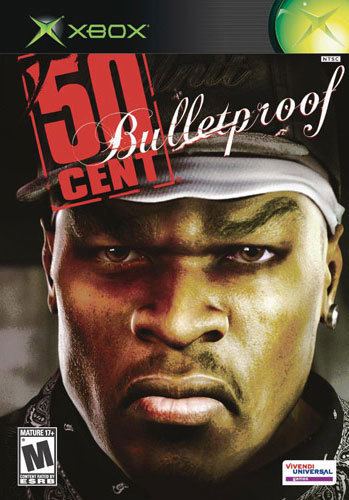 50 Cent & Lloyd Banks go to see K Dog at "The Safe house", guarded by masked assailants & The Feds where supposedly K Dog is talking to them. The safe house is located in Scarsdale, West Chester, New York. After killing masked assailants & cracking safes, the 2 discover K Dog as well as the federal prosecutors's corpses. 50 gets K Dog's belongings. He brings it back to Bugs, who is able to listen to the messages left on the phone. 1 of the messages says K Dog was supposed to meet up with "Spyder", a crystal meth drug dealer about trans-po routes. 50 decides to go after Spyder.
50 goes to "The Junkyard" to meet up with Spyder. After killing Spyder's assailants along with MCVicar, he kills Spyder. They notice a tattoo similar to the 1 on K Dog. He cuts Spyder's skin with the tattoo on it & gives it to Bugs.
Fellow Rappers including Eminem (as Detective McVicar) and Dr. Dre (as street-wise war veteran 'Grizz') will aid 50 Cent in this action-packed adventure.
50 Cent: Bulletproof received generally mixed reviews due to poor game-play mechanics, but it was praised for its solid story line & music. It received 1 out of 5 and a Golden Mullet from X-Play. In spite of this, it received a positive rating of 8/10 from Official UK PlayStation 2 Magazine.
The PlayStation Portable G-Unit Edition was also received by mostly mixed reviews from critics. GameSpot's Alex Navarro did, however, say that it was a better game than the PS2 or Xbox versions."
50 Cent: Bulletproof sold nearly 1.2 million copies.