10 things i hate about you trailer
10 Things I Hate About You is an American television sitcom broadcast on ABC Family beginning in 2009. Developed by Carter Covington, the show is a half-hour, single camera series based on the 1999 film of the same name. It premiered on Tuesday, July 7, 2009 at 8 pm and brought in 1.60 million viewers, a record for a 30-minute comedy debut on the ABC Family network.
Contents
Following its initial 10-episode run, a second set of 10 episodes aired from March 29, 2010 to May 24, 2010. On April 29, executive producer Carter Covington announced on his Twitter account that the series had been canceled by ABC Family due to low ratings. He later revealed his intended storylines for the next season in an interview with Entertainment Weekly Popwatch blog.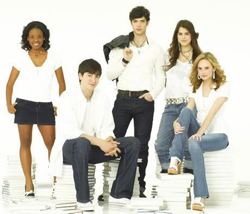 10 things i hate about you kat and patrick s dinner date
Plot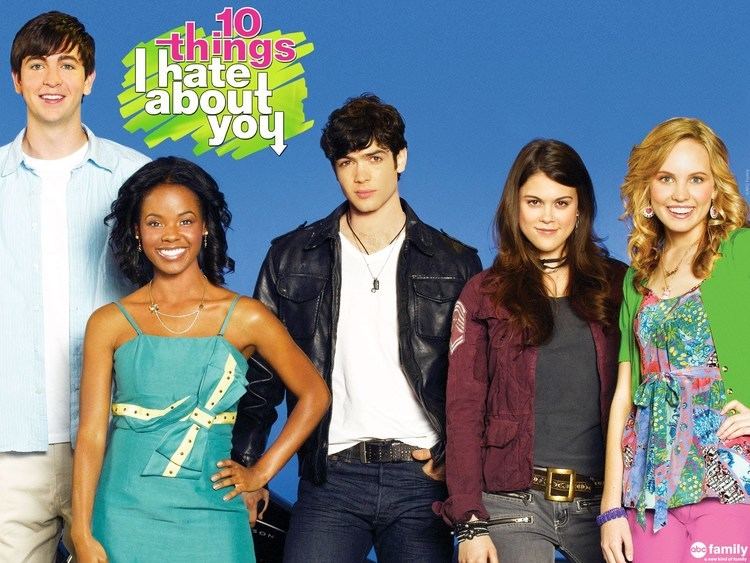 The series is based on the 1999 movie of the same name, which is itself based on William Shakespeare's The Taming of the Shrew. The Stratford sisters, Kat (Lindsey Shaw) and Bianca (Meaghan Martin), have just moved from Ohio to California. As they start at their new school (Padua High), they have very different goals. It's clear that one sister wants to stand out and the other just wants to fit in. Kat is a cool, smart, strong-willed, forthright feminist who is looking to save the world and get out of school as fast as she can. When she meets the intense Patrick Verona (Ethan Peck), sparks begin to fly. Bianca is a social butterfly whose main goal in life is to be popular, but when the head cheerleader makes her the mascot, she realizes she has a long way to go. As they start a bumpy year at Padua High, Kat and Bianca attempt to navigate the popular crowd, boys and their over-protective dad (Larry Miller). Bianca tries everything to be popular and become a cheerleader – although getting involved with the boyfriend (Chris Zylka) of the most popular girl in school (Dana Davis) creates new challenges.
Main characters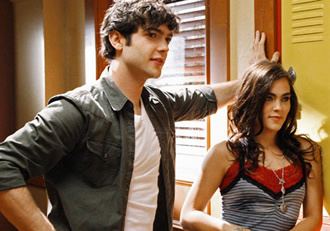 Lindsey Shaw as Katerina "Kat" Stratford: a high school junior and Bianca's older sister, Kat is a smart, strong-willed feminist with a 'sharp tongue'. She has an independent mind and deep ethical beliefs. One of her long-time goals has been to go to college at Brown University. She finds herself strangely drawn to Patrick. She is shown to be a compulsive overachiever as she broke into school just to take a test. She also tends to be inadvertently insensitive to other people's feelings.
Meaghan Martin as Bianca Stratford: A sophomore and Kat's little sister. Bianca will do anything to become popular and get a spot on the cheerleading squad. She is as vapid as could be and dates the aspiring-male-model football star. She is now learning that being popular is not as easy or simple as it seems. She is shown to be quite caring at times.
Ethan Peck as Patrick Verona: also a high school junior, Patrick is a quiet, brooding loner who often gets into trouble. He has a 'disturbingly' deep voice. He is feared by most of the students including Mandella, Kat's only friend, who is also the only one to believe he is a cold-blooded killer. He meets Kat in the very first episode and instantly he grows to like her, because she is fearless, she has a warm heart and she cares about other people as well as herself. In the episode of the fire, Patrick is caught looking through Kat's window; she allows him in, only for her sister Bianca to walk in calling him 'cute'. Near the end of this episode an old woman previously talking to Kat tells her, 'your boyfriend' left you something, which turned out to be her deceased mother's records. He takes an interest in Kat. In the last episode, they are caught in bed together when Walter (Kat's dad) walks in on them.
Nicholas Braun as Cameron James: a sophomore, he is in love with Bianca from the first day he sees her, but he is awkward and inexperienced in the ways of dating. He begins dating Dawn, Bianca's best friend.
Dana Davis as Chastity Church: a sophomore and the most popular girl in the school. She is head cheerleader and comes from a wealthy family. Her mother is Marcheline (Shari Headley). Chastity's father is on the school board and she uses this to get whatever she wants (she once even blackmailed her father). Chastity is very catty and swears a vendetta on Bianca after she steals Joey from her. In the last episode, she is demoted from her spot as head cheerleader because she threw a sponge at Bianca during their car wash, causing Michelle to kick her off the squad. After this, she reveals to Bianca that she is transferring to another school. According to Covington, Davis had asked to leave the show after the episode in question.
Larry Miller as Dr. Walter Stratford: the girls' overprotective father. He is a gynecologist and widower. He is wary of teenage boys and often lectures his daughters about sex. His main rule is that Bianca doesn't date until Kat does. While normally serious, he does have a funny and loving side. He is the only cast member from the film to reprise his role in the series.
Recurring characters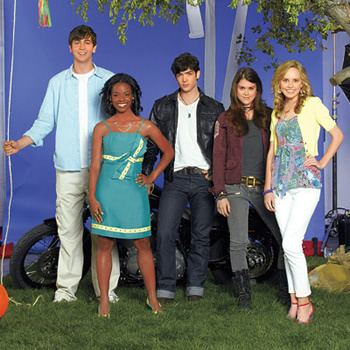 Allie Gonino as Michelle, the leader of cheerleaders.
Chris Zylka as Joey Donner
Kyle Kaplan as Michael Bernstein
Ally Maki as Dawn
Jolene Purdy as Mandella
Suzy Nakamura as Principal Holland
Leslie Grossman as Ms. Darlene Tharpe
Barret Swatek as Ms. Somers
Jack Salvatore Jr. as Brad
Justin Lee as Charlie Woo
Cody McMains as Keith
Ashley Jackson as Tabitha Cook
Benjamin Stone as William "Blank" Blankenship
Development and production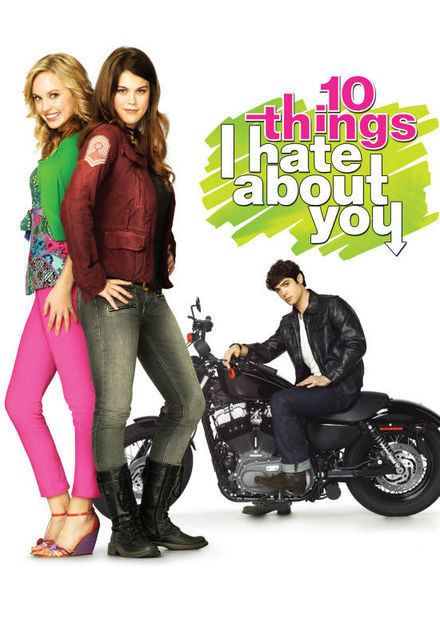 In 2008, ABC Family announced their intention to create a comedy pilot based on the 1999 movie. The pilot was written by Carter Covington, a self-professed fan of the original 1999 film. ABC Family green-lit the comedy in October 2008. In November 2008, casting was announced for the pilot, with production following that fall. In February 2009, the pilot was picked up when ABC Family ordered 9 additional episodes.
While Covington sought a "reimagined" adaptation, there are several connections between the pilot and movie, which gave the pilot the same feel. Gil Junger, who directed the movie, also directed the pilot. Richard Gibbs, who was credited for the original music in the 1999 movie, also composed the theme music for the pilot. In addition, Larry Miller reprised his role as the overprotective father, Walter Stratford.
The pilot was shot at a high school in Tujunga, California. Due to budget constraints, future episodes were filmed at a soundstage in Santa Clarita, California, with only occasional external shots in Tujunga.
Covington served as the series' showrunner, as well as an executive producer. He stated that he wanted the show "to feel like a John Hughes film every week." Junger remained on board, and directed seven of the first 10 episodes of the series.
Episodes
20 episodes were produced, 12 of them directed by Gil Junger, who also directed the original movie.
Reception
10 Things has received a score of 67 out of 100 from review aggregator Metacritic. Several critics praised the series for containing clever dialogue and appealing and rooted characters. Brian Lowry of Variety described the show as "a solid roll for the cable network that was once an albatross around the neck of parent Disney." One critic proclaimed the series as "best thing that ABC Family has ever produced." Randee Dawn of The Hollywood Reporter thought that the series "has genuine appeal."
Less favorable reviews came from Alessandra Stanley of The New York Times, who called the series "not very inventive," and The New York Post, whose mixed review concluded that the show is "silly, mindless fun" whose "actors are all terrific in that silly, mindless fun way that Disney teens tend to be."
Mike Hale from The New York Times named the show to his top ten in 2009, stating that "in the dog days of July," the sitcom "may have been the best thing on television."
References
10 Things I Hate About You (TV series) Wikipedia
(Text) CC BY-SA