7.2

/

10

Alchetron

Rate This





Country of origin

United States




No. of seasons

3




Executive producer(s)

Scott St. John




Final episode date

11 January 2011




Number of episodes

68






Narrated by

Joe Cipriano (NBC)




Original language(s)

English




No. of episodes

68




First episode date

15 November 2010




Number of seasons

3




Genre

Game show







Presented by

Bob Saget, Carrie Ann Inaba




Similar

Game show, Deal or No Deal, Surviving Suburbia, Bingo America, Strange Days with Bob Saget
1 vs 100 very first millionaire win
1 vs. 100 is an American game show that was broadcast by NBC from 2006 to 2008, and revived on Game Show Network with a new series which ran in 2010. As in other formats, a single player (the 1) goes up against 100 other contestants (the "Mob"). The 1 gains money for every Mob member eliminated, but loses all winnings with an incorrect answer at any point. The host was Bob Saget. The show premiered on NBC on October 13, 2006 at 9:00 pm. On October 20, 2006, it was reported that NBC ordered 10 additional episodes of 1 vs. 100, citing the show's encouraging ratings performance. The show returned with these new episodes on December 1, 2006. At the television critics' winter meetings in Pasadena, California in January 2007, the network announced that 12 more episodes would be added.
Contents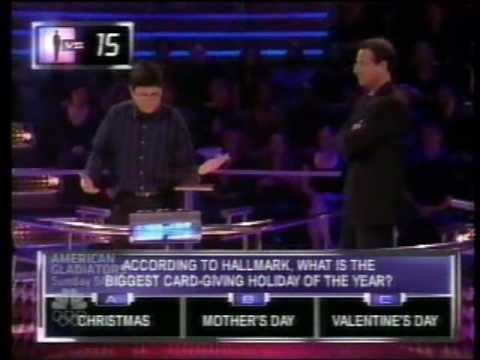 Broadcast history
1 vs. 100 aired on Fridays at 8:00 PM Eastern. On March 16, 2007, the show went on a temporary break in order to accommodate Identity, another NBC game show. The show returned to NBC with repeats of the series on May 25, 2007. In May, NBC announced that 1 vs. 100 would return for its second season in Fall 2007 with an eight episode run in the same time slot. The Singing Bee was originally scheduled to air after the initial run of 1 vs. 100, but its premiere was moved up to July to compete with Fox's new game show Don't Forget the Lyrics! In July, NBC announced some fall scheduling updates that included The Singing Bee being moved to Tuesdays and Deal or No Deal being moved from Monday to Friday at 8 pm, replacing 1 vs. 100.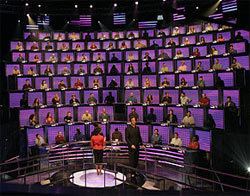 1 vs. 100 returned for its second season on January 4, 2008, with a new set and money ladder system of obtaining prize money. Also, a video screen is now displayed in the center of the mob area, where each question is displayed, as well as occasional pre-taped questions asked by celebrities. Several personalities, including Ross Mathews, Richard Rubin, and Oscar the Grouch (of Sesame Street fame) were fixtures in the mob.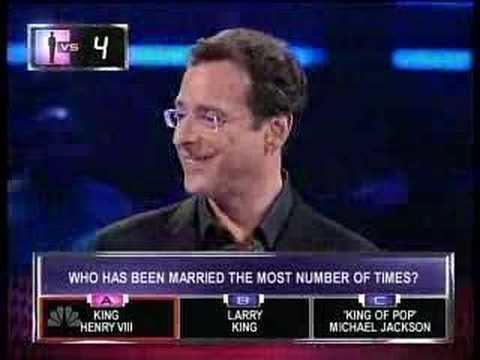 On January 4, 2008, 1 vs. 100 recorded its only millionaire, 21-year-old Jason Luna from San Diego defeated a mob of 100 women on a special battle-of-the-sexes episode.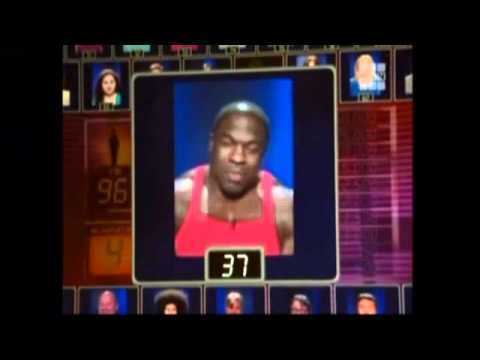 NBC's early presentation of its next season schedule on April 2, 2008, did not include the show. However, network executive Ben Silverman said that it might still return.
On October 11, 2010, it was confirmed that 1 vs. 100 would return with all new episodes on GSN starting November 15, 2010 at 7:00 pm ET. The new series aired as a five-day-a-week strip (Monday to Friday). Contestants had two helps available to them throughout the course of the game: Poll the Mob and Trust the Mob. Also, the GSN revival featured a top prize of $50,000 and was hosted by Carrie Ann Inaba, a judge on ABC's Dancing with the Stars and a former fly girl on In Living Color.
GSN repeats and revival
GSN began airing reruns of the show on June 6, 2009, with one or more episodes shown every day. With the popularity of those shows and the Xbox live video game, in August 2010 GSN announced a casting call and that the network would be producing new episodes.
The initial order of 40 half-hour episodes began airing weekdays on November 15, 2010. In the new version, hosted by Dancing with the Stars judge Carrie Ann Inaba, members participate via webcam. Mob members may appear on multiple episodes. Contestants will win the top prize of $50,000 by eliminating all 100 mob members during their appearance and have two helps available: Poll the Mob and Trust the Mob.
In addition, contestants are only given the option to choose the money or the mob once they have reached at least $1,000 on the prize ladder, and the "Sneak Peek" could not be used until the contestant had reached at least $10,000.
The season finale of GSN's 1 vs. 100 aired on Tuesday January 11, 2011. Carrie Ann Inaba had announced that she would not be returning and the series was canceled, with reruns continuing to air through October. GSN aired reruns of the Inaba version at various times until June 9, 2014, when it was replaced on the schedule by Shop 'til You Drop.
GSN stopped airing reruns of the Saget version on June 3, 2012. They then returned from November 5, 2013 through October 11, 2014.
Christmas episode
A special Christmas episode aired on December 25, 2006 which featured Christmas related questions and a Mob with members representing "The 12 Days of Christmas", including:
Twelve members of the University of Southern California Marching Band drumline (drummers drumming)
Eleven plumbers (pipers piping)
Ten male ballet dancers (lords a-leaping)
Nine female go-go dancers (ladies dancing)
Eight farmer's wives (maids a-milking)
Seven members of the Cal State Northridge water polo team (swans a-swimming)
Six pregnant mothers-to-be (geese a-laying)
Five boxers (golden rings)
Four bird callers (calling birds)
Three French chefs (French hens)
Two dove hunters (turtle doves)
Danny Bonaduce (a Partridge in a pear tree)
Santa Claus took a chair (#100), and the remaining 20 contestants consisted of five "Santa's elves" and returning contestants, including Annie Duke, who missed on a question early in this episode and was eliminated after four shows, having correctly answered 37 consecutive questions.
The You vs. 100 at home game would have been worth $25,000 to the lucky winners in the Eastern US, plus the Mountain and Pacific time zones, but because the Philadelphia Eagles-Dallas Cowboys football game ran late and the Christmas episode of Deal or No Deal also ran past its scheduled time in both the Eastern and Central time zones, the contest was not held at all. 1 vs. 100 was joined in progress in the Eastern and Central zones following Deal or No Deal, while the entire show aired in the Western U.S. The $25,000 giveaway was rescheduled for January 19, 2007, during a regular episode (rather than the holiday episode).
"1 vs. 100 kids"
The first game on the February 2, 2007 episode consisted of 100 children. The five remaining members who staved off elimination split $94,000 pot evenly earning $18,800 each.
"Last Man Standing"
Former top mob members, including Brad Rutter, Ken Jennings, Nancy Christy, Kevin Olmstead, and Annie Duke among others were in the mob for a "last man standing" game where the winner got a guaranteed $250,000. The rules were a little different, in that there were no helps, no money for each question, and one person, in this case, Annie Duke, was randomly selected to be the "one". Thus, this game was actually 1 vs. 99. Also, she did not have the opportunity to walk away from the game (this rule is also used on many foreign versions of the show).
Duke and Jennings were two of the final five aiming for the prize. The question was "Who has been married the most times? – King Henry VIII, Larry King, or 'King of Pop', Michael Jackson." Duke, Jennings, and two of the other remaining contestants incorrectly guessed King Henry VIII. Ultimately, the winner was entertainment lawyer and former actor Larry Zerner, as he was the only one who answered Larry King.
"The Most Hated Mob in America"
The February 16, 2007 episode featured a mob made up of the nation's supposedly most hated people, including 23 meter maids, 22 IRS agents, 20 telemarketers and 16 DMV employees. Casey Smith left 29 people in the mob, opting to take his $142,000 winnings.
"Battle of the Sexes"
On January 4, 2008, the first night of the current prize structure, one woman played against a mob of 100 men and vice versa. The woman, Katherine Kazorla lost $50,000 to the mob, while the man, Jason Luna, became the show's first and only million dollar winner.
Criticism
Early criticism of the first episode asserted that the questions tend to be far less difficult than the average game show. However, questions have been difficult enough to eliminate several notable members of the mob, including Jeopardy! champions Ken Jennings and Brad Rutter, and three million-dollar winners from Who Wants to Be a Millionaire (see below).
Further criticism revolved around the composition of the Mob. While there have been a number of teachers, valedictorians, and other professionals, much of the Mob resembles a typical studio audience.
Home viewer games
Like fellow NBC/Endemol game Deal or No Deal, the original series of 1 vs. 100 had an interactive game. The first game, called You vs. 100, gave out a question with three possible answers. Those who answered the question correctly were eligible for a $10,000 prize in each time zone, with Eastern and Central counting as one zone. The area affected for this game (Alaska, Hawaii, Guam, US Virgin Islands and Puerto Rico) were the same in the Deal Lucky Case Game, as well as areas that pre-emped (and/or tape delayed) the program. In most episodes, only the first mob was used, except the February 16 episode where The Most Hated Mob in America was used.
The Christmas 2006 episode was to have featured a $25,000 prize for each time zone, but was postponed until January 19 due to the overrun from the NFL game that night (see Christmas episode, above).
When the show returned for reruns in May 2007, the interactive game was changed to its second format, Mob Money. This game was played the same as Deal or No Deal's Lucky Case game, except with five mob members to choose from and a prize of $5,000. As the show's second season premiered in January 2008, Mob Money consisted of a question put to the mob, with three choices as to how many people answered incorrectly. The prize also doubled back to $10,000.
In Canada, E!'s airings did not feature the interactive segments, as Canadian viewers were ineligible to participate. Additionally, when repeats aired on CNBC or GSN, these segments are not rebroadcast.
References
1 vs. 100 (U.S. game show) Wikipedia
(Text) CC BY-SA