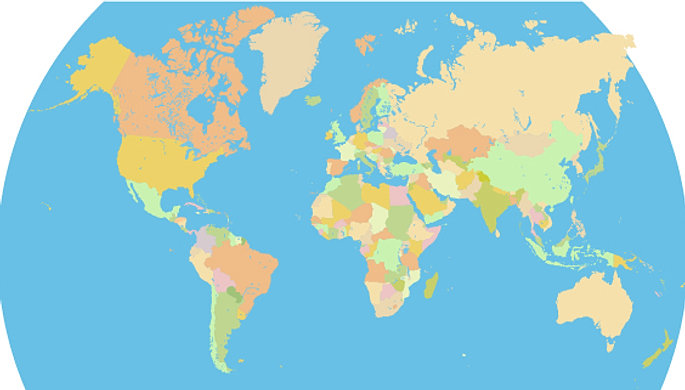 Now that is a question thats somewhat difficult to answer, as there is no one right answer. Many sources offer different answers, and depending on the source, there are 189, 191, 192, 193, 194, 195 or 196 independent countries in the world today.
NOTE: On Saturday, July 9, 2011, southern Sudan declared itself the independent country of South Sudan. This is the culmination of a six-year process that ended a long, brutal civil war that caused the deaths of millions. In many ways this is still a controversial event, and the countrys status could possible change in the future.
As of May 1, 2008, the United Nations has 192 official members (including Montenegro and Serbia - the two newest nations). That number does not include the Vatican, and it doesnt (yet) include Kosovo
Most of the current World Almanacs use 193 countries, which is probably the best answer, but what about Kosovo? Palestine? Greenland? Western Sahara? Or now, South Sudan?
The US State Department recognizes 194 independent countries around the world, but that list of countries reflects the political agenda of the United States of America. As an example, it includes Kosovo, but does not include Taiwan, as China claims that Taiwan (the ROC) is simply a province of China.
Regarding England, Scotland and Wales, though all are widely considered individual countries, they are all still a part of the United Kingdom (UK), a recognized European country by the United Nations, United States, and others, and therefore included within the United Kingdom on our country list below.
A note regarding Greenland: It voted in favor of increased self-rule in November 2008 and acquired complete responsibility for internal affairs in June 2009. Denmark, however, continues to exercise control of Greenlands foreign affairs, security, and financial policy in consultation with Greenlands Home Rule Government.
In that regard, Greenland is still a part of Denmark, and not recognized as an official independent country. In fact, its a constituent country; a country that is part of another entity, such as a sovereign state. In this case, the country of Denmark.
The political world is constantly changing and our list of independent nations is shown below. Note that we dont say that our list is the ONLY answer, just that its our answer.
A complete list of Countries by Continent
(A)
· Afghanistan (Kabul) (AS)
· Albania (Tirane) (EU)
· Algeria (Algiers) (AF)
· Andorra (Andorra la Vella) (EU)
· Angola (Luanda) (AF)
· Antigua and Barbuda (St. Johns) (NA)
· Argentina (Buenos Aires) (SA)
· Armenia (Yerevan) (EU)
· Australia (Canberra) (AU)
· Austria (Vienna) (EU)
· Azerbaijan (Baku) (AS)
(B)
· Bahamas (Nassau) (NA)
· Bahrain (Manama) (AS)
· Bangladesh (Dhaka) (AS)
· Barbados (Bridgetown) (NA)
· Belarus (Minsk) (EU)
· Belgium (Brussels) (EU)
· Belize (Belmopan) (NA)
· Benin (Porto-Novo) (AF)
· Bhutan (Thimphu) (AS)
· Bolivia (Sucre) (SA)
· Bosnia and Herzegovina (Sarajevo) (EU)
· Botswana (Gaborone) (AF)
· Brazil (Brasilia) (SA)
· Brunei (Bandar Seri Begawan) (AS)
· Bulgaria (Sofia) (EU)
· Burkina Faso (Ouagadougou) (AF)
· Burma/Myanmar (Nay Pyi Taw) (AS)
· Burundi (Bujumbura) (AF)
(C)
· Cambodia (Phnom Penh) (AS)
· Cameroon (Yaounde) (AF)
· Canada (Ottawa) (NA)
· Cape Verde (Praia) (EU - Portugal)
· Central African Republic (Bangui) (AF)
· Chad (NDjamena) (AF)
· Chile (Santiago) (SA)
· China (Beijing) (AS)
· Colombia (Bogota) (SA)
· Comoros (Moroni) (AF)
· Congo (Brazzaville) (AF)
· Congo, Democratic Republic of (Kinshasa) (AF)
· Costa Rica (San Jose) (NA)
· Cote dIvoire/Ivory Coast (Yamoussoukro) (AF)
· Croatia (Zagreb) (EU)
· Cuba (Havana) (NA)
· Cyprus (Nicosia) (AS) and/or (EU)
· Czech Republic (Prague) (EU)
(D)
· Denmark (Copenhagen) (EU)
· Djibouti (Djibouti) (AF)
· Dominica (Roseau) (NA)
· Dominican Republic (Santo Domingo) (NA)
(E)
· East Timor (Dili) (AS)
· Ecuador (Quito) (SA)
· Egypt (Cairo) (AF)
· El Salvador (San Salvador) (NA)
· Equatorial Guinea (Malabo) (AF)
· Eritrea (Asmara) (AF)
· Estonia (Tallinn) (EU)
· Ethiopia (Addis Ababa) (AF)
(F)
· Fiji (Suva) (AU - Oceania)
· Finland (Helsinki) (EU)
· France (Paris) (EU)
(G)
· Gabon (Libreville) (AF)
· Gambia (Banjul) (AF)
· Georgia (Tbilisi) (EU)
· Germany (Berlin) (EU)
· Ghana (Accra) (AF)
· Greece (Athens) (EU)
· Grenada (St. Georges) (NA)
· Guatemala (Guatemala City) (NA)
· Guinea (Conakry) (AF)
· Guinea-Bissau (Bissau) (AF)
· Guyana (Georgetown) (SA)
(H)
· Haiti (Port-au-Prince) (NA)
· Honduras (Tegucigalpa) (NA)
· Hungary (Budapest) (EU)
(I)
· Iceland (Reykjavik) (EU)
· India (New Delhi) (AS)
· Indonesia (Jakarta) (AS)
· Iran (Tehran) (AS)
· Iraq (Baghdad) (AS)
· Ireland (Dublin) (EU)
· Israel (Jerusalem) (AS)
· Italy (Rome) (EU)
(J)
· Jamaica (Kingston) (NA)
· Japan (Tokyo) (AS)
· Jordan (Amman) (AS)
(K)
· Kazakhstan (Astana) (AS)
· Kenya (Nairobi) (AF)
· Kiribati (South Tarawa) (AU - Oceania)
· Korea, North (Pyongyang) (AS)
· Korea, South (Seoul) (AS)
· Kuwait (Kuwait City) (AS)
· Kyrgyzstan (Bishkek) (AS)
(L)
· Laos (Vientiane) (AS)
· Latvia (Riga) (EU)
· Lebanon (Beirut) (AS)
· Lesotho (Maseru) (AF)
· Liberia (Monrovia) (AF)
· Libya (Tripoli) (AF)
· Liechtenstein (Vaduz) (EU)
· Lithuania (Vilnius) (EU)
· Luxembourg (Luxembourg) (EU)
(M)
· Macedonia (Skopje) (EU)
· Madagascar (Antananarivo) (AF)
· Malawi (Lilongwe) (AF)
· Malaysia (Kuala Lumpur) (AS)
· Maldives (Male) (AS)
· Mali (Bamako) (AF)
· Malta (Valletta) (EU)
· Marshall Islands (Majuro) (AU - Oceania)
· Mauritania (Nouakchott) (AF)
· Mauritius (Port Louis) (AF)
· Mexico (Mexico City) (NA)
· Micronesia (Palikir) (AU - Oceania)
· Moldova (Chisinau) (EU)
· Monaco (Monaco) (EU)
· Mongolia (Ulan Bator) (AS)
· Montenegro (Podgorica) (EU)
· Morocco (Rabat) (AF) (including Western Sahara)
· Mozambique (Maputo) (AF)
(N)
· Namibia (Windhoek) (AF)
· Nauru (no official capital) (AU - Oceania)
· Nepal (Kathmandu) (AS)
· Netherlands (Amsterdam, The Hague) (EU)
· New Zealand (Wellington) (AU)
· Nicaragua (Managua) (NA)
· Niger (Niamey) (AF)
· Nigeria (Abuja) (AF)
· Norway (Oslo) (EU)
(O)
· Oman (Muscat) (AS)
(P)
· Pakistan (Islamabad) (AS)
· Palau (Koror) (AU - Oceania)
· Panama (Panama City) (NA)
· Papua New Guinea (Port Moresby) (AU)
· Paraguay (Asuncion) (SA)
· Peru (Lima) (SA)
· Philippines (Manila) (AS)
· Poland (Warsaw) (EU)
· Portugal (Lisbon) (EU)
(Q)
· Qatar (Doha) (AS)
(R)
· Romania (Bucharest) (EU)
· Russian Federation (Moscow) (AS)
· Rwanda (Kigali) (AF)
(S)
· Saint Kitts and Nevis (Basseterre) (NA)
· Saint Lucia (Castries) (NA)
· Saint Vincent and the Grenadines (Kingstown) (NA)
· Samoa (Apia) (AU - Oceania)
· San Marino (San Marino) (EU)
· Sao Tome and Principe (Sao Tome) (AF)
· Saudi Arabia (Riyadh) (AS)
· Senegal (Dakar) (AF)
· Serbia (Belgrade) (EU)
· Seychelles (Victoria) (AF)
· Sierra Leone (Freetown) (AF)
· Singapore (Singapore City) (AS)
· Slovakia (Bratislava) (EU)
· Slovenia (Ljubljana) (EU)
· Solomon Islands (Honiara) (AU - Oceania)
· Somalia (Mogadishu) (AF)
· South Africa (Pretoria, Cape Town, Bloemfontein)(AF)
· South Sudan (Juba) (AF)
· Spain (Madrid) (EU)
· Sri Lanka (Colombo) (AS)
· Sudan (Khartoum) (AF)
· Suriname (Paramaribo) (SA)
· Swaziland (Mbabane) (AF)
· Sweden (Stockholm) (EU)
· Switzerland (Bern) (EU)
· Syria (Damascus) (AS)
(T)
· Tajikistan (Dushanbe) (AS)
· Tanzania (Dodoma) (AF)
· Thailand (Bangkok) (AS)
· Togo (Lome) (AF)
· Tonga (Nukualofa) (AU - Oceania)
· Trinidad and Tobago (Port-of-Spain) (NA)
· Tunisia (Tunis) (AF)
· Turkey (Ankara) (AS) & (EU)
· Turkmenistan (Ashgabat) (AS)
· Tuvalu (Funafuti) (AU - Oceania)
(U)
· Uganda (Kampala) (AF)
· Ukraine (Kiev) (EU)
· United Arab Emirates (Abu Dhabi) (AS)
· United Kingdom (London) (EU)
· United States (Washington D.C.) (NA)
· Uruguay (Montevideo) (SA)
· Uzbekistan (Tashkent) (AS)
(V)
· Vanuatu (Port-Vila) (AU - Oceania)
· Vatican City (na) (EU)
· Venezuela (Caracas) (SA)
· Vietnam (Hanoi) (AS)
(Y)
· Yemen (Sana) (AS)
(Z)
· Zambia (Lusaka) (AF)
· Zimbabwe (Harare) (AF)
Sources: worldatlas.com