Krishna Janmashtami also known as Krishnashtami, Saatam Aatham, Gokulashtami, Ashtami Rohini, Srikrishna Jayanti, Sree Jayanti or sometimes merely as Janmashtami, is an annual celebration of the birth of the Hindu deity Krishna, the eighth avatar of Vishnu.
The festival is celebrated on the eighth day (Ashtami) of the Krishna Paksha (dark fortnight) of the month of Shraavana (August–September) in the Hindu calendar. Rasa lila, dramatic enactments of the life of Krishna, are a special feature in regions of Mathura and Vrindavan, and regions following Vaishnavism in Manipur. While the Rasa lila re-creates the flirtatious aspects of Krishnas youthful days, the Dahi Handi celebrate Gods playful and mischievous side, where teams of young men form human towers to reach a high-hanging pot of butter and break it. This tradition, also known as uriadi, is a major event in Tamil Nadu on Gokulashtami. Krishna Janmashtami is followed by the festival Nandotsav, which celebrates the occasion when Nanda Baba distributed gifts to the community in honour of the birth.
Krishna was the 8th son of Devaki and Vasudeva. Based on scriptural details and astrological calculations, the date of Krishnas birth, known as Janmashtami, is 19 July 3228 BCE and he lived until 3102 BCE. Krishna belonged to the Vrishni clan of Yadavas from Mathura, and was the eighth son born to the princess Devaki and her husband Vasudeva.
Krishna Carried Across the River

Mathura (in present day Mathura district, Uttar Pradesh) was the capital of the Yadavas, to which Krishnas parents Vasudeva and Devaki belonged. King Kansa, Devakis brother, had ascended the throne by imprisoning his father, King Ugrasena. Afraid of a prophecy that predicted his death at the hands of Devakis eighth son, Kansa had the couple locked in a prison cell. After Kansa killed the first six children, and Devakis apparent miscarriage of the seventh (which was actually a secret transfer of the infant to Rohini as Balarama), Krishna was born.
Following the birth, Vishnu ordered Vasudeva to take Krishna to Gokul to Nanda and Yashoda, where he could live safely, away from his Uncle Kansa. Vasudeva took Krishna with him and crossed Yamuna to reach Gokul. There, everyone was asleep; so he quietly kept him there and returned with Yashodas daughter. Kansa, thinking her to be Devkis eight child, threw her on a stone. But she rose into the air and transformed into Yogmaya (who is Vishnus helper) and warned Kansa about his death. Then, she disappeared. Krishna grew up in Gokul with his brother, Balram. He then returned to Mathura and killed Kansa with the help of Balram.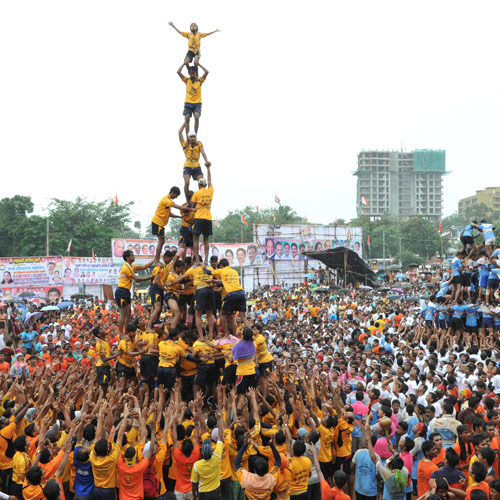 Hindus celebrate Janmashtami by fasting and staying up until midnight, the time when Krishna is believed to have been born. Images of Krishnas infancy are placed in swings and cradles in temples and homes. At midnight, devotees gather around for devotional songs, dance and exchange gifts. Some temples also conduct readings of the Hindu religious scripture Bhagavad Gita.

Dahi Handi Indianfestival HD
]
Jay Bharat Seva Sangh forming a human tower to break the Dahi handi in
Dadar
Janmaashtami or Gokulashtami, popularly known in Mumbai and Pune as Dahi Handi, is celebrated as an event which involves making a human pyramid and breaking an earthen pot (handi) filled with buttermilk (dahi), which is tied at a convenient height. The topmost person tries to break the handi by hitting it with a blunt object. When the handi breaks, the buttermilk is spilled over the entire group. This event is based on the legend of the child-god Krishna stealing butter. A participant in this festival is called a govinda or govinda pathak.
Many – such govinda pathaks – compete with each other, especially for the prize money. These groups are called mandals or handis and they go around the local areas, attempting to break as many pots as possible every August. The event, since the 2000s, has gathered a political flavour, and it is common for political parties and rich community groups to offer prizes amounting to lakhs of rupees. Local celebrities and Bollywood actors also participate. Some of the popular handis are at Dadar, Lower Parel, Worli, Mazgaon, Lalbaug, Thane in Mumbai and Babu Genu, Mandai in Pune. Cash and gifts are offered for govinda troops to participate; for over 4,000 handis in Mumbai, 2,000 Govinda troops compete for the prizes.
Dahi Handicelebration in Mumbai-Maharashtra
Northernand Eastern India
Places in Uttar Pradesh that are associated with Krishnas childhood, such as Mathura, Gokul and Vrindavan, attract visitors from all over India, who go there to participate in the festival celebrations. People in the city of Dwarka in Gujarat – where Krishna is believed to have established his Kingdom – celebrate the festival by visiting the Dwarkadhish temple. In Jammu, kite flying is an important part of the celebration on his day.
Rasa lila in Manipuri dance style

In the eastern state of Odisha, in the region around Puri and in Nabadwip, West Bengali people celebrate Janmashtami by fasting and worship until midnight. Purana Pravachana from the Bhagavata Purana are recited from the 10th Skandha. This section deals with pastimes of Krishna. The next day is called "Nanda Utsav" or the joyous celebration of Krishnas foster parents Nanda and Yashoda. On this day, people break their fast and offer various cooked sweets during the early hours.
Rasa Lila - Manipuri classical dance - Krishna, Radha, Gopis
Janmaashtami – popularly known in Manipur as Krishna Janma – is a significant festival celebrated at two temples in Imphal, the capital city of Manipur. The first festival is at the Govindaji temple, and the second is at the International Society for Krishna Consciousness temple. Devotees of Lord Krishna gather mostly at the ISKCON temple.
In Southern India, floors in houses are decorated with footprints made from flour, to symbolise Krishnas childhood sport of stealing butter from houses. In Tamil Nadu each and every individual house can celebrate as Sri Rangam and Tirupathi celebrates. They can perform Pooja and distributing Aval, Vada, Butter and Ghee
About eighty percent of the population of Nepal identify themselves as Hindus and celebrate Krishna Janmashtimi. They observe Janmashtami by fasting until midnight. They chant slokas from the Bhagavad Gita and sing religious songs called bhajans. The temples of Lord Krishna are decorated, and bhajans and kirtans are sung or played. The Krishna Mandir in Patan Durbar Square, Narayanhiti Krishnamandir, and other temples of Lord Krishna are the centres for festivities on Krishna Janmaasthimi. Numerous devotees flock to the ancient Krishna temple in old Patan Durbar Square to keep vigil through the revered night of his birth. Observances include people sitting closely together, bodies rocking as women chant the many names of Lord Krisha, such as Narayan, Narayan and Gopal, Gopal. Some sing hymns, others clap their hands, while some others pray. Crowds of men and women edge their way slowly up narrow steps through the seated devotees to the temples dark interior, to where the main idol stands. There they offer flowers, coins and food, and wait for a glimpse of the Krishna Janmashtami idol. After the temple priest gives them prasad, they make their way home.