Bhagat Singh 28 September 1907 – 23 March 1931) was an Indian socialist considered to be one of the most influential revolutionaries of the Indian independence movement.
He is often referred to as "Shaheed Bhagat Singh", the word "Shaheed" meaning "martyr" in a number of South Asian and Middle Eastern languages.
Born into a Sikh family which had earlier been involved in revolutionary activities against the British Raj, as a teenager Singh studied European revolutionary movements and was attracted to anarchist and Marxist ideologies. He became involved in numerous revolutionary organisations,
and quickly rose through the ranks of the Hindustan Republican Association (HRA) to become one of its main leaders,
eventually changing its name to the Hindustan Socialist Republican Association (HSRA) in 1928.
Bhagat Singh, a Sandhu Jat,was born on 28 September 1907 to Kishan Singh and Vidyavati at Chak No. 105, GB, Banga village, Jaranwala Tehsil in the Lyallpur district of the Punjab Province of British India.
His birth coincided with the release from jail of his father and two uncles, Ajit Singh and Swaran Singh.
His family were Sikhs, some of whom had been active in Indian independence movements, and others having served in Maharaja Ranjit Singhs army.
A documentary on Bhagat Singh
His ancestral village was Khatkar Kalan, near the ton of Banga in Nawanshahr district (now renamed Shaheed Bhagat Singh Nagar) of Punjab.His grandfather, Arjun Singh, was a follower of Swami Dayananda Saraswatis Hindu reformist movement, Arya Samaj, which had a considerable influence on the young Bhagat.His father and uncles were members of the Ghadar Party, led by Kartar Singh Sarabha and Har Dayal. Ajit Singh was forced to flee to Persia due to pending court cases against him, while Swaran Singh died at home in 1910 following his release from Borstal Jail in Lahore.
Unlike many Sikhs of his age, Singh did not attend the Khalsa High School in Lahore. His grandfather did not approve of the school officials loyalism to the British authorities Instead, he was enrolled in the Dayanand Anglo Vedic High School, an Arya Samaji institution.
In 1919, at the age of 12, Singh visited the site of the Jallianwala Bagh massacre hours after thousands of unarmed people gathered at a public meeting had been killed.At the age of 14, he was among those in his village who welcomed protestors against the killing of a large number of unarmed people at Gurudwara Nankana Sahib on 20 February 1921.
Singh became disillusioned with Gandhis philosophy of non-violence after Gandhi called off the non-cooperation movement. Gandhis decision followed the violent murders of policemen by villagers who were reacting to the police killing three villagers in the 1922 Chauri Chaura incident. Singh joined the Young Revolutionary Movement and began to advocate for the violent overthrow of the British in India.
Subhas Chandra Bose said that "Bhagat Singh had become the symbol of the new awakening among the youths ...". Jawaharlal Nehru acknowledged that the popularity of Bhagat Singh was leading to a new national awakening, saying He was a clean fighter who faced his enemy in the open field ... he was like a spark that became a flame in a short time and spread from one end of the country to the other dispelling the prevailing darkness everywhere.
Four years after Singhs hanging, the Director of the Intelligence Bureau, Sir Horace Williamson, wrote:
His photograph was on sale in every city and township and for a time rivalled in popularity even that of Mr. Gandhi himself
Singh was attracted to anarchism and communism.He was an avid reader of the teachings of Mikhail Bakunin and also read Karl Marx, Vladimir Lenin and Leon Trotsky.
Singh did not believe in the Gandhian ideology—which advocated Satyagraha and other forms of non-violent resistance, and felt that such politics would replace one set of exploiters with another.
From May to September 1928, Singh published a series of articles on anarchism in Kirti. He was concerned that the public misunderstood the concept of anarchism, writing that "The people are scared of the word anarchism. The word anarchism has been abused so much that even in India revolutionaries have been called anarchist to make them unpopular." In his opinion, anarchism refers to absence of ruler and abolition of state, not absence of order, and "I think in India the idea of universal brotherhood, the Sanskrit sentence vasudhaiva kutumbakam etc., has the same meaning." He believed that
The ultimate goal of Anarchism is complete independence, according to which no one will be obsessed with God or religion, nor will anybody be crazy for money or other worldly desires. There will be no chains on the body or control by the state. This means that they want to eliminate: the Church, God and Religion; the state; Private property.
Historian K. N. Panikkar described Singh as one of the early Marxists in India, although others have said that he was less interested in class- or communal-based issues than youth-based ones and the political theorist Jason Adams notes that he was less enamoured with Marx than with Lenin.From 1926 onwards, he studied the history of the revolutionary movement in India and abroad. In his prison notebooks, he quoted Lenin in reference to imperialism and capitalism and also the revolutionary thoughts of Trotsky.
When asked what his last wish was, Singh replied that he was studying the life of Lenin and he wanted to finish it before his death.In spite of his belief in Marxist ideals however, Singh never joined the Communist Party of India.
While in prison, Bhagat Singh and two others had written a letter to the Viceroy asking him to treat them as prisoners of war and hence to execute them by firing squad and not by hanging. Prannath Mehta, Bhagat Singhs friend, visited him in the jail on March 20, four days before his execution, with a draft letter for clemency, but he declined to sign it.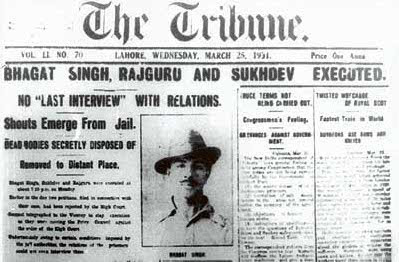 Salute to the great Hero

Several films have been made capturing the life and times of Singh. The first is the long-ignored Shaheed-e-Azad Bhagat Singh (1954), followed by Shaheed Bhagat Singh (1963), starring Shammi Kapoor as Bhagat Singh. Two years later, Manoj Kumar portrayed Bhagat Singh in an immensely popular and landmark film, Shaheed. Three major films about Singh were released in 2002 but all were unsuccessful: Shaheed-E-Azam, 23 March 1931 Shaheed and The Legend of Bhagat Singh. The 2006 film Rang De Basanti is a film drawing parallels between revolutionaries of Bhagat Singhs era and modern Indian youth.
Stills from Movie Legend of Bhagat Singh