Susan Mary Kiefel AC (/kifəl/; born 17 January 1954) is a Justice of the High Court of Australia, the highest court in the Australian court hierarchy.
Kiefel was born at Cairns, Queensland in 1954.
She briefly attended Sandgate District State High School, dropping out at the age of 15 upon completing Year 10. In 1971, she completed secretarial training at Kangaroo Point Technical College on a scholarship. She worked as a secretary for a building society, an architect, and an exploration company before starting work as a receptionist at barristers Fitzgerald, Moynihan and Mack. During this time, she completed secondary school and began studying law.
In 1973, Kiefel joined solicitors Cannan and Peterson (now Sly & Weigall Cannan & Peterson) as a legal clerk. Completing her education at night, she enrolled in the Barristers Admission Board course and passed her course with honours. In 1984, while on sabbatical leave, she completed her Master of Laws (LLM) at the University of Cambridge, where she was awarded the C.J. Hamson Prize in Comparative Law and the Jennings Prize. In 2008, she was elected to an Honorary Fellowship of Wolfson College, Cambridge.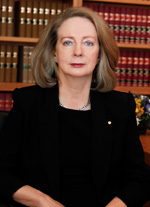 Kiefel was admitted to the bar in 1975. She became an honorary secretary of the Queensland Bar Association in 1978 and served on its committee in 1993. She was appointed as the first female Queens Counsel in Queensland in 1987 and was appointed to the Human Rights and Equal Opportunity Commission in 1989. In May 1993, Kiefel was appointed to the Supreme Court of Queensland. The following year she was appointed by the Keating Government to the Supreme Court of Norfolk Island and was one of the first women to be appointed to the Federal Court of Australia on 17 October 1994, after Justice Deirdre O'Connor.
In October 2001, Kiefel was appointed Deputy President of the Australian Federal Police Disciplinary Tribunal and became its President in April 2004. In 2003, Kiefel was appointed as a part-time commissioner of the Australian Law Reform Commission, and was re-appointed for a further three years in 2006.
In August 2009, Justice Kiefel was granted an Honorary Doctorate from Griffith University. Justice Kiefel was chosen to recognise her distinguished contributions to the legal profession and for leading the way for women in the industry. On 13 June 2011, she was named a Companion of the Order of Australia for eminent service to the law and to the judiciary, to law reform and to legal education in the areas of ethics, justice and governance.
On 13 August 2007, Attorney-General Philip Ruddock announced Kiefel as the nominee to the High Court of Australia to replace the retiring High Court Justice Ian Callinan. Kiefel had previously been considered a favourite nominee to replace former High Court Justice Mary Gaudron when she retired in 2003, and again in 2005 as replacement for Justice Michael McHugh. Kiefel is the third female High Court Justice and the forty sixth overall. Her appointment alongside incumbent Justice Susan Crennan marked the first time two women sat concurrently on the High Court bench.
Kiefel's nomination was met with support from the Australian Bar Association amid criticism of the lack of consultation by the Australian government. She was considered a conservative "black-letter" judge. She may remain on the High Court until 2024, when she will reach the constitutionally mandatory retirement age of 70.
While at Wolfson College, Kiefel met her future husband, Michael Albrecht, a social anthropologist, when she became a member of the college rowing crew and Albrecht was her coach.