Not to be confused with Mandakini river
Mandakini (born 30 July 1963, as Yasmeen Joseph) is a former Bollywood actress. She is best remembered for her role in the 1985 movie Ram Teri Ganga Maili.
Mandakini was born in an Anglo Indian family in Meerut. Her father, Joseph is British and her mother is Muslim.
At 22, she was cast in the lead role in Raj Kapoor's 1985 movie, Ram Teri Ganga Maili opposite his youngest son, Rajiv Kapoor. The movie was a hit, and it earned Mandakini a Filmfare nomination as Best Actress. The film also caused a stir because of two scenes: one in which Mandakini bathes under a waterfall wearing only a flimsy white saree through which her breasts are clearly visible and another in which she is shown breast-feeding a child. Some critics claimed that the scenes were vulgar and exploitative, and were used to get around the Indian Film Censor Board's stringent rules against nudity. Kapoor defended the inclusion of the scenes stating that they were tasteful.
Mandakini acted in a few more successful films, such as Dance Dance with Mithun Chakraborty and Pyaar Karke Dekho with Govinda, but never managed to recreate the success of her first movie.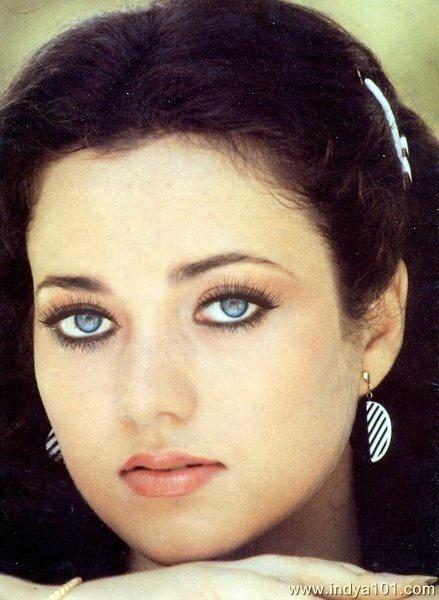 In 1994, photographs began circulating of Mandakini in the presence of dreaded gangster Dawood Ibrahim. Rumours had already been doing the rounds that the two were having an affair, and the photos only served to fuel them. One of the theories put forward was that Ibrahim, who was known to have a keen interest in Bollywood and had financed movies, had pressured Rishi Kapoor into casting Mandakini, and she was his mistress. Later, it was alleged that she had moved to Dubai to be with him.
Mandakini vehemently denied all rumours linking her to Dawood. While she admitted to knowing and being on friendly terms with him, she claimed that they did not know each other personally, let alone be a couple.
Mandakini's career suffered a serious setback. She quit movies after Zordaar in 1996 and has lived in Mumbai with her husband and children. Since then, she has made attempts to reinvent herself. She released two pop music albums – No Vacancy and Shambala – neither of which was a success.
Currently, she runs classes in Tibetan yoga and is a follower of the Dalai Lama. With her husband, she runs a centre for Tibetan medicine, which is commonly known as the Tibetan Herbal Centre in the area.
In January 2010 her husband confirmed that Mandakini would be co-directing an English film with him.
In 1990, Mandakini married a former Buddhist monk, Dr. Kagyur T. Rinpoche Thakur. Thakur gained fame in childhood as the baby featured in Murphy Radio advertisements in the 1970s and 1980s. They had a son named Rabbil and a daughter Rabze Innaya Thakur, however their son died in a road accident in 2000.
|1985||Andha Bichar||Special||Bengali film with Mithun